Here's Your Daily Horoscope For June 2, 2022
What makes you feel secure?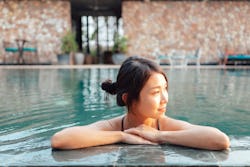 Oscar Wong/Moment/Getty Images
Bustle's resident astrologer Mecca Woods, founder of My Life Created, shares every zodiac sign's daily horoscope for today, June 2, 2022.
La luna continues her stay in nurturing Cancer today. While the moon is in Cancer, we can expect to feel a bit moody, especially as the she faces off with wounded Chiron in Aries in the morning. Still, there's some feel-good vibes to enjoy as well, if we're proactive about it. We can find enjoyment in doing things like cooking a delicious new recipe, watching a nostalgic TV show or movie, spending time with family, doing something good on behalf of our community.
The tension from this morning begins to subside by midday as the Cancer moon teams up with innovative Uranus in Taurus. As Mercury retrograde begins to come to a close, this Moon-Uranus aspect can be helpful for moving forward with the next phase of a project or plan or starting something anew.
As Cancer and Taurus are both signs that are most concerned with security, this might be a time when we're especially focused on tasks or responsibilities involving our money, our home, or the people (furry babies included) with whom we share a close bond.
You're looking for better ways to make your money stretch. Perhaps using a coupon or budget app can aid you in saving a few extra bucks. Changing the way you shop could help too.
If there's something that you want, take a chance and ask for it or initiate a conversation with the right person. Meanwhile, you've got a bright idea that could become something more.
Treasure your quirky and unique pieces. These are the parts of you that are needed most now, especially when it comes to taking yourself in a more satisfying or fulfilling direction.
You never know who you might meet or connect with now. There are people that the Universe wants to put in your life for good and joyful reasons. Keep an open mind.
If you hope to get anything done today, you'll need to block out time that's just for you and you alone. The quiet time will help you with your decision-making as well as your creativity.
Spend some time with a friend that encourages you to try new things or to think differently about things. You might like to stick to your routine but it's also good to switch things up.
When you release the need to worry about what others might think of you, you give yourself the freedom to do so many more things — like making mistakes and learning from them.
Sharing or teaching on a topic that you're knowledgeable about could bring you a new client or opportunity. Taking a leap of faith could also help you achieve the same.
Clearing your space of bad vibes or old junk can assist you in managing your mood today. A nice hot soak or some revitalizing skin care could also help you feel like new.
Spontaneity and romance mix well together for today. Single Caps should be open to an impromptu lunch or dinner date. Partnered Caps should try something new with their beloved.
Your encouraged to make some changes to your wellness routine. If you don't have a routine, it can be a good time to start one. Overall, it's all about doing what you can to best take care of you.
Your creative life is where you'll find your refuge today, even if it's just watching or taking in something that's artistic or innovative. Tapping into some childhood favorites is encouraged too.
Want to learn more? Check out your June 2022 monthly horoscope.