Here's Your Horoscope For Today: June 4, 2021
We get some cosmic support to see our ideas through.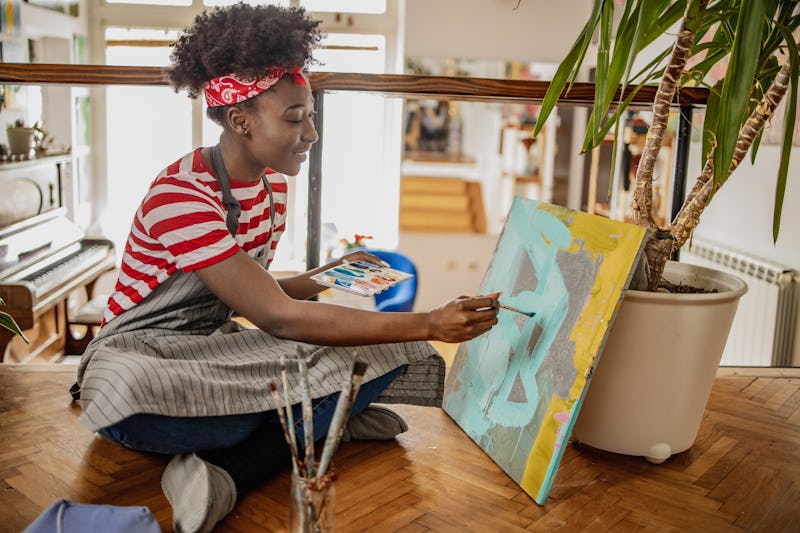 blackCAT/E+/Getty Images
In this daily horoscope for June 4, Bustle's resident astrologer Mecca Woods, founder of My Life Created, shares the astrological events happening today that will affect every zodiac sign. Below, here's a look at how astrology will affect our lives today.
It's a busy day ahead with the moon in enthusiastic and ambitious Aries. As a result, we might be ready to move forward with whatever tasks that we have on the table. With Mercury still retrograde until June 22, today isn't necessarily good for jumping into new projects, but it is good for tackling anything that's been pending or already in the works. At the same time, with the moon meeting up with wounded Chiron in Aries by the afternoon, we'll need to be mindful of pushing ourselves too hard if we feel we're not exactly where we want to be.
With the moon teaming up with the sun in industrious Gemini and innovative Saturn in Aquarius over the course of the day, we get some cosmic support to see our ideas through. Working alongside others can help us achieve the results we want to see as Gemini and Aquarius are zodiac signs that favor community and friendship. Collaborative efforts are rewarded today — not only in terms of getting support, but also from pitching in to help others that could use a little extra support.
Read below to see what the stars mean for your zodiac sign today, and make sure to check out your June 2021 monthly horoscope.
It takes a village to get things done and today, you're reminded to tap into your village. If looking for ways to make good use of your time, consider how you can be of support to others.
You can make great strides today with your career or a goal you're working toward, though you'll need to cut out the distractions or go off grid to do it. You can get back to everyone later.
Your confidence is strong today, making it a good time to put yourself in the spotlight or connect with new people. You have a unique perspective that people need to hear right now.
Trust your gut today if you're making a decision that's related to your career or ambitions. Your instincts are sharp. That said, how can you better embrace what makes you different from others?
It's all about who you know today, as an opportunity could come knocking on your door via someone you know. Donate to a worthwhile cause if you're feeling motivated to do something good.
You can do quite well for yourself today when it comes to a financial- or job-related matter. The hard work you've been putting in is bringing results. Keep moving forward.
Now's a great time to partner up with people who want to help you in fulfilling something you've been envisioning. It's also a great time to show off your expertise or smarts.
Your health and well-being is top priority today, as you're called to do what you can to take the best care of yourself. If you've been job hunting, you could receive some promising news.
Your love life is revving up, as you're encouraged to make new friends and meet new people. Sparks could fly either online or within your city. Meanwhile, your creative talents are getting noticed.
If you've been looking to move or make some updates to your home, it's a good day to begin. If money has been an issue, there could be some cash finally coming in.
You're in rare form today, as your creativity is strong and the ideas are popping. If you've got a plan in the works, you can make significant progress with it now. Be the innovator that you are.
If your insecurities have been getting the best of you, today provides you with the opportunity to bounce back. You're reminded of how many things you have to be grateful for. Have faith in you.