The May New Moon In Gemini Will Affect These Zodiac Signs The Most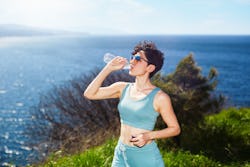 delihayat/E+/Getty Images
Between Mercury entering its dramatic retrograde period and an intense eclipse season, May's astrological climate has been especially rocky. But expect the May 2022 new moon to welcome fresh new perspectives and an opportunity to actualize your goals. Arriving on May 30, la Luna enters multifaceted Gemini, encouraging us to vocalize our needs and question everything. And if you're one of the zodiac signs most affected by the May 2022 new moon, this lunation will feel more like a push to explore new ideas and jumpstart personal projects rather than symbolize a tense period of reflection.
In astrology, new moons both restart the lunar cycle and symbolize new beginnings, making it a perfect time to kickstart projects and manifest. But with dizzying Mercury retrograde causing confusion, you may want to hold off on jumping into any manifestation practices. This lunation is making a cameo in multi-tasking master Gemini, inspiring us to follow our curiosity and philosophize deeper meanings of life. Those most impacted by this lunation may experience blockages when it comes to self-expression or the overwhelm of juggling too many commitments at once.
The zodiac signs most impacted by this lunation may find it easier to speak with their heart with Venus, the planet of love, sitting comfortably in its home sign of Taurus. But it gets a little turbulent when you consider the retrograde season. "We're handling multiple retrograde planets — Mercury and Pluto — that are bringing about sweeping changes on a collective level. The new moon in Gemini is offering a glimpse into an exciting new beginning," Lauren Ash, an astrologer, tells Bustle.
Gemini is all about diversifying our skills, and those who are feeling the easy-going air sign's energy the most are in a great spot to balance everything with confidence. Keep reading to find out if you're one of the zodiac signs most affected by the May 2022 new moon.