The Best Career For You, According To Your Zodiac Sign
Pro-tip: Check your Mars sign.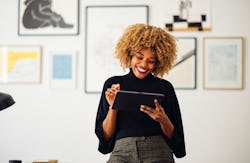 miniseries/E+/Getty Images
Have you felt called to a certain career field? If so, your zodiac sign may be responsible for your professional destiny. Since your birth chart can tell you about your habits and quirks, it makes sense that there are some qualities that magnetize a specific profession. After all, as Emily Ridout, MA, a professional yoga and astrology teacher, tells Bustle, "the energies of certain signs do thrive in certain career fields and professional situations."
If your job matches up with your values and fulfills your sense of purpose, it might be because it aligns with your sun sign's needs and motivations. That being said, the best career for your zodiac sign could blend the energies of your whole birth chart. "Every person contains all twelve zodiac signs in their chart, just with different emphases," Ridout says. "If you're a Libra sun and a Virgo rising sign, for example, you might need to mix the energies of those two signs to find a good professional fit." Weighing the different energies in your chart can give you a better idea of what vocation meshes well, even if it takes time to get to a place you can flourish professionally.
"Looking at your birth chart for career guidance and tapping into your purpose could be better than any career advisor's suggestions," Imani Quinn, astrologer and co-author of Astrology SOS, tells Bustle. "Your birth chart knows your communication style, your passion language and what attributes you're attaining to in this life."
If you want to look deeper than your sun sign, another way to use astrology in your professional life is to consider your Mars sign. Mars is the planet related to all things related to ambition and passion, including your career. If your Mars sign is stationed in executive Capricorn, for example, you'll likely gravitate toward a leadership position like a CEO. Another way is to look at your astrological house (though you'll need to know your birth time along with your birthplace to see your house placements). The tenth house governs your career and public image, so for example, if nurturing Cancer is sitting in your tenth house, you'll likely feel fulfilled in jobs involving caretaking, children, or the home, since Cancer rules these concepts.
Skills and experience are only a few things that factor in your career field, but it's worth considering what jobs align with your zodiac sign's personality, especially if you get the entire picture using your birth chart. Curious to know how the stars affect your professional life? Keep reading to see the best career for your zodiac sign.
This article was originally published on