12 Beauty Essentials Our Editors Love, Even If You Don't See Them On IG
The ones that don't make the shelfie.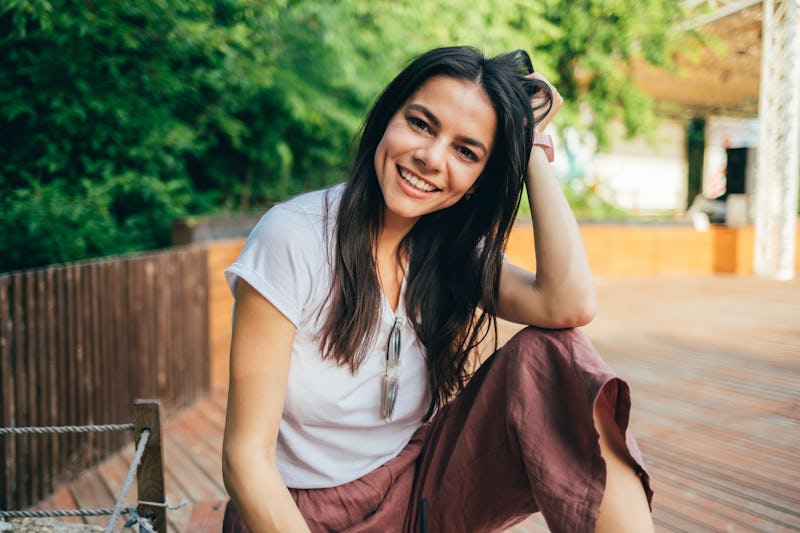 Getty Images/ Westend61
There are two main types of beauty products: the type that's glamorous and makes it into shelfies, like a perfume from the Renaissance era or a chicly packaged eyebrow gel. And then there are those that are less... traditionally sexy, but are equally important as stalwart beauty essentials — think staples like a toothbrush, a heel grater, or a facial hair trimmer.
Just because you see cabinets curated with shimmering highlighter sticks, cult-fave peels, and a color-coordinated nail polish collection doesn't mean beauty enthusiasts don't also stock up on functional personal care products. Whether they're hidden in their nightstands, underneath the sink, or right next to the serums on the shelves, editors regularly turn to — and love — their worn down chafe-fighting sticks, nearly empty cuticle creams, and the trusty unibrow tweezers.
In order to balance out the product love, Bustle's editors are sharing the 12 more understated beauty essentials that round out their routine. Even if they don't make it on the 'gram, they're deeply cherished — and always stocked.
We only include products that have been independently selected by Bustle's editorial team. However, we may receive a portion of sales if you purchase a product through a link in this article.
12 Beauty Essentials Our Editors Swear By
Literally Just Q-Tips
"It doesn't get less sexy than Q-tips, but because these ones are from Japanese store Muji, there's definitely an aesthetic appeal. First of all, these are not your average Q-tip. They're made with tightly-wound cotton on each end, which makes them perfect for cleaning up a cat eye and helping with any tight, precise lines (fun fact: Beyoncé's makeup artist Sir John was the first one who introduced these to me). They're the Aston Martin of the category, and once you try them, you won't go back." — Faith Xue, executive beauty & lifestyle director
A Wash For Down Under
"OK I lied — there's something less glamorous than a Q-tip, and that's a vaginal wash. But The Honey Pot's Normal Wash isn't your typical vaginal wash. Instead of chemicals and sulfates, it's made with coconut oil to hydrate, lavender oil to soothe, and apple cider vinegar to balance the delicate pH of your 'honey pot' (get the name now?). It's perfect for keeping yourself feeling fresh down there, especially during hot and humid weather." — Faith Xue, executive beauty & lifestyle director
Skin Smoothing, Hair Removing Razors
"I used to go to great — and sometimes painful and foolish — lengths to conceal the dark, thick hair that annoyingly springs up on my chin, cheeks, and upper lip region. Once I found these tiny Japanese face razors, my life improved significantly. While the blades do become dull rather quickly (after about four or five sessions), they get the job done in record time — and make my skin so, so smooth." — Hilary Shepherd, beauty writer
A Pro-Level Cleansing Toothpaste
"I have never uttered these words before but, I love this toothpaste. The flavor is a nice break from the spearmint most kinds of toothpaste use, but TBH, this one could taste like chalk and I'd still use it. My teeth have literally never felt so clean from something I can do at home — after I brush my teeth it feels like I've just left the dentist's office. They're silky smooth without a speck of plaque in sight." — Tamim Alnuweiri, beauty & wellness writer
A Clean Bug Spray
"In the New York City summer, I'm constantly being attacked by mosquitos — often without seeing them come at me. Kinfield's bug spray is a touch above the rest. It looks chic, isn't packed with DEET or other not-so-pleasantly-smelling chemicals, and it works. I'm keeping a bottle in my purse all summer long." — Tamim Alnuweiri, beauty & wellness writer
A Foot Care Necessity
"I don't know how it happens, but if I leave my heels untouched, I end up with an inch of hard, coarse calluses. It sounds gross, I know, but I use this cheese grater-like tool on them after they've softened up in the shower and just go to town shaving that extra skin off. I feel like a snake shedding its skin, and my feet are left feeling soft and healthy." — Tamim Alnuweiri, beauty & wellness writer
A Gentle Facial Hair Trimmer
"One thing I still hide from my partner is the fact that I have to get rid of upper lip hair every other week. This product has been a godsend: It does the job in a matter of seconds (with zero irritation, mind you), and discretely stands in my beauty cabinet without anyone else knowing what it does." — Rachel Lapidos, senior lifestyle & beauty editor
A Body Healing Gel
"I'm rough on my body, which is why I keep this gel on hand at all times. I slather it on my sore legs after a running boot camp, on bruises to speed up their healing time, and on my back when it gets riddled with knots, and the arnica, hemp, and capsaicin work their magic to calm things down." — Rachel Lapidos, senior lifestyle & beauty editor
A Chafing Savior
"I love my #thiccthighs, but it's not fun when they rub against each other and chafe in the summer. Megababe's anti-friction stick gets rid of chub rub while nourishing my skin with aloe, grapeseed oil, and vitamin E." — Jessica Andrews, deputy fashion editor
A Supercharged Hair Oil
"If you wear box braids like I do, chances are you've experienced dry scalp at some point. This hair oil helps alleviate that. It soothes my scalp, nourishes hair follicles, and even helps support length retention — which is great news for all your new growth. It contains castor, rosemary, jojoba, and peppermint oils, so it also smells delicious." — Jessica Andrews, deputy fashion editor
A Skin Irritation Hero
"As someone with eczema, I've used Aquaphor's classic healing ointment to seal up my broken skin barrier for years. I recently discovered, however, that they somehow engineered a spray-on version of the stuff — with all the same ingredients. It goes on as an ice-cold foam, then spreads to a consistency between the classic 'phor and a regular moisturizer, allowing you to apply just enough balm without feeling too gloopy. I'm obsessed." — Melanie Mignucci, health & wellness editor
The Perfect Face-Washing Cloths
"These little cloths were designed to be an eco-friendly alternative to toilet paper, but I exclusively use mine on my face as a gentle washcloth. Its fibers are made of bamboo, which is more sustainable than cotton, and it's absurdly soft — a great thing, considering the area where they're intended to be used." — Erin Stovall, senior beauty editor