Kim K, Oprah, & Jennifer Lopez Celebrated 25 Years Of Anastasia Beverly Hills
They snapped a selfie to end all selfies.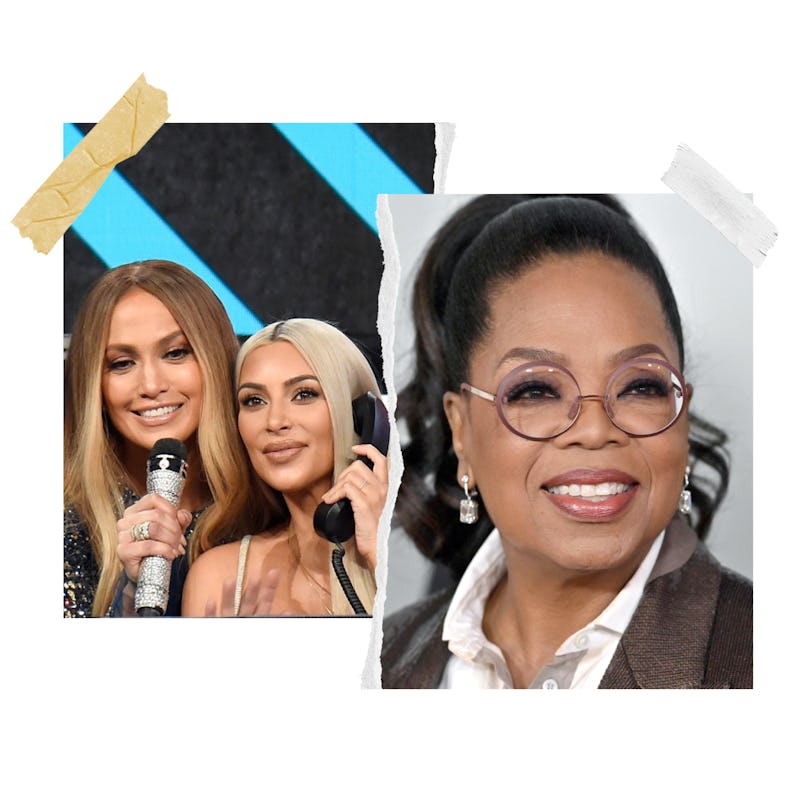 Kevin Mazur/One Voice: Somos Live!/Getty Images Entertainment/Getty Images/Axelle/Bauer-Griffin/FilmMagic/Getty Images
A kissy-faced selfie with none other than Kim Kardashian, Oprah Winfrey, and Jennifer Lopez wasn't quite on my 2023 bingo card — but alas, January isn't even over and everyone has been gifted a (completely unexpected and beyond iconic) highlight reel of their night together. I mean, I may have audibly gasped when scrolling through Instagram.
Attending Anastasia Beverly Hills' 25th anniversary, the intimate dinner was star-studded to say the least. The guest list in question? Jessica Alba, Priyanka Chopra, Sofia Vergara, Lori Harvey, Heidi Klum, Kris Jenner ... and that's literally naming just a few. Of course, the trio I never knew I needed in my life just so happened to be seated alongside one another at the center of the long table. Given that Miss Kimberly is the undisputed selfie queen, the rest is, as they say, pop culture history.
Kardashian has been quoted in countless interviews naming J.Lo as one of her inspirations growing up, explaining that she empowered her to feel confident in her body in a time that was defined by low-rise jeans (which have officially come back, much to the dismay of my fellow Millennials) and beauty ideals that didn't quite accept curvier women. What's more, Oprah has in fact interviewed the Kardashians in recent past, coming to her own conclusion that the controversial family is incredibly hard-working.
All clearly fans of the cult-fave brand (ICYWW: ABH pretty much *invented* the eyebrow category), the ladies all have a close relationship with its founder and CEO Anastasia Soare. And while the brand is most known for its pencils, pomades, and gels, its entire collection is filled with best-selling eyeshadow palettes, highlighters, concealers, lippies, and more that have been making headlines for ages.