15 Signs You Might Be A Highly Sensitive Person
Maybe you cringe at loud noises or chaotic situations.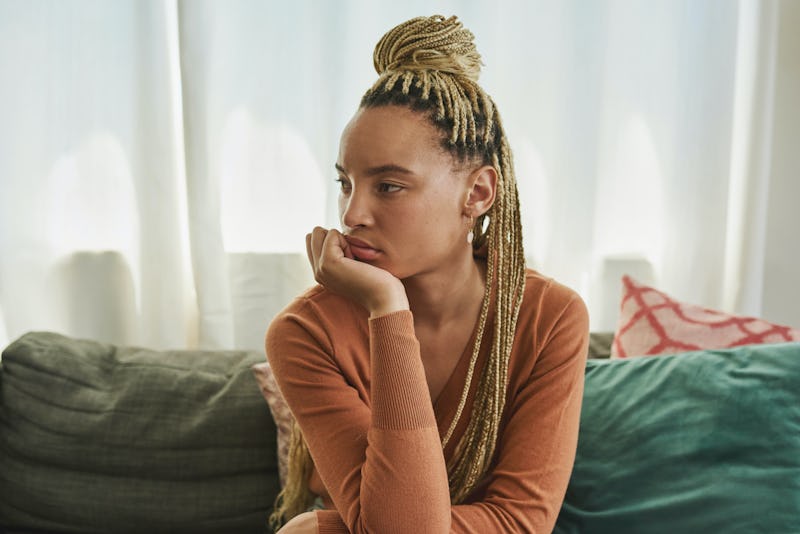 LaylaBird/E+/Getty Images
Everyone has pet peeves, but if you're a highly sensitive person (HSP), it can seem like you get annoyed more easily than most. You might cringe at certain sounds, shrink away from strong smells, or avoid loud and chaotic situations — all because they overwhelm you to the point of distraction.
While others might think you're overreacting, these feelings are very real. "Highly sensitive people are the 15 to 20 percent of the population born with a nervous system that's more finely-tuned than others," Brooke Nielsen, LMFT, a therapist and HSP expert, tells Bustle. "This trait of sensitivity is a gene; you were born this way." That's why it's nothing to be ashamed of or worried about. Think of it as a "fun fact" about yourself.
Other traits of an HSP include an ability to feel deeply and empathize easily, Nielsen says. But you're also more likely to feel overwhelmed and annoyed by the world around you, too. This is because your sensitive nervous system processes everything in the environment, she says. "From noises, to conversations, to others' bad moods, everything shows up on [your] radar more intensely."
Again, everyone has things that grate on their nerves to varying degrees, but if you're easily annoyed by the things listed below, experts say you very well may be an HSP.
Studies referenced:
Acevedo, B. (2014). The highly sensitive brain: an fMRI study of sensory processing sensitivity and response to others' emotions. Brain and Behavior. https://www.ncbi.nlm.nih.gov/pmc/articles/PMC4086365/
Black, B. (2020). A qualitative exploration of individual differences in wellbeing for highly sensitive individuals. Humanities & Social Sciences Communications. https://www.nature.com/articles/s41599-020-0482-8
Experts:
Brooke Nielsen, LMFT, therapist and HSP expert
Dr. Alyssa Adams, clinical psychologist
Terry Matlen, MSW, ACSW, therapist
Travis McNulty, LMHC, GAL, therapist
Dana M. Cea, mental health professional
Colette Lopane-Capella, MA, LMHC, LPC, intuitive psychotherapist
Jenna Watson, life coach
Adamaris Mendoza, LPC, therapist
This article was originally published on