15 Ways A Man's Brain Changes When He's In Love
Judgment is impaired, for one.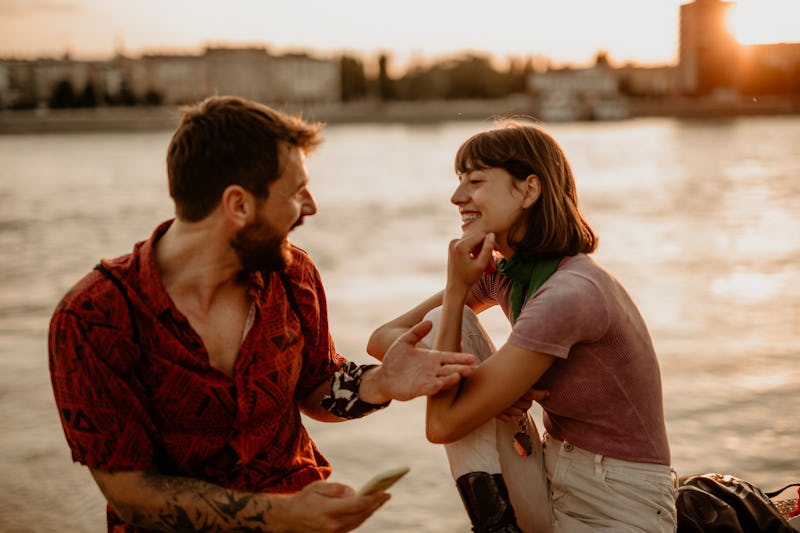 Studio4/E+/Getty Images
The process of falling in love can be a powerful, life-changing thing. In those early days of romance, you may act differently, think differently, and sometimes even dress or talk differently. But once you mix in a few societal expectations, there are actually a few differences in how a man falls in love — including what goes on in his brain.
"Societal norms definitely can play a role in how men experience or express falling in love, compared to women, based on what is socially accepted," Dr. Holly Schiff, Psy.D., a licensed clinical psychologist, tells Bustle. And i's interesting to consider things from this social and psychological standpoint, especially if you're dating and trying to figure out why men think and act the way they do.
As an example, "falling in love can be different for men in terms of their ability to share with their friends," Schiff says. "Women are often quick to share their emotions and attachment to a new partner, whereas men may be made fun of or given a harder time if they share that they are falling in love."
That certainly isn't true for everyone, and it's important to consider how it might be different for those who don't identify as a straight, cis male. But for some folks, these pressures do play a big part in what it's like for a man to fall in love. Read on below for more info on what falling in love does to the brain, as well as a few psychology facts about guys in love.
Studies referenced:
Fisher, H., Xu, X., Aron, A., & Brown, L. (2016) Intense, Passionate, Romantic Love: A Natural Addiction? How the Fields That Investigate Romance and Substance Abuse Can Inform Each Other. Frontiers in Psychology, https://www.ncbi.nlm.nih.gov/pubmed/?term=27242601
Savulescu, J. (2008). Neuroenhancement of Love and Marriage: The Chemicals Between Us. Neuroethics. https://link.springer.com/article/10.1007/s12152-007-9002-4
Scheele D, Wille A, Kendrick KM, Stoffel-Wagner B, Becker B, Güntürkün O, Maier W, Hurlemann R. Oxytocin enhances brain reward system responses in men viewing the face of their female partner. Proc Natl Acad Sci U S A. 2013 Dec 10;110(50):20308-13. doi: 10.1073/pnas.1314190110. Epub 2013 Nov 25. PMID: 24277856; PMCID: PMC3864312.
Wagner, U. (2018). When Does Oxytocin Affect Human Memory Encoding? The Role of Social Context and Individual Attachment Style. Frontiers in Human Neuroscience. https://www.ncbi.nlm.nih.gov/pmc/articles/PMC6158322/
Xu, X., Wang, J., Aron, A., Lei W., Weatmaas, J.L., & Weng, X. (2012) Intense passionate love attenuates cigarette cue-reactivity in nicotine-deprived smokers: an FMRI study. PLoS One, https://www.ncbi.nlm.nih.gov/pubmed/?term=22860092
Xu, X., Brown, L., Aron, A., Cao, G., Feng, T., Acevedo, B., & Weng, X. (2012) Regional brain activity during early-stage intense romantic love predicted relationship outcomes after 40 months: an fMRI assessment. Neuroscience Letters, https://www.ncbi.nlm.nih.gov/pubmed/?term=22902992
Younger J, Aron A, Parke S, Chatterjee N, Mackey S. Viewing pictures of a romantic partner reduces experimental pain: involvement of neural reward systems. PLoS One. 2010 Oct 13;5(10):e13309. doi: 10.1371/journal.pone.0013309. PMID: 20967200; PMCID: PMC2954158.
Experts:
Dr. Holly Schiff, Psy.D., licensed clinical psychologist
Dr. Jake Porter, LPC, NCC, CSAT, CMAT, CPC, CCTP, licensed professional counselor
Kimberly Hershenson, LCSW, psychotherapist
Dr. Jarred Younger, neuroscientist and associate professor at University of Alabama, Birmingham
Dr. Josh Klapow, clinical psychologist
This article was originally published on