Here's Your Daily Horoscope For June 1, 2022
Do something nice for yourself today.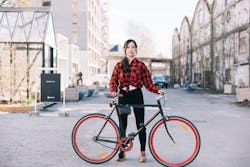 visualspace/E+/Getty Images
Bustle's resident astrologer Mecca Woods, founder of My Life Created, shares every zodiac sign's daily horoscope for today, June 1, 2022.
The moon returns home to tenderhearted Cancer in the wee hours of the early morning. During the days when la luna visits Cancer, we can expect to focus more on our emotional needs and what we're feeling. As the moon comes up against the fiery and excitable energy of Jupiter in Aries near the start of the day and Mars in Aries near the afternoon, we may need to do our best to keep cool. Under this cosmic combination, it's not uncommon for tempers to flare or to feel overwhelmed with emotion.
Luckily, the moon in Cancer does receive some support from grounded Venus in Taurus at midday. Venus in Taurus encourages us to focus on what's truly important today, so we can avoid getting swept up in the unnecessary drama. And if we're feeling cranky or irritable, Venus in Taurus also inspires us to do something nice for ourselves to help alleviate any stress.
At the same time, today's stressful cosmic weather does lend us the push needed to get more involved with our community and channel our feelings into doing what we can to make a difference.
You're feeling more fired up than usual today. Consider the ways that you can use the energy as productively as possible. Too, try to be selective about what gets your time and attention.
A little extra self-care goes a long way today. Meanwhile, if there's something you need to get off your chest, try not to worry too much about how it's received. Just be true to yourself.
It might be more helpful to step back and take some time for yourself today rather than overcommitting yourself or being overly involved in what your friends are doing. You need rest.
There's a lot that you can do on your own, but today, you're reminded how important it is to have the support of your friends or your community. Get the helping hands you need.
Before you say yes to a new project or rush headlong into your next idea, think very carefully about it first. Do you really have the bandwidth or the desire to take on another responsibility?
If a friend has you feeling a way today, don't close yourself off and run away from dealing with the issue. Being open and honest will help get you and the friendship back on track.
Try to keep your distance from anyone that's overly negative or critical today. You don't need their energy clouding your energy or bringing down your vibe. You don't owe them anything.
You're reminded that you don't always have to be the go-to person or the person that's always making sure that everything gets done. Let others step in and take over for a little while.
You're encouraged to give some additional care to your well-being today. If you're feeling moody or agitated, do something active or beneficial for your body. Sweating out the bad vibes can help.
A family matter could have you riled up or in your feelings today. The key to dealing with the issue may involve being authentic or prioritizing your own happiness.
You've been doing too much and you're starting to feel it. Instead of doing even more, put some items or tasks on the shelf for today and take a few moments to get calm and grounded.
If you're job searching, don't be shy when it comes to asking for the kind of money or benefits you want. You have much to offer and you should be rightly compensated for it.
Want to learn more? Check out your June 2022 monthly horoscope.