Here's Your Horoscope For Today: June 22, 2021
We may get a dash of hope as we look toward the future.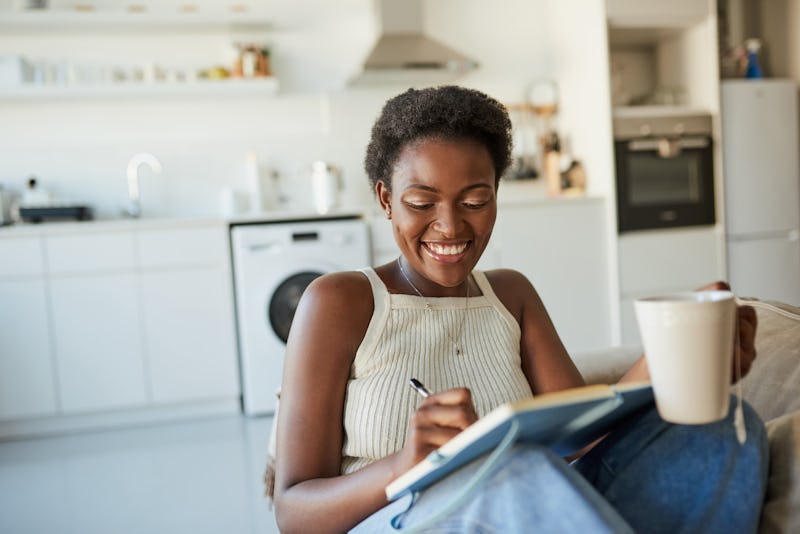 LaylaBird/E+/Getty Images
In this daily horoscope for June 22, Bustle's resident astrologer Mecca Woods, founder of My Life Created, shares the astrological events happening today that will affect every zodiac sign. Below, here's a look at how astrology will affect our lives today.
Mercury retrograde comes to an end today. As communicative Mercury moves forward again by late this afternoon, we should be ready to move forward too, as many of us have spent the last three weeks revisiting the past, revising plans, and reevaluating decisions. With the moon entering optimistic Sagittarius at the start of the day, we may get a dash of hope as we look toward the future. However, with the Sagittarius moon squaring off with inspiring Jupiter in Pisces (which is currently retrograde) by midday, we'll need to be mindful of taking unnecessary risks or pushing our limits.
Later this evening, we're called to kick back and have a little fun as the moon in Sagittarius meets up with enthusiastic Mars in Leo. This Moon-Mars aspect is also great if we need a creative push.
Read below to see what the stars mean for your zodiac sign today, and make sure to check out your June 2021 monthly horoscope.
If you've been dealing with a creative slump, that could change as your ingenuity is on 10 today. Getting active and out into the fresh air can also give you the pick-me-up you need.
Take time to tune in with yourself today. Be mindful of being too available to others today, as you may not have the bandwidth. Conserve your energy and resources.
Pace yourself today. This is one of those days when you'll do best when you recognize your limits. Consider asking for help so you can free your schedule up for more exciting things.
If the money you're making doesn't align with the amount of work that you're doing, it's time to change that. Be confident in your worth. It might be necessary to scale back on work as well.
Be mindful of letting someone get under your skin today. Set your sights on the things that make you feel good instead. On a similar note, you are your own best company.
Try not to block your blessings today by refusing the help or support of others. At the same time, take care that you're not promising more than you can deliver. It's OK to say no sometimes.
You can't rush the process. Keep this in mind if you find yourself getting anxious that things aren't moving as fast as you'd like. Don't try to force things to move by taking on more than what's necessary.
Be mindful of blowing the bank on impulse shopping today. That said, know that what you have (or don't) doesn't define who you are. You're the only one with the power to define you.
Don't spend too much time dwelling on the past. Instead, focus on the now, as well as all the good things that are on their way to you. Focus on the things that fill your heart with hope.
If worry and anxiety are clouding your thoughts today, recognize that you may have more options than you're able to see right now. Go inward and find your calm.
Don't underestimate how much you mean to others or how much of an impact you make on them. That said, make sure you're not giving more than you're getting back.
Take care that you're not scattering yourself in too many directions today. If you want to make a dent in the goals you've set for yourself, a slow and disciplined approach is needed now.