3 Zodiac Signs That Will Be Least Affected By The February New Moon
It's all about tuning in to yourself.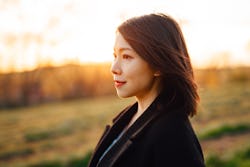 Oscar Wong/Moment/Getty Images
If you've been inspired by change lately, it could be because you're ready for Venus and Mercury retrograde to end, or it could be the fact the February 2022 new moon lands on Lunar New Year. This refreshing lunation will transition into freedom-fighting Aquarius on Feb. 1 (Jan. 31 if you're not on the east coast, in which case it's considered a rare "black" moon. Since Aquarius' entire brand is challenging the norm, some zodiac signs will feel intimidated by change. But for the zodiac signs least affected by the February 2022 new moon, these liberating acts of rebellion of reinventing yourself are empowering.
Much like how the new moon resets the lunar cycle, it signals a new beginning — a time to rest, recharge, and reimagine new goals moving forward. In astrology, this lunation is where all of your planning, intention-making, and goal-setting are most encouraged. Since this new moon happens in the experimental and unconventional Aquarius, the February 2022 new moon is centered around big-picture things like the well-being of society, as well as connecting with your most authentic self. For a lucky few zodiac signs, this lunation is all about connecting with their individuality.
While every zodiac sign will be affected by the new moon in some way, some signs will have it easier than others. Read on to find out if you're one of the zodiac signs least affected by the February 2022 new moon.