The 5 Most Guarded Zodiac Signs, According to An Astrologer
These signs play it close to the chest.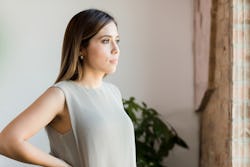 SDI Productions/E+/Getty Images
Some people are just really hard to get to know. It's not that they aren't friendly — if you talk to them, they're responsive and nice. You may even get along with them really well. However, you can't help but feel like you don't actually know them. Although everyone has their reasons for not opening up to others, a person's zodiac sign can reveal if playing things close to the chest is just part of their personality. The most guarded zodiac signs may take a minute to warm up to someone new, but are keen friends once you earn their trust.
In astrology, some zodiac signs find it much easier to open up to others, like fire signs. According to Stina Garbis, a professional astrologer and psychic, fire signs (Aries, Leo, and Sagittarius) tend to be the least guarded out of everyone. "You can find your way in to a fire sign's good graces pretty easily because they're more focused on being liked than being used," she says.
In addition to fire signs, air signs Gemini and Libra are also fairly unguarded. Mercury-ruled Gemini loves to talk and meet new people, and Libra is very kind-hearted by nature and likes seeing the good in people. They're ruled by the scales, so they "tend to see people's assets and good sides before doubting them and since Libras are so awesome, they would never guess that you had something against them," Garbis says.
There are other zodiac signs, however, that don't want to open up as easily. Read on to learn about the five most guarded zodiac signs.