These 21 Movies On Netflix Will Change The Way You See The World
Check out My Octopus Teacher, Don't Look Up, Okja, Steve Jobs,and these other films.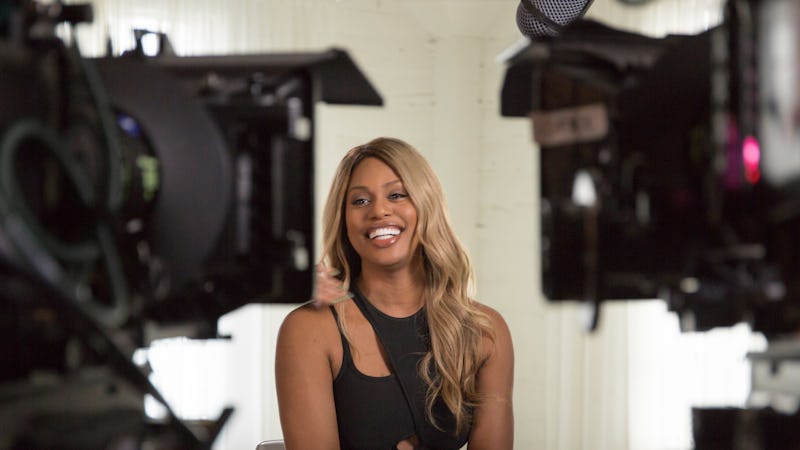 Cr. Ava Benjamin Shorr/Netflix.
Sometimes you just need a comfy comedy to enjoy as you lounge on the couch — others, a fun popcorn thriller to watch with friends and family. But what about those times when you crave a life-changing film, something that totally shifts your perspective well after the credits roll? Transformational movies have the power to inspire real change in the people who make the simple decision to press "play." Fortunately, from documentaries to tearjerker true stories, spiritual journeys, and even lighthearted road movies, there are many such movies that will change the way you think streaming on Netflix.
Of course, over the last year, many movie lovers have been swapping their streaming routine for the much-missed movie theater experience. But there's still something to be said about the quiet contemplation of a thought-provoking movie at home — especially now that fall's almost here and you want to curl up with a good movie. If you need a new perspective, here are 21 life-changing films you can stream on Netflix today.
1. Won't You Be My Neighbor?
This 2018 documentary tells the story of Mister Rogers — of Mister Rogers' Neighborhood fame, of course. While you're likely already familiar with the kind PBS host (and his penchant for a good sweater), Won't You Be My Neighbor? focuses on his cultural impact, and the way he changed viewers — and television as we know it — for the better.
2. The Forty-Year-Old Version
Radha Blank is the star, writer, and director of this charming, heartfelt film in which a playwright turned budding-rapper undergoes an exciting artistic reinvention and considers what it means to lead a creative life. If you've ever felt like it was too late to make a change or pursue a new passion, Blank's award-winning film will be sure to change your mind.
3. My Octopus Teacher
This Oscar-winning documentary doesn't just deliver beautiful views of the South African sea and one of its most intriguing, eight-legged residents — it's also about the life-changing journey of getting back to nature and oneself along the way. The drama that occupies this unassuming stretch of kelp forest will inspire you to look at your environment with fresh eyes.
4. The Fundamentals Of Caring
Paul Rudd, Selena Gomez, and Craig Roberts are an unlikely road-tripping trio in this inspirational film about friendship and facing grief in unexpected ways. A total tearjerker at some points and hilarious comedy at others, this Netflix original follows a struggling writer whose new job as a caregiver is as transformative for him as it is his teenage charge.
5. Lagaan
The many songs of Lagaan will stick with you for a while, but the musical's themes of love, resilience, and community will linger even longer. At the heart of this 2001 Oscar-nominated epic is a high-stakes game of cricket between a village and the British army. The ensuing underdog story is as sweet and inspiring as you'd hope, and it also serves as a must-see for those looking to expand their international cinema horizons.
6. Crip Camp
This powerful documentary showcases the friends who turned into activists at Camp Jened, a summer camp for teens with disabilities. The Oscar-nominated film doesn't just tell the important story of the teens' fight to be seen and heard. It also serves as a personal passion project for filmmaker James LeBrecht, who attended the camp himself before going onto a career in the entertainment industry.
7. Okja
Co-written and directed by Parasite's Bong Joon Ho, Okja revolves around a friendly superpig and the quest to save him from a sinister genetic corporation. Tilda Swinton, Steven Yeun, and Jake Gyllenhaal are just a few of the familiar faces you'll meet along the way in this Netflix original adventure, which is as entertaining as it is thought-provoking — like Jurassic Park and E.T. before it, Okja invites viewers to examine science and humans' relationship to nature with a critical lens.
8. This Changes Everything
A star-studded lineup of women in entertainment — including Geena Davis, Sandra Oh, Taraji P. Henson, Reese Witherspoon, and Shonda Rhimes — explores female representation on screen and behind the scenes, too, in this compelling doc. For anyone who's ever wondered about the myriad ways media has been shaped by gender roles (and, in turn, shaped them right back) this is a must-see addition to your list.
9. Sorry To Bother You
To say much about this movie would ruin one of the freakiest twists in recent cinema — but suffice to say, Sorry to Bother You and its star-studded cast (including LaKeith Stanfield, Tessa Thompson, and Steven Yeun) are here to make you think. As Boots Riley told Democracy Now! of his first feature film, "Often when you're telling someone something that is different from how they view things, different from how they view the world, it feels like an annoyance or a bother. And that's where [the title] comes from." The film revolves around Stanfield's Cash, a call center employee forced to reckon with his role in the larger capitalist landscape.
10. Steve Jobs
This 2015 drama is sure to transform the way you look at one pretty ubiquitous part of your world: technology. Specifically the iPhone you might be holding, or the MacBook you're maybe reading on right now. In its three-pronged exploration of the Apple co-founder's life and work, Steve Jobs shines a light on key figures behind some of the most memorable tech innovations of the last few decades.
11. The Social Dilemma
If you want to keep on learning about the powerful tech in the palm of your hand, this 2020 Netflix doc is a must-watch. The Social Dilemma invites users to get a closer look at the way social media impacts every aspect of our lives — from our mental health to the decisions (both big and small) we make every day.
12. Don't Look Up
2022 Best Picture nominee Don't Look Up reframes the climate crisis by equating it to a deadly, planet-destroying comet on its way down to Earth, about which the star-studded cast (including Meryl Streep, Tyler Perry, and Jonah Hill) is distressingly nonchalant. There's a good chance you were already painfully aware of the fate of the world — but perhaps this bleak satire will help fill in your friends or family members who haven't yet looked up.
13. Beasts Of No Nation
Beasts Of No Nation is a Netflix original that dramatizes the plight of child soldiers in West Africa, offering a raw glimpse at a corner of the globe not often seen in mainstream media. Idris Elba and Abraham Attah (who made his feature film debut with Beasts) lead the harrowing story, which is sure to inspire you to learn more about the world around you.
14. Roma
Enter the stylized world of 1970s Mexico City, where we observe a young housekeeper's tasks and mundane, day-to-day life — until realizing that it's anything but. The dreamy, black-and-white cinematography lends a meditative feel to Roma that will help you rethink how you see your surroundings. Roma brought home multiple awards, including Best Foreign Language Film, at the 2019 Oscars.
15. I'm Thinking Of Ending Things
If you're one to think about what your dreams might mean, this dark, bizarre Charlie Kaufman film will have you looking for symbols and surrealities in your everyday life like never before. I'm Thinking of Ending Things stars Jesse Plemons and Jessie Buckley as the central couple on the brink of a breakup — or perhaps, something even more confusing.
16. The Harder They Fall
One great way to change the way you look at the world? Start with a look back. The Harder They Fall may not be a strictly true story, but it introduces a lineup of real Black cowboys who did, indeed, live in the American West in the late 19th century. This piece of history gets a thrilling, modernized treatment with the help of a soundtrack that includes Jay-Z and Kid Cudi, to name just a few collaborators.
17. Period. End Of Sentence.
This Oscar-winning short doc proves that periods can be a catalyst for change among women in rural India. Watch as the heroes of this inspiring story design pads to sell to their community — supporting the economy, challenging the stigma and misinformation around periods, and embracing the power of women coming together for a common cause, all at the same time.
18. Surviving Paradise: A Family Tale
Leave it to nature documentaries to expand your horizons and remind you that, yes, the world is vast — and amazing. Surviving Paradise: A Family Tale is a new Netflix doc that revolves around the resilient animals who call the Kalahari Desert home. It also adds a new perspective to the climate change conversation, by way of beautiful narration by Bridgerton's own Regé-Jean Page.
19. David Attenborough: A Life On Our Planet
Need another doc option? For most of his life, David Attenborough has been quite literally changing the way we see the world — and in this 2020 doc, he takes his iconic voice and love of nature to a new level, detailing his personal passion for the environment and giving us a glimpse at what unchecked climate change could do to our beautiful, blue planet.
20. Disclosure
This insightful Netflix documentary explores the complex challenges revolving around trans representation in Hollywood. Its sweeping approach — which spans from the earliest days of TV and film through today — will help you start to see all aspects of the industry with fresh, critical eyes and features notable trans voices such as Laverne Cox, Chaz Bono, Mj Rodriguez, and many more.
21. The Lost Daughter
Every mom is happy to be one... right? Well, as The Lost Daughter proves in gritty, heartbreaking detail, not necessarily. Olivia Colman plays Leda, a woman who reflects on her regrets of being a parent while on a solo vacation. It may seem like a small, personal story, but it's also one that invites you to ask larger questions about the world's expectations of women and mothers.
This article was originally published on