Everything To Know About Netflix's Britney Vs Spears Documentary
Netflix's doc might be more revealing than Hulu's.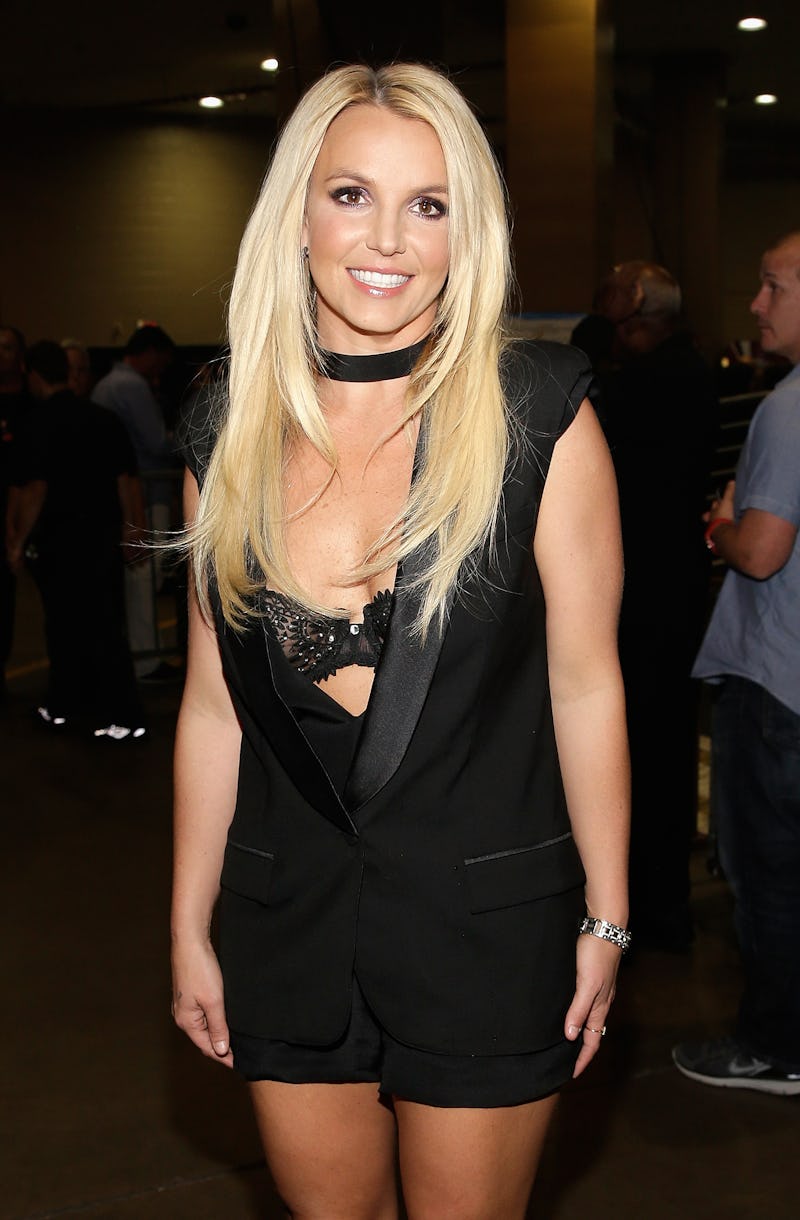 Isaac Brekken/Getty Images Entertainment/Getty Images
Pop culture trends come and go, but it appears that the world's fascination with Britney Spears is forever. Following Hulu and FX's The New York Times Presents: Framing Britney Spears documentary, another Britney-focused project is about to drop. According to Bloomberg, the film was in the works prior to Hulu's bombshell documentary about the #FreeBritney movement and Spears' court conservatorship. After more than a year in development, Netflix finally released more details about its highly-anticipated Britney vs Spears documentary in September 2021.
News of the Netflix Britney Spears documentary arrived amid a flurry of Spears updates. In the days after Framing Britney Spears, an untitled podcast about Spears from Babs Gray and Tess Barker, two sources in the documentary and hosts of Britney's Gram, was reported by Deadline. The pod will reportedly further explore Spears' "career, legal struggle, and the birth of the movement to release her." Gray and Barker's original podcast dives into the singer's colorful social media presence and its implications about her independence.
Specifics regarding Britney vs Spears remain sparse, but the shadow of its predecessor is looming. Since the release of Framing Britney Spears, seemingly everyone in Spears' past and present orbit has weighed in, including Spears' boyfriend Sam Asghari, her ex Justin Timberlake, and her younger sister, Jamie Lynn Spears. The doc has even inspired a new judgment in Spears' conservatorship from a Los Angeles Superior Court judge. On Feb. 11, it was decided that Spears' father, Jamie Spears, will remain as co-conservator of his daughter's estate alongside private wealth management firm, Bessemer Trust Company, despite the 39-year-old artist's wishes.
On June 23, Spears broke her silence on her conservatorship with an emotional testimony delivered in court in which she called the situation "abusive" and likened her father's actions to sex trafficking. "I've lied and told the whole world, 'I'm OK, and I'm happy,'" she said. "I'm not happy. I'm so angry. It's insane. And I'm depressed. I cry every day." According to Spears, she was involuntarily sent to a mental health facility and prescribed lithium, which made her feel "drunk," and given an IUD that her conservators won't allow her to remove — despite the fact that she wants to have a child with Asghari.
After sparking a wave of support from celebrities and fans alike on social media, the explosive speech also led Bessemer Trust to step down as co-conservators of her estate, claiming to have thought the conservatorship was voluntary on Spears' part. On July 5, Larry Rudolph stepped down from his position as her longtime manager. "It has been over 2 1/2 years since Britney and I last communicated, at which time she informed me she wanted to take an indefinite work hiatus," he wrote in a letter to her conservators, noting that he learned earlier that day that she wishes to retire. "As her manager, I believe it is in Britney's best interest for me to resign from her team as my professional services are no longer needed."
Her court-appointed lawyer Samuel D. Ingham III also chose to resign on July 6, which will be addressed at her court hearing on July 14 along with Bessemer Trust's resignation, per NPR. During the hearing, which Us Weekly noted Spears would participate in, though she's not required to speak, the court will likely decide whether she is allowed to hire her own legal team, which she requested in her testimony. Her mother, Lynne Spears, issued a petition to Judge Brenda Penny on July 7 for her daughter to be allowed to hire her own lawyers. "It is self-evident that before the Court addresses, for example, the termination of the conservatorship, Conservatee must be allowed to consult with counsel of her choosing," her attorneys wrote. "Clearly, Conservatee needs private counsel to advise her as to her basic rights in this conservatorship."
On July 11, the New York Times reported that Spears is supposedly in discussions to hire well-known entertainment lawyer Matthew S. Rosengart. However, Judge Penny must approve his appointment. Once Spears' legal team is sorted out, she will officially be able to file a petition to terminate the conservatorship, which she expressed interest in doing at the June 23 hearing. Additionally, on July 1, a judge denied Spears' request to have her father removed from the conservatorship, though the decision was in response to a November 2020 request filed by Ingham, and Spears' recent testimony was not taken into account.
Major strides have been taken since then. Her father agreed to step down from his role as conservator on Aug. 12, but he intended to hand the reins over to Ingham. Finally, after a long, arduous battle, her father finally filed a petition on Sept. 7 to end Spears' 13-year legal arrangement. "If Ms. Spears wants to terminate the conservatorship and believes that she can handle her own life, Mr. Spears believes that she should get that chance," the petition read. More details about the case's resolution will be revealed after the next hearing on Sept. 29.
Ahead, everything we know about the Britney vs Spears Netflix project, from its focus to its filmmaker.
Netflix's Britney Vs Spears Trailer & Release Date
On Tuesday, Sept. 21, along with the documentary title, Netflix dropped the Britney vs Spears teaser trailer via Twitter. The 18-second trailer features a soundbite from a voicemail Spears left when she called her lawyer about ending her conservatorship all the way back in January of 2009, almost a year after her guardianship began. "Hi, my name is Britney Spears. I called you earlier," she can be heard saying in the clip, adding, "I'm calling again because I just wanted to make sure that during the process of eliminating the conservatorship...," as her voice trails off.
The full trailer for the documentary was released on Sept. 22. In the first several moments of it, Spears' voice is heard saying, "I just want my life back." The rest of the clip shows the pop superstar at the height of her celebrity and beyond, along with questions posed about the legalities of Spears' conservatorship. In a statement, Netflix avows that Britney vs Spears "paints a thorough portrait of the pop star's trajectory from girl next door to a woman trapped by fame and family and her own legal status." The streaming platform adds that the movie shows Spears' life "without utilizing the traumatic images that have previously defined her."
There's plenty of Spears' life that wasn't covered in Framing Britney Spears that could be discussed in Netflix's release. Namely, Spears' pop music dominance in the early 2000s, where the relationship with her mother stands, and how exactly Jamie became guardian of Spears' family life and finances. The project could also incorporate public and private reactions to the first documentary in its narrative and the legal developments that have gone down since the NYT documentary was released.
The trailer also revealed the premiere date: Sept. 28, one day before her next court hearing.
Everyone Featured In The Netflix Britney Vs Spears Documentary
The upcoming documentary hails from filmmaker Erin Lee Carr, who is no stranger to controversial subject matter. She previously directed three successful documentaries for HBO, including Mommy Dead and Dearest about Gypsy Rose Blanchard's murder of her mother Dee Dee; I Love You, Now Die: The Commonwealth v. Michelle Carter about the texting scandal that led to a teen's suicide; and At the Heart of Gold: Inside the USA Gymnastics Scandal about Dr. Larry Nassar's sexual abuse of Olympic gymnasts.
The trailer also features commentary from a journalist who was tipped off about the ins and outs of Spears' conservatorship in addition to legal experts who have represented conservatees and a man who states, "I'm not going to acknowledge that I was ever brought in to evaluate Britney Spears."
As for which additional sources the production will nab, there are plenty in Spears' circle who didn't participate in the Hulu documentary. "So many people around Britney have NDAs … people were scared," Framing Britney Spears director Samantha Stark told Entertainment Tonight. When asked about Spears' father and conservator, Jamie, she explained, "Jamie's team has sued some fans before, and there's a legal threat that way."
Also missing from the project was the voice of Spears herself, despite efforts to contact the singer. "Since Britney has such a tight circle around her, in part because of the conservatorship … journalists haven't really been able to interview her freely," Stark told ET. "We as The New York Times haven't interviewed her because we want to be able to do it freely with no one trying to adjust what she says or anything. It just feels like you can't ask Britney."
Speaking to Bustle on July 13, the same day Framing Britney Spears received two Emmy nominations, Stark noted that amid her excitement, she's saddened that Spears can't celebrate in the same way. "I've been thinking a lot about how the person who could tell her story best is Britney," she said before revealing that the team behind Framing is currently looking into the possibility of making a follow-up documentary. Expressing that she'd like to interview other figures attached to the conservatorship, Stark said, "I'm interested in everybody."
"The surprising thing about this is Britney alleged abuse in her speech," the director continued. "There was all these very specific things, and it doesn't appear like there's anything in the system to immediately investigate that because it was really surprising that now it's weeks later and nothing's happened. So I want to know, who are the players there and why is that not happening? How are there so many people involved and there's so much silence around it?"
It's unclear if Spears will appear in Netflix's retelling of her story through more than soundbites. But if the latest conservatorship updates are any indication, she might be ready to tell all.
This article was originally published on