How Cancer Season 2022 Will Affect Each Zodiac Sign
Cue "Summertime Sadness."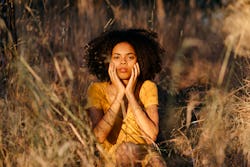 Westend61/Westend61/Getty Images
Summer is coming in hot, star babes, which means that Cancer season 2022 is on its way in, too. In tropical astrology, the date of the summer solstice in the northern hemisphere also marks the sun's ingress into the sign of Cancer, and this year all the action goes down on June 21. As we celebrate the longest day of the year and herald in the season of sunshine, we'll also feel a shift in astrological vibes, as Cancer's sweet and sensitive energy takes the cosmic reigns through July 22. As always, Cancer season is bringing emotional depth, warm connections, and lots of feelings, so you'll want to know how Cancer season 2022 will affect your zodiac sign.
Cancer is the cardinal water sign of the zodiac, and it's caring, compassionate, and deeply sensitive. With the sun in this watery realm, all zodiac signs will be more inspired to get in touch with their roots, nurture themselves and the people around them, and embrace their softer sides. Because Cancer zodiac energy is very emotionally-centered, the season of the crab will likely plunge us into our feelings and make us more prone to the whims of our ever-changing moods — in other words, we've got Cancer-born Lana Del Rey on repeat. Overall, it's a beautiful time to connect with family and old friends, revel in the sentimental memories of summers past, and turn your home into a cozy summer sanctuary where you can host social gatherings or simply give your heart some space to breathe.
One week into Cancer season, on June 28, our emotional energy will come to a peak thanks to the June 2022 new moon, during which the sun and moon — Cancer's ruling planet — will align in Cancer's sentimental waters. This is a gorgeous time for checking in with your feelings and setting some summer intentions. Communication planet Mercury enters Cancer on July 5, which may up our sensitivity levels but will also catalyze more meaningful heart-to-heart connections. During the final week of Cancer season, on July 17, romantic planet Venus will also join the sun and Mercury in the sign of the crab, amplifying the feelings-focused energy of the season and making us much more sentimental about love and relationships.
Summer's fun-loving vibes can help to bring us out of our shells, but Cancer season reminds us that it's OK to ease into these sunnier months with gentleness and care, too. Read on for your Cancer season 2022 horoscopes.
As a fire sign, the warmer weather ignites your fun-loving spirit, Aries — but during Cancer season, you may actually want to spend some time nesting. Focus on cozying up your living space and turning it into a place where you can host some summer get-togethers and fully recharge your batteries. Connecting with your closest friends and family or planning some chill nights in will help you ease into the summer and get in touch with your heart.
It may be the season of the crab, but you're ready to come out of your shell this month, Taurus! You'll be feeling social, energetic, and ready to fully connect with the world around you — so allow yourself to enjoy the hustle and bustle of this busy time. Conversations are flowing more easily now and you're filling your calendar with tons of exciting summer plans, so use this burst of energy to reconnect with friends or take a fun day trip to celebrate the longer and warmer days.
Your birthday season may be over, Gemini, but that doesn't mean you won't be enjoying in all of life's many pleasures over the coming month. You're feeling deep into your senses now — delighting in the warmth of the sunshine on your skin, the sweetness of ripe summer fruits, and the magic of a new season's vibration in the air. While it's a lovely time to indulge, make sure you keep an eye on your bank account and stick to a budget so you don't go overboard with luxuries.
It's your birthday season, Cancer baby! The solar spotlight is shining down on you all month long, so come out of your crab shell and allow yourself to bask in being the center of attention. Your care and compassion for others is one of your most admirable qualities, but this month is a wonderful time to focus your energy on your own needs, wants, and goals instead. Put yourself first and prioritize the things you want to accomplish this summer. You deserve this time to shine.
Summer is definitely your season, Leo. However, it'll be good to take things slow over this coming month and ease yourself into the second half of the year with gentleness. Instead of booking yourself silly with plans, allow yourself time to rest, relax, and charge your personal batteries with lots of self-care and downtime. Getting in touch with your introspective side will ensure you're fully ready to enjoy your upcoming birthday season. Take a break from the grind and go with the flow.
It's officially summertime, Virgo — so get out, make some new connections, and start enjoying good times with your crew! You're feeling especially collaborative and collective-minded this month, so it's a great time to tackle group projects at work, get more involved with your community, or just maximize on social outings where you can meet more like-minded people. RSVP to some event invites from friends and let yourself have some summer fun.
The sun may be shining outside, but your focus is probably on your career this month, Libra. You may find that new opportunities are coming up at work and you're catching the attention of your higher-ups — so turn up your kindhearted charms, highlight your social graces, and show off your strong sense of diplomacy. Making professional power moves doesn't require any aggression, so take a caring and compassion approach to your decisions and watch the chips fall into place.
Cancer season is upping your desire for adventure now, Scorpio, so make some exciting and mind-expanding plans for the summer. Booking a faraway vacation, exploring a topic of interest you've never tapped into before, or even looking into furthering your education are all great ways to scratch your itch for fresh wisdom and experiences. Now's a time to expand your horizons and push the limits of your personal comfort zone. Taking a risk can definitely pay off.
Cancer season is an emotional time for everyone, but you'll definitely be deep in your feels this month, Sagittarius. You're feeling more introspective than usual, and may find yourself preoccupied with the dynamics of your intimate relationships. Hopes, fears, and secrets may come to the surface now, asking you to get real with yourself and the people closest to you. Don't be afraid to face these things head-on and clear the air — you'll feel so much lighter once you do.
Cancer season is shifting your focus on your closest relationships, Capricorn, so get ready for a little bit of summer lovin'. This is an important time to embrace your softer side and be more open to emotions within your one-on-one partnerships, so work on letting your guard down and letting your true colors shine. A little vulnerability and sensitivity can go a long way in building closeness and care with others — whether that's a romantic partner, a best friend, or even a professional contact — so lean into compassion.
It's officially time for some summer fun, Aquarius, so the coming month is a good time to check in on your work-life balance and ensure you're making ample time to tend to all your needs. You can't burn a candle from both ends, so revamp your schedule in a way that allows you to stay on top of your responsibilities, but also leaves plenty of room for wellness and self-care. Be more open to accepting help and care from other people, and prioritize nourishing yourself. You deserve it.
Summer love, anyone? Cancer season is lighting up your romantic life this month, Pisces, and it's bringing all sorts of new opportunities for dating, creativity, and pleasure. If you're in a relationship, it's a great time to bring some heartfelt depth and honeymooner magic to your connection. If you're single, have fun exploring the excitement of summer flings by scheduling some hot dates and getting your flirt on. Inspiration, love, and good times are all around.