Here's Your Daily Horoscope For June 21, 2022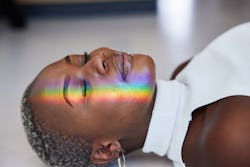 Goodboy Picture Company/E+/Getty Images
Bustle's resident astrologer Mecca Woods, founder of My Life Created, shares every zodiac sign's daily horoscope for today, June 21, 2022.
We did it! Today marks the summer solstice, which is also the beginning of Cancer season, meaning we've reached the halfway point of the year. With the vibrant sun stationing itself in the emotional realm of Cancer early this morning, we'll feel the most energized by slowing down, reflecting, and paying a great deal of attention to what we emotionally need, like love and tenderness. We'll also feel our best by being supportive of others.
However, as the moon (the cosmic ruler of Cancer) is currently in feisty and enthusiastic Aries, we might not be feeling so emosh m'gosh today. Instead, the influence of the Aries moon encourages us towards bravery, passion, and adventure, especially as la luna teams up with expansive Jupiter in Aries by the late morning. That said, we might need to be mindful of going over the top with our emotions.
Meanwhile, Venus in security-driven Taurus joins forces with powerful Pluto in Capricorn today. Together, they inspire us to be extra protective of who and what we care about most, in addition to the planets in Aries and Cancer. On a lighter note, this Venus-Pluto aspect can be helpful for connecting with others, as can the meeting between the Aries moon and chatty Mercury in Gemini come mid-afternoon.
You might be moved to have a heart-to-heart with someone you love today. The two of you can come to an agreement or a mutual understanding. With money, a request or application gets a yes.
You're in the mood to do something kind. Think about donating money to a fundraiser or a charity organization. Gift a friend with something thoughtful. Your generosity will make an impact.
A chance to earn extra money or find a new job arrives today via a friend or someone through your network. The timing is optimal for reaching out and connecting with the right folks.
Happy Birthday, Cancer! Big things are brewing for you now, whether it's a big career move or you finally getting the attention you deserve for all of your hard work. It's time to shine!
Your tank is running on empty today, leaving you with little energy. Maybe it's a good idea to allow yourself more time to get your projects done. Ask for extra time and you will receive.
Don't be afraid to open up and talk to a friend about what you're feeling. Just having someone to listen to you can do wonders for your confidence or your mood.
A new business venture or partnership may be on the horizon. There's a strong chance that it can help you with improving your finances or sense of security. If it feels like a good fit, say yes.
You're feeling like you should brush up on your skills or expand your studies. This is a great time to register for a course or take on a mentor to help you stay sharp and build on what you know.
You might be feeling some heaviness now. You can beat the blues by getting active or doing something fun and helps you to sweat too. Invite a buddy along so you'll follow through.
Home and family are the biggest things on your mind now. You're encouraged to check in and connect with the people you hold dear. Spending time with loved ones is good food for your soul.
Try to avoid overwhelming yourself today with too much to do. Look to ways that you can allow your family or community to support you. If possible, take a little time off.
Fun and pleasure are at the top of your list. You're encouraged to get out and do the things that bring you joy. Just make sure that you're not overspending now. Check out some free or low-cost venues.
Want to learn more? Check out your June 2022 monthly horoscope.