October 2023's Astrology Includes 2 Eclipses & Scorpio Season
You'll have to brave the darkness in order to grow.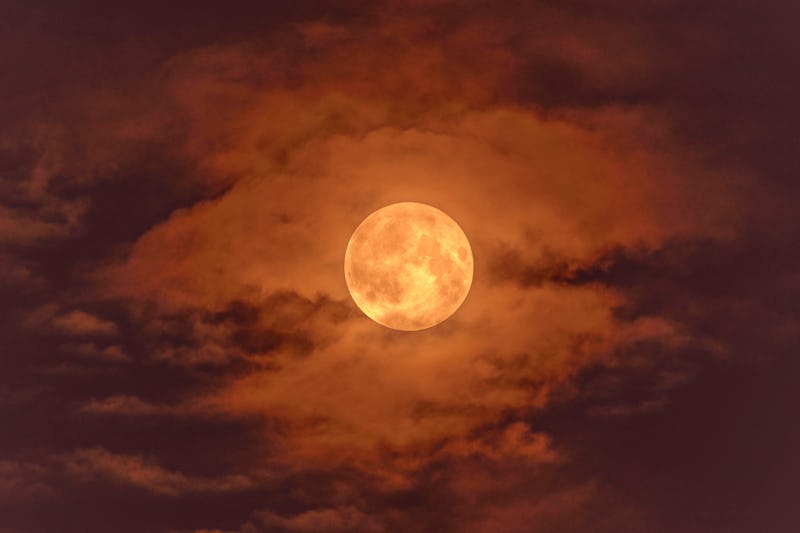 imageBROKER/Lilly/imageBROKER/Getty Images
Trick or treat, star babes! In true Libra season fashion, the astrology of October 2023 has decided that we're getting a perfect balance of both. The retrograde activity of the past couple of months is finally dying down, but the chaos of eclipse season is fully loaded and ready to launch — which means intense new beginnings and dramatic endings are in store for all zodiac signs. The major astrological events of October 2023 are not to be slept on.
The month begins with the charming energy of Libra season, which inspires everyone to embrace their inner PSL-loving social butterfly, create more connections with others, and mediate any lingering conflicts that are disrupting their inner peace. Intensity turns up as we descend deeper into the month, as dark and mysterious Scorpio season starts on Oct. 23. At that point, the sun, feisty Mars, and mental Mercury will all congregate together in the emotional water sign, so get ready to dive into your spirit's shadows as Halloween approaches.
We're also being plunged back into the intense portal of eclipse season this month, so buckle up. The new moon/solar eclipse on Oct. 14 kicks off an important new chapter in our lives and demands that we dress any lingering wounds before moving forward. Two weeks later, on Oct. 28, a full moon/lunar eclipse swoops in to shake up everyone's Halloweekend — so watch out for drama. Eclipses tend to bring about fateful twists, sudden endings, and lightning-fast new beginnings, so do your best to ride this cosmic wave and listen to what the universe is trying to tell you.
Additionally, all of the personal planets are switching signs at least once this month, so energies are shifting when it comes to motivations, social interactions, and romantic approaches, too. This year may be going by fast, but it's definitely not over yet, as big changes are in store this month. Read on for your October 2023 astrological overview.
A Lot Of Libra Energy
Libra season's balance reigns supreme through the first few weeks of October, putting emphasis on peaceful partnerships, harmonious aesthetics, and finding the symmetry and beauty in things. This is the perfect vibe for enjoying all the fun and coziness of early fall. Pumpkin patch photo shoots and autumn sweater shopping dates for all!
The sun is joined by the communication planet Mercury on Oct. 4, amplifying the Libran themes and making everyone a little more diplomatic and fair-minded. This can be a great time to work on smoothing over issues in relationships, weighing the pros and cons of upcoming decisions, and generally balancing any out-of-whack energies in your life.
Simplifying Relationships With Venus In Virgo
Due to its recent retrograde cycle, amorous Venus has been in the vivacious sign of Leo since June 5 — an unusually lengthy visit for the planet of love, and one that marked an important journey for exploring relationships and self-worth. But energy is shifting once Venus finally enters Virgo on Oct. 8. Virgo's refined and straightforward vibe makes everyone more down-to-earth and practical about romance, favoring simple acts of kindness over flashy displays of affection. You may also feel especially attuned to minute details, so try not to get nitpicky with yourself or your lovers.
Pluto Retrograde Ends Oct. 10
The retrograde wave we've been riding recently began to break in September, with both Venus and Mercury's backspins coming to an end. But the planetary pace picks up even more once Pluto retrograde 2023 ends on Oct. 10. Power-hungry Pluto moves slowly and subtly, so you may not feel the shift in any notable way. But as the planet of transformation, you can guarantee that its direct motion is shifting the tectonic plates beneath the surface of your soul.
Feeling The Intensity With Mars In Scorpio
Cosmic heat is turning up on Oct. 11 PT/Oct. 12 ET, when bold and sexy planet Mars enters Scorpio. This fixed water sign is one of Mars' zodiacal home bases, so the red planet feels especially powerful amidst these deep and mysterious waves. This transit will heighten libidos, sharpen decision-making skills, and boost our collective cravings for power through the rest of the month. Having fiery Mars in its traditional sign of rulership is the perfect prelude to Scorpio season, giving us a little taste of what's to come.
A New Moon Eclipse & Mercury Cazimi In Libra
Welcome to eclipse season! On Oct. 14. the sun and moon will align in Libra, forming an intense but healing new moon eclipse. Solar eclipses generally usher in new things, but because this lunation is on top of the release-oriented South Node, we may find that this new beginning requires us to embrace some endings. Meanwhile, a lunar opposition with wounded healer Chiron can help you move beyond painful wounds from your past, once and for all. It's time to free up some of your emotional bandwidth and clear space for fresh flowers to flourish.
If you're feeling dizzy post-eclipse, the sun-Mercury conjunction in Libra on Oct. 19 PT/Oct. 20 ET Oct. 20 could help bring a more balanced perspective to any shocking information or events that may have unfolded the week prior. This special alignment is known as a Mercury cazimi, and it delivers a much-welcome mental reset after a sensitive solar eclipse—as well as a lovely closing act for Libra season 2023.
Getting Spooky With Scorpio Season
On Oct. 23, the sun joins motivated Mars in shadowy Scorpio, plunging you deep into Scorpio season's mysterious waters. This ingress brings emotional intensity to the forefront and may inspire you to dig beneath the surface of your life to face your fears. Transformation takes courage, and Scorpio zodiac energy isn't afraid to cut straight to the heart of things.
Mental planet Mercury entered Scorpio just one day before the sun, amplifying the deep and investigative Scorpio vibes through the rest of the month and putting everyone's BS detectors on high alert. With three personal planets in Scorpio at once, uncovering the truth is a must, and being stealthy and strategic is the best way to get what you want.
A Dramatic Halloweekend With The Full Moon Eclipse
October's full moon lunar eclipse in Taurus rises on Oct. 28, promising a highly dramatic Halloweekend that tests values and wraps up an important story in each zodiac sign's life. This critical lunation connects with an explosive opposition between hot-headed Mars and over-the-top Jupiter, bringing potential for big feelings, burned bridges, or stubborn standoffs.
October's full moon is traditionally nicknamed the Hunter's Moon, and this one will most definitely summon our inner warriors, forcing us to brave the darkness in order to grow.