Here's How September's Jupiter Retrograde Affects Your Zodiac Sign
It's actually a good thing.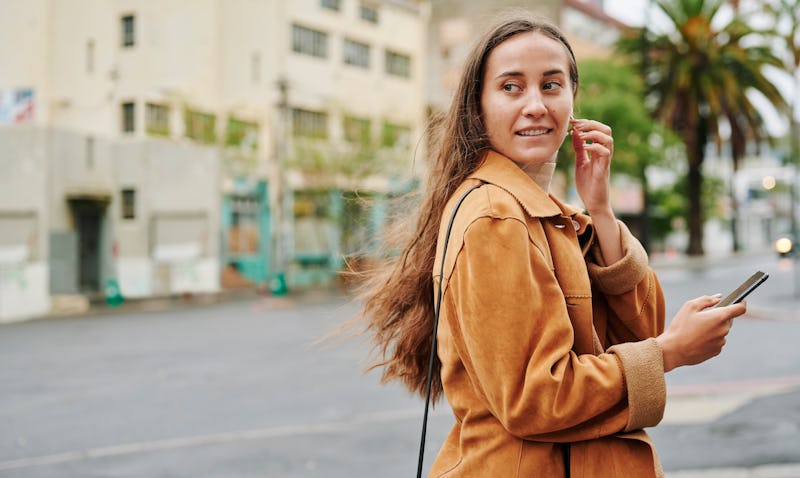 mapodile/E+/Getty Images
Even if aren't big into astrology, you're probably still aware of how retrogrades can flip your world upside down. But with Jupiter and six other planets (yes, six) simultaneously backtracking in the sky right now, it's worth noting that not all retrogrades signal hardship. Enter: Jupiter retrograde 2023 in headstrong Taurus, which falls between Sept. 4 and Dec. 31. During a time in which everything seems out of your control, magical Jupiter offers an opportunity to channel balance and abundance during its backspin. To maximize this lucky planet's potential, consider how 2023's Jupiter retrograde will affect your zodiac sign and act accordingly.
In astrology, Jupiter is a benefic planet associated with good fortune, abundance, and knowledge. It tests our boundaries and helps us connect with our soul's purpose — though it's not all good. "It can also bring an excess of things, which is not always pleasant," says Tamerri Ater, astrologer, founder of the wellness brand Gift of the Nile. When Jupiter is retrograde, it gives us an opportunity to assess where we've indulged a little too much.
Consider: What is weighing you down? According to astrologer Lauren Ash, "Sometimes, you do things because you feel you should enjoy them or they should make you happy. Jupiter retrograde is your chance to be honest about what's not doing it for you anymore."
While retrogrades are undoubtedly chaotic, they're a chance for us to slow down and review our progress. That's the case for Jupiter retrograde 2023 in devoted Taurus, a practical earth sign known for its resiliency and appreciation for the finer things. As such, the next few months provide generous space for us to revisit our financial goals and indulge in our material comforts. Per Ash, October's eclipse season will be an extra charged moment during Jupiter retrograde. "The Aries/ Libra eclipses are shifting the focus to how you express your independence outside of your bonds with others," she says.
Ultimately, this Jupiter retrograde is helping you open your mind to new ideas and opportunites, as well as giving you the confidence to grow spiritually.
Whether this auspicious backspin is bringing you extra comfort or helping expand your finances, you'll want to be prepared. Read on to know how Jupiter retrograde 2023 affects your zodiac sign.
Prepare for a total confidence boost, Aries! This is the perfect time to filter out the things that no longer bring value to your life. Plus, a financial opportunity from the past may make a comeback. "The second or third time may be a charm, but wait until after Mercury goes direct on Sept. 15 before making a final decision," Ater says.
Your sense of self is shifting for the better, Taurus! This retrograde is all about emulating the kind of persona you've been manifesting this year. "It's a good time to revisit your personal brand and how you're showing up in all areas of your life," Ater says. Since Venus, your planetary ruler, exits its own retrograde on Sept. 3, Ater says, "It may be time for an inner and outer makeover."
Jupiter retrograde may have you deeper in your thoughts than usual, Gemini. It's a good time to hone in on the magic of your subconscious, so you can manifest the things you want in the material world. "You may want to explore new spiritual practices or reassess what you are currently doing to feel renewed and recharged," Ater says. Stay grounded by keeping a journal or practicing mindfulness.
Your casual relationships may start to flourish into deeper connections, Cancer. "New people who have become a part of your life may be around for the foreseeable future," Ater says. From hitting up your old Bumble BFF matches to hosting a brunch, per Ater, this retrograde is your cue to foster a healthy social life.
It's time to take stock of your career goals, Leo. If your heart isn't in it, the consequences of selling yourself short professionally will soon show themselves — but Ater says this retrograde is an opportunity to totally pivot if necessary. Plus, Ater says, "An important professional connection from the past may resurface in your life." Keep your eye out for opportunities.
Jupiter retrograde is probing at your curiosity and wanderlust, Virgo, "encouraging you to learn new things and expand your mind in a way that will be beneficial for the future," Ater says. Make the most of this moment by picking up a new skill or hobby. (Yoga, anyone?)
Libra, are you getting a good deal? Reassess any contracts or partnerships that involve money. If there's an agreement that doesn't totally seem fair, this might be a good time to reconsider the terms if possible. "You can also use this energy to pay down debts, refinance or negotiate payments," Ater says.
From your lover to your colleagues, Jupiter retrograde will impact your closest relationships, Scorpio. It could be a good time to reassess the quality of these connections. It's possible old flames might resurface, too. Either way, this time is about hunkering down and deciding what value these relationships are adding to your life.
Jupiter retrograde is bringing balance to your material world right now, Sagittarius. Focus on your health and wellbeing. It's a powerful moment to incorporate daily habits to keep you grounded. "You can also use this time to connect with former colleagues, which could open new doors for you," Ater says.
Don't work too hard, Capricorn — Jupiter retrograde is reminding you that entertainment is a great source of therapy, so revel and make merry! "If you've been working too hard (you probably have), commit to turning up the fun meter, even if you have to schedule it in your calendar," Ater says. Giving yourself room to play is a laidback way to nurture yourself.
Aquarius, it's time for a total transformation in the home, both figuratively and literally. "Jupiter retrograde is a great time to start identifying cracks in your domestic life that need to be repaired, whether it's a familial relationship or a literal crack in an area of your home," Ater says. Spend some time curating your ideal space via Pinterest boards or finally making those special home improvements that you've been dreaming of.
Pisces, it's time for an adventure! Jupiter retrograde is inspiring you to explore a not-so-far-off land this fall, regenerating your spirit and boosting your productivity. Also, Ater says, "Distant relatives and neighbors may require more of your attention during this time."
Experts:
Lauren Ash, astrologer and lifestyle editor
Tamerri Ater, astrologer, founder of the wellness brand Gift of the Nile