All Of Your Favorite Celebrities' Best Halloween Costumes Of 2019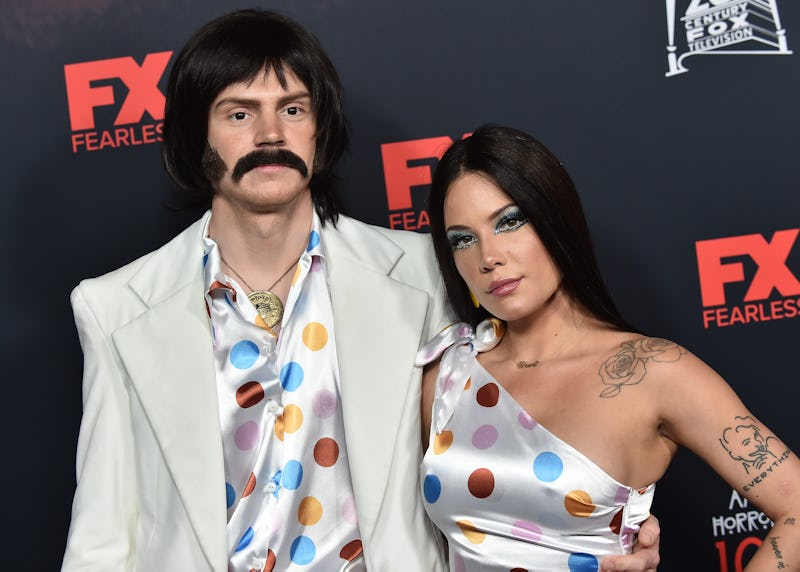 LISA O'CONNOR/AFP/Getty Images
While you may sometimes wish you had a chance to be famous, even celebrities use Halloween to be someone other than themselves. When it comes to this year's best celebrity Halloween costumes, the biggest trend has no doubt been stars dressing like fellow famous people or TV/movie characters. For the past week, Ariana Grande has been posting clips of the Twilight Zone as a build-up to her costume reveal, and last weekend Jessica Biel dressed up as her own husband Justin Timberlake back in his *NSYNC days.
There are also a few other key takeaways from celebrities' Halloween 2019: Kylie Jenner has shown there's no limit to the number of costumes you can wear (she's already dressed as a Playboy bunny, the Little Mermaid, and Marilyn Monroe), Demi Lovato is proof that makeup can make you completely unrecognizable, and Jennifer Garner set an example in thinking outside the box... by dressing up as a mailbox.
From couples costumes to pop culture throwbacks, here's a roundup of your favorite celebrities' Halloween outfits — just in time to give you last-minute inspiration. Proceed with caution, though, because you might not be able to unsee some of the spookier looks.
1. Ariana Grande Pays Tribute To the Twilight Zone
This year, Grande dressed as a character from the Twilight Zone. The costume, from the "Eye of the Beholder" episode, featured a young woman who undergoes multiple cosmetic surgeries to finally look like everyone else. After the "final procedure," nothing seems out of the ordinary until the other characters are revealed to have slanted mouths and turned-up noses. Hosting a star-studded party, Grande gave a tour of her home post-Halloween treatment.
2. Ciara & Russell Wilson As Another Iconic Couple
The singer and quarterback dressed as Beyonce and Jay-Z from their "APES**T" music video. While the original video included the Mona Lisa in the background, Ciara and Wilson put a spin on their version with a framed image of Michelle and Barack Obama.
3. Gabrielle Union Says, "Brr! It's Cold In Here"
One of Union's breakout roles was starring as the Clovers cheerleader Isis in the first Bring it On movie 19 years ago. Union gave fans all major nostalgia when she re-channeled this role, complete with her daughter Kaavia in hand.
4. Ellen DeGeneres Gives Her Best "Okurrttt" As Cardi E
On her talk show, Ellen DeGeneres paid tribute to Cardi B's role in Hustlers before welcoming the rapper to the smoke-filled stage and learning how to give a lap dance.
5. Kylie Jenner Channels Her Inner Disney Princess
The reality star put her own spin on Ariel from the Little Mermaid, with a pearl-encrusted seashell bra, a jeweled fishnet long-sleeve, green skirt with a high-slit, and a beaded purse of Flounder.
6. Jennifer Garner Is Ready To Collect Your Mail
Proving that Halloween costumes don't always have to be a person or a character, Jennifer Garner dressed as a USPS mailbox, complete with some pieces of mail.
7. Drake Squashes Any Family Beef By Dressing As His Father
Drake and his father Dennis Graham made headlines earlier this month with the latter claiming that the rapper lied about their relationship to make profit off of his records, which Drake denied. It appears there's no longer bad blood between the two as Drake dressed up as his dad this year, complete with a beard and glasses.
8. Halsey & Evan Peters Hit The Red Carpet As Music Legends
This new couple took couple costumes to a whole new level. While Evan Peters' and Halsey's first Halloween get-up was dressing as a fan of Insane Clown Posse and Marilyn Manson, respectively, their second couples costume was Sonny and Cher.
9. Jessica Biel Channels Justin Timberlake While He Dresses As A Mic
In yet another case of celeb-dresses-as-another-celeb syndrome, Jessica Biel dressed as husband Justin Timberlake, who kneeled by her side as a giant microphone. The costume came just after admitting on the Tonight Show that she wasn't a fan of *NSYNC and doesn't know the lyrics to Timberlake's early songs.
10. Rachel Zegler Gets The Job Done As AOC
Rachel Zegler, who's set to star in the upcoming West Side Story, gave her best impression of politician Alexandria Ocasio-Cortez this Halloween. In a quick clip she posted on Twitter, Zegler wore AOC's signature red lip and pretended to question an unnamed party.
11. Kim Kardashian Aced Her Video Application To Harvard
Kim Kardashian announced she was training to become a lawyer earlier this year and it definitely ties in with her choice of dressing as Elle Woods this Halloween. The video was reminiscent of Woods' Harvard video essay, down to the scene with sorority sisters discussing toilet paper and the blinding pink outfits.
12. Bella Hadid Goes Caveman Chic
Hadid showed that dressing as male characters isn't just for the boys with her version of Fred Flintstone. Hadid gave the costume a feminine touch with bone accessories and a smoky crease.
13. Jordyn Woods & Megan Thee Stallion Are The Female Warriors
Jordyn Woods and rapper Megan Thee Stallion, with weapons ready, dressed as female characters from the Mortal Kombat franchise, specifically Skarlet and Mileena.
14. Normani Looks Almost Identical To Naomi Campbell
The singer posted side-by-side photos of her and supermodel Campbell circa 1991. Normani's curl pattern and the titled beret to the striped pillow resembled the setup of Campbell's vintage photo.
15. Kim Kardashian & Her Fam Say, "I Yabba-Dabba Do!"
Kim Kardashian took inspiration from the Flintstones this year after starting off Halloween as Elle Woods. Dressed as Betty Rubble, Kim closely matched North who was Wilma Flintstone while Chicago was Pebbles Flintstone. Saint and Psalm weren't missing either as they were dressed up as Fred Flintstone and Bamm-Bamm Rubble. As for Dino, Kanye donned the full-body costume for the family portrait.
16. Amber Rose Tamblyn Models The Dark Side Of The Web
The Sisterhood of the Traveling Pants star's costume reminded her followers of an all-too-familiar digital trend: cancel culture. Barefoot and with a drink in hand, Tamblyn put comfort first as she wore an all-black outfit that featured brands and public figures that've faced controversy in recent years including DJ Khaled, Chick-fil-A, Brett Kavanaugh, and R. Kelly.
17. Cardi B Takes Inspo From One Of DC Comics' Villains
Referring to herself as "Money Ivy," Cardi B pulled out all the stops as villain Poison Ivy with Rapunzel-esque red hair, barely-there green accessories, and her signature long nails.
18. Miley Cyrus & Cody Simpson As Punk-Rock Stars
Cody Simpson and Miley Cyrus stepped out in grunge-y outfits as '80s couple Billy Idol and Perri Lister. They both shared a ton of black-and-white photos of their outfits, along with plenty of PDA.
19. Malika Haqq Made Sure To Include Her Baby-To-Be
Incorporating her baby bump into her costume, Haqq wore a skeleton get-up with a reference to her pregnancy. On top of her growing belly was a baby skeleton holding a cord connected to Haqq's heart. She announced the news of her pregnancy at the end of September.
20. Jenna Dewan Is On The Same Wavelength
Expectant mother Jenna Dewan wore the same costume as Haqq. After posting a gallery of her throwback Halloween looks, including an elaborate unicorn makeup look and a Greek goddess costume, Dewan had a photo of herself in the expecting skeleton costume, too.
21. Antoni Porowski Comes Back From The Dead Along With Blockbuster
The Queer Eye star made his debut with rumored new boyfriend Kevin Harrington as they attended a Halloween charity party. Porowski and Harrington dressed as Blockbuster employees in zombie form. Their costumes were complete with name tags, DVDs, cobwebs, and glued "Swedish fish and popcorn."
22. Sarah Hyland & Wells Adams Recreate A Classic Single
The newly engaged pair paid tribute to Queen and David Bowie's single "Under Pressure," with Hyland wearing Bowie's iconic makeup look from his "Aladdin Sane" album cover. Pretending to sing by his fiancee's side, Adams dressed in Queen's outfit from the 1985 Live Aid concert, considered one of Mercury's best performances.
23. Rachel Lindsay As HBO's Rue Bennett
The newly married Bachelorette alum might not have looked like she dressed up at first, but true Euphoria fans can easily recognize the face glitter and brown coat worn by character Rue Bennett, played by Zendaya.
24. Mindy Kaling Gives Her Best Impression Of Brad Pitt's Summer Movie Role
Kaling posed as Cliff Booth, played by Brad Pitt, from summer 2019's Once Upon A Time In Hollywood. She included the pitbull Brandy and posed in a wide stance and sneering facial expression.
25. Jason Momoa Dressed As The King Himself
Perhaps it was Elvis' connection to Hawaii, Momoa's love for Elvis' music, or Momoa's own Hawaiian roots that prompted the actor to dress as the rock and roll icon this year. Making an appearance on Ellen, Momoa noted how it's his second time dressing as Elvis, the first being when he was just 19 and new to Los Angeles.
26. Hailey Baldwin Got Nostalgic With This Looney Tunes Character
The newly married Hailey Baldwin posted several selfies to her Instagram Story of her costume as Lola Bunny, the Looney Tunes character from the 1996 film Space Jam.
27. Brie Larson Does Her Best Britney Spears
While some public figures have one recognizable look, there are other pop culture icons who have several signature looks that have transcended decades. Larson chose Britney Spears' "...Baby One More Time" look, channeling the days of the early 2000s.
28. Khloé Kardashian Becomes A Disney Villain
Though baby True has had her fair share of costumes this year, Khloé debuted her own outfit on Halloween night. With True and plenty of Dalmatians in tow, Khloé dressed as Cruella DeVil with a wig and a crease that matched Cruella's trademark black-and-white ensemble.
29. Sophia Bush & Samantha Marq Are Serving Justice
Sophia Bush, alongside singer Samantha Marq, gave her followers an image we don't see enough of: female Supreme Court justices. With crossed arms and expressions that show they mean business, the pair satirized the black robes by brandishing the front with the logo of the skateboarding clothing brand, Supreme.
30. Sofia Richie & Scott Disick Are In A Barbie World
Just a day after dressing as Disney princess Sleeping Beauty, Sofia Richie paired up with Scott Disick as Barbie and Ken.
31. Gigi Hadid's Makeup Will Have You Seeing Green
At first glance, Hadid may be thought to be the Wicked Witch of the West. However, the yellow suit and wide-brim hat are a dead giveaway of The Mask's character Stanley Ipkiss, played by Jim Carrey. Makeup artist Patrick Ta gave the supermodel a sharp wing, prominent cheekbones, and all-over green face paint for her appearance at Kendall Jenner's Halloween (and birthday) bash.
32. Hannah Godwin & Dylan Barbour Channel Grease
The Bachelor in Paradise couple may have been celebrating the fact that there is an upcoming Grease spinoff series with their ensembles as Sandy and Danny from the 1978 film. Godwin ended the Instagram gallery with a video of her and Barbour dancing in sync.
33. Kendall Jenner As A Forest Fairy
With a look that appears like it could be part of a Victoria's Secret Fashion Show segment, Jenner spent Halloween as a "forest fairy" along with model Fai Khadra and DJ Daniel Chetrit.
34. Camila Cabello Celebrates Halloween & The Day Of The Dead
Paying tribute to her Latinx roots and the Día de los Muertos holiday, Cabello dressed as La Catrina, donning a ginormous sombrero covered with candles and lined with skulls. She later posted close-up shots of her intricate skull makeup.
35. Chrissy Teigen & John Legend Go Full Glam
Photo shoot? Haunted house where Teigen "lost" her "phone all night"? While it isn't clear what Teigen and Legend were up to on Halloween, the model posted a raspy video the morning after where she manages to get out, "I honestly don't think I'm ever... doing anything again ever." Teigen did, however, upload a photo of herself with Legend, who was a king presumably, while she wore Maleficent-esque horns.
36. Demi Lovato As The Infamous Clown From It
Lovato got a head start on Halloween this year, first dressing as Marie Antoinette just a week ago before putting her own spin on Pennywise from It. The singer is almost unrecognizable in red contacts, ginger hair, and sinister makeup.
37. Figure Skater Adam Rippon Turned Himself Into A Meme
Olympian figure skater Adam Rippon is a convincing flute, specifically the one used by Lizzo in concert. With Lizzo still being on tour, she might just be able to find a way to incorporate him into her next set.
38. Lizzo Wins With Her Costume While Promoting Her Single
Lizzo dressed as a DNA test. In recent weeks, there was controversy over who created the "Just took a DNA test, turns out I'm 100% that b*tch" lyric from her hit single "Truth Hurts." The issue has already been resolved with Lizzo crediting Mina Lioness for writing the lyrics. Already moving on from any drama, Lizzo got crafty for Halloween by showing up to her friend's door as a human DNA test with "Truth Hurts" blasting in the background.
39. Kim Kardashian & Her West Worms
There's been no shortage of family portraits on Kim Kardashian's IG grid this month. She recently celebrated the U.S. House of Representative's formal recognition of the Armenian Genocide with a shot of her and her kids from their Armenia trip. And on the heels of dressing her entire family as the Flintstones, Kim continued the costumes post-Halloween with a shot of the group as intricate worms and bugs.
40. Nina Dobrev Dresses As Brad Pitt
Dobrev took a cue from Kaling, who dressed up as Pitt's Cliff Booth just a few days earlier. Dobrev elevated her third Halloween costume of the season with a video of a Pitbull, who belongs to Zoey Deutch, that resembled Brandy in Once Upon A Time In Hollywood.
41. Dylan Sprouse & Barbara Palvin Become '90s Anime Characters
Only anime fans will recognize the characters couple Dylan Sprouse and Barbara Palvin dressed as: Ashitaka and San from the Studio Ghibli film Princess Mononoke. Out of the loop? Catch all Studio Ghibili content, including the film Spirited Away, on the upcoming streaming service HBO Max.
42. Becca Kufrin & Garrett Yrigoyen Find Their Inner Western Outlaws
Becca Kufrin and fiancée Garrett Yrigoyen were late in posting their costumes this year, because they were "running from the law." Yrigoyen dressed as Roy Goode from Godless, while Kufrin posed by his side as Alice Fletcher, Goode's lover from the drama series.
This post will continue to be updated as more costumes are revealed.