14 Hair Trends You're Going To See Everywhere This Winter
Ready your Pinterest board.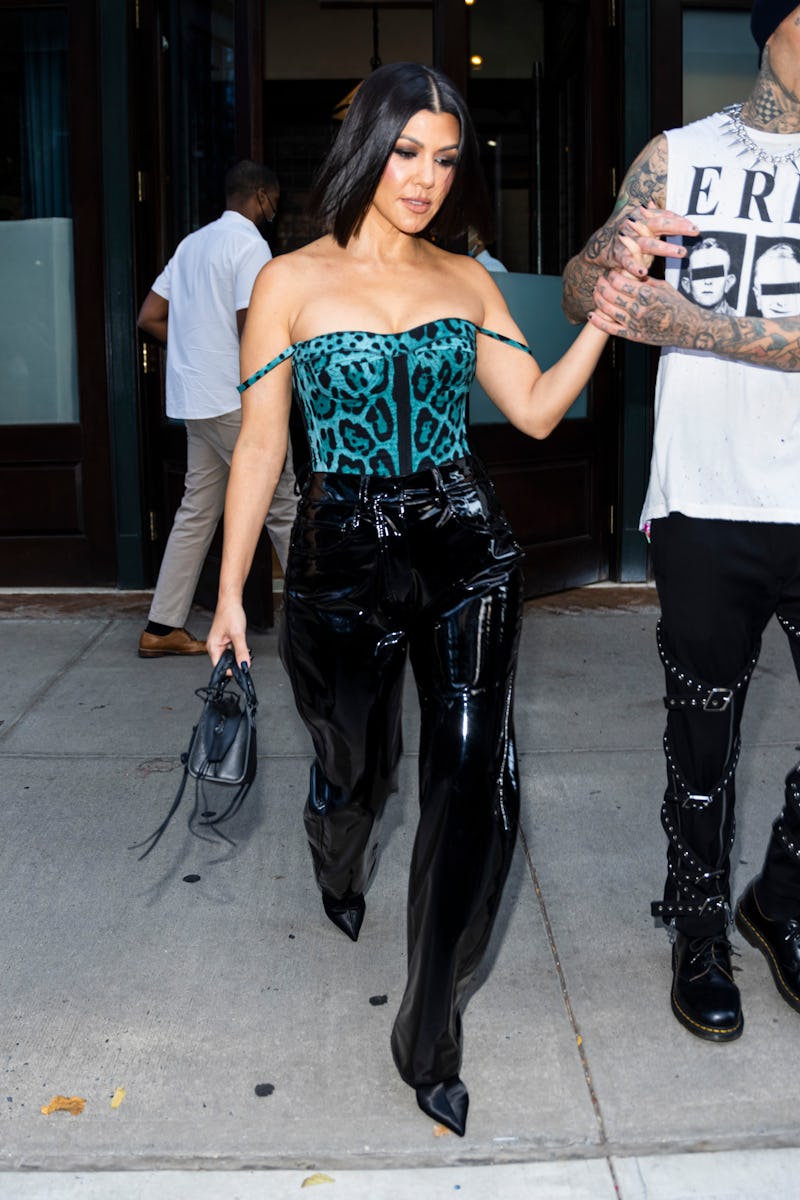 Getty Images/ Gotham / Contributor
As the season turns, people tend to crave a fresh change — and a different 'do is always one of the more exciting ways to embrace the transitional period. According to beauty experts, dramatic chops are currently dominating among the winter 2021 hair trends emerging in salon chairs across the country. "People are getting braver and braver with hair," Marc Mena, celebrity hairstylist, tells Bustle, nodding to a rise in bold cuts and shorter styles. "They're not holding onto it like a security blanket anymore."
Mena also theorizes that after the last two years of lockdown, people are universally over sporting the same styles as usual. "Now is time to have fun, and the best way to have fun is with your hair," Mena adds. And if this season's forecasted trends are anything to go by, lots of fun will definitely be had.
Read more: The 10 Best Hair Clips For Thick Hair In 2022
From shags to bobs to "supermodel hair," this winter is all about volume, movement, and starting anew. Depending on the look you opt for, experts believe that the top styles will either allow you to flaunt what you already have or feel inspired to free your scalp of the hair that's been weighing you down. "You'll be seeing a lot of fringes, layers, and lots of natural textures," Mena predicts. Another note? "People are going to stop fighting their hair," he says, explaining that this season's reigning styles are all about keeping things low-maintenance — something that's always alluring in the beauty world.
Read on for the winter 2021 hair trends experts foresee on the horizon (and their clients' heads).
1. Classic Mullet
You'll still be seeing plenty of mullets this season. According to Ona Diaz-Santin, celebrity hairstylist and owner of 5 Salon & Spa, the hairstyle is going to be everywhere. "Expect to see them in all different lengths, textures, and colors," she tells Bustle, nodding to Miley Cyrus as one of the trailblazers of the trend.
2. Curly Mullet
As noted above, mullets are back with a vengeance — in all shapes and sizes. One especially trendy take on the classic coiffeur is the curly mullet, or at least "an interpretation of it," Mena says, noting you'll be seeing a hybrid between a mullet and shag.
"This curly, modern version of the mullet still has the iconic hallmarks of shorter sides and a longer back, and the bi-level shape is subdued with softly blended layers for connected flow and uniformity," says Amy Abramite, creative director and stylist at Chicago's Maxine Salon. Her tip? "The trend is best styled with a diffuser attachment on a blow-dryer to define curls and boost volume."
3. '70s Shag
While there are countless beauty and hair trends that call back to the '90s, the contemporary shag you'll see this season has roots in an earlier decade. "Shags are still on trend, but with more of a '70s styling," Tatum Neill, creative director of Elevate Hair and North American creative director of Aveda, tells Bustle. "Imagine a curtain bang styled back and away à la Farrah Fawcett." Diaz-Santin echoes this, adding that this look has tons of movement.
4. Power Bob
"Bobs are coming back in all shapes and sizes," Neill predicts. One particularly popular take on the classic cut is the "power bob," Abramite adds, crediting HBO's Succession — and its characters Shiv Roy and Naomi Pierce — for fueling the trend.
"This one-length shape is free of all layering for sleekness at the top and a strong, clean, blunt line at the bottom with an angle forward," she tells Bustle. "This length is worn at or below the chin for a swingy bob on straight textures." Abramite suggests using a flat iron and/or paddle brush for a shiny finish and eliminating flyaways.
5. Wolf Cut
Wolf cuts, which are essentially the classic shag's equally cool cousin, are rising in popularity as well. "A wolf cut is a shaggy style with short layers up top that blend into bangs that frame the face," Abramite explains of the trend. "The longer lengths are wispy with soft, airy ends that flick out. A touch of round brushing or finger styling is all that is needed to set this low maintenance style into place."
If you want even more volume or to enhance your natural hair texture, she recommends using a mousse or texture spray when lightly blow-drying or letting your strands air dry.
6. Pixie Cut
Bobs won't be the only short style around come wintertime. Mena specifically points to the pixie cut, a style first popularized by '60s icons Audrey Hepburn and Mia Farrow.
Devin Toth, a hairstylist at Salon SCK in New York City, agrees, noting that the pixie and other stylish chops are also quite practical in the cold. "In winter, clients tend to go shorter because their long hair gets lost in their bulky winter clothes," Toth says. "But a short geometric haircut such as the pixie stands out, even with a hat, scarf, and jacket on."
7. Layers And Movement
Stylists tell Bustle their clients really want their hair to move — hence the rise of layer-heavy 'dos. "Haircuts are all about movement right now," Katelyn Hunziker and Meagan Mueller, owners and stylists at Mane Local, explain. This means face-framing styles, long layers, and texture, according to the pros.
If you want this kind of cut, Hunziker and Mueller note you'll have to do some styling. "If you want movement, use a curling iron — but don't forget a heat protectant!"
8. '80s Volume
Quite like mullets, Mena foresees another '80s-influenced trend on the horizon: a look he dubs "supermodel hair."
"Alongside the shag and mullet, there was also that supermodel look of big, voluminous hair," he explains. "Those two trends are coming back hand in hand: The mullet and the shag are more for the edgy girl, and the '80s supermodel hair is more for the glam girl." This means cuts with some layers that are best blown-out with a round brush and styled with as much volume as possible for all the throwback vibes.
9. Middle-Parted Updos
One low-maintenance but high-fashion style everyone will love this season? The middle-parted updo. "This look has become a model favorite," Abramite says. "There's something a little more casual and 'cool girl' about keeping a middle part, even when your hair is pulled up." While there are many ways to achieve the look (including getting lucky while making a messy bun), Abramite suggests breaking your hair into separate sections before pulling it all up and away from your face. Tendrils in the front are not necessary but encouraged.
10. Curtain Bangs
According to Nick Drewe, a trends specialist at WeThrift, curtain bangs aren't going anywhere. "The style sees your fringe parted down the middle and swept to either side of your face, framing it like a curtain," he explains. "It can be cut to any length so that it blends into the rest of your hair, making having a fringe much more manageable than a regular straight cut." Smith also notes that while this trend might have been around for a while now, some stylists believe that curtain bangs really came back in 2020 when people wanted to still feel "styled" wearing a mask.
Bonus points for being super simple to style: All you need is a quick blow-dry to achieve an effortlessly undone and natural fringe that frames the face.
11. Liquid Locks
According to Joseph Maine, hairstylist and founder of Trademark Beauty, beauty buffs are seeking silky strands this winter. "Everyone is looking for that ultra-shiny sleek hair that still has a bit of movement," he explains, adding that the aesthetic can be challenging to maintain without the right products. "Sometimes the hair becomes dry looking in the process and loses that liquid movement and reflection."
To combat any potential dryness, Maine recommends using Trademark Beauty Easy Blo to smooth and detangle, followed by Trademark Beauty Argan Oil Daily Elixir (or a hair oil of your choice) when your hair is wet. "[This will] help protect and moisturize your hair as you blow-dry," he says. "Then, apply a little more after the blowout for the liquid look."
12. 3D Curls
Expect to see people continue rocking their natural locks and curls, Tom Smith, celebrity hairstylist and European creative director for evo hair, tells Bustle. "'3D curls' are all about embracing the multidimensional beauty of curly hair," he says of the upcoming trend. To master the look, Smith suggests using a hold gel or balm to scrunch and define the curls while they're wet. "This will initially create a crunchy 'cast,' but this should be encouraged and left alone until the hair is 100% dry," he explains, clarifying that you may also use a diffuser attachment — though you still shouldn't touch the hair while it's drying. "You then 'break the cast' of the curls by gently massaging. Just never run your fingers through the curls or be tempted to brush them."
Smith suggests choosing products that moisturize and have a strong holding ability to help boost shine, as well as finishing with a shine spray or gently scrunching with a few drops of shine serum for a gorgeous gloss.
13. Bottleneck Bangs
Smith also foresees bottleneck bangs taking the stage this winter, which is a look that's essentially the follow-up to curtain bangs. "This hairstyle takes inspiration from the neck of a bottle, starting slim and short in the middle, curving longer around the eyes, and then is longest following the line of the cheekbone," he tells Bustle. "This allows the length and angle to be adjusted depending on whether you want to make your cheekbones appear wider or stronger." While not everyone can rock the classic fringe style of a solid horizontal line across the forehead, he notes most can wear bottleneck bangs to add softness to the face.
To emulate the look, Smith suggests asking your stylist to create longer bangs that skim your cheekbones at an angle that flatters your face and curve around to create a layer that sits somewhere between your cheekbones and jaw. Then, ask for the central part to be cut slightly shorter, keeping the cutting line soft and choppy, with the shortest part in the middle gradually getting longer on the edges.
14. Y2K-Inspired Hair
Late '90s and early 2000s hair trends really are back and bigger than ever. Drewe specifically cites bubble braids, zig-zag parts, and chunky highlights as styles to expect this winter, as well as lots of "cute clips" and "mini pigtails" — think Olivia Rodrigo.
"The great thing about Y2K hairstyles is there is no correct way to pull them off," Drewe notes. If you're looking to partake in the trend but don't want to go all out, start with butterfly clips, he suggests. Use them — or any colorful clips — to pin parts of your hair back, and you're good to go. (And if you're feeling creative, swipe on some colorful eyeshadow to complete your early-aughts aesthetic.)
This article was originally published on