18 Ways Your Mom Could've Contributed To Your Anxiety
She demanded perfection, for one.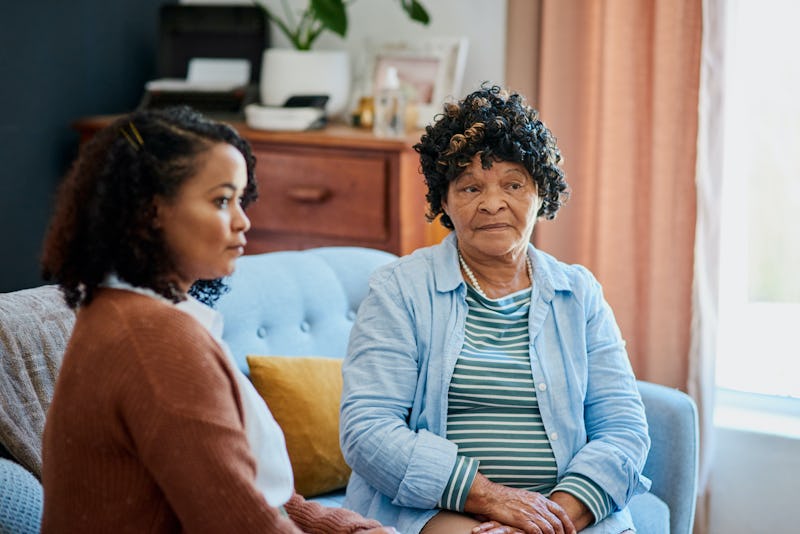 For better or worse, all the things your parents did or didn't do when you were a kid helped shape you into the person you are today. And that includes having anxiety and/or depression. While it's unfair to pin everything on one parent, it's super helpful to consider how your mom gave you anxiety — especially due to the super tight mom-child bond (though this could apply to your father as well).
"Parents play a very large role in the development of anxiety, both biologically and environmentally," clinical psychologist Julia Turovsky, Ph.D., tells Bustle. "About 65% of our temperament is related to our genes, and anxious parents tend to produce anxious children. But it goes beyond genetics — there are many behaviors anxious parents engage in to create an environment for people to become even more anxious."
You'll see all the different reasons why your mom makes you feel anxious listed below. But what's super important to know is how changeable it all is, especially once you venture out on your own. "The first step is recognizing that you may have unhelpful anxiety — the kind that holds you back and makes you worried, rather than the kind that is useful and helps you plan out tough situations," Turovsky says.
From there, you can examine the relationship you have with your mom or dad, establish boundaries with her, and figure it all out in therapy. "Cognitive behavioral therapy is the treatment of choice for anxiety disorders," Turovsky says. "It works and people can get better." Below are 18 ways your parent may have contributed to your anxiety, according to experts.
Studies referenced:
Nelemans, F. (2014). Maternal criticism and adolescent depressive and generalized anxiety disorder symptoms: a 6-year longitudinal community study. J Abnorm Child Psych. https://pubmed.ncbi.nlm.nih.gov/24154713/
Valentino, N. (2015). Maternal history of parentification and warm responsiveness: The mediating role of knowledge of infant development. Journal of Family Psychology. https://doi.org/10.1037/fam0000112
Williams, L. (2015). Fear of the Unknown: Uncertain Anticipation Reveals Amygdala Alterations in Childhood Anxiety Disorders. Neuropsychopharmacology. https://www.ncbi.nlm.nih.gov/pmc/articles/PMC4397401/
Sources:
Dr. Julia Turovsky, therapist
Dr. Markesha Miller, licensed psychotherapist
Lindsay Kandra, LPC-I, QMHP, mental health specialist
Dr. Crystal I. Lee, clinical psychologist
Dr. Allison Davis, counselor
Kate Balestrieri, PsyD, CSAT-S, licensed psychologist
GinaMarie Guarino, LMHC, licensed mental health counselor
Dr. Kevin Hyde, licensed clinical psychologist
Raffi Bilek, LCSW-C, counselor
Julie Williamson, LPC, NCC, RPT, therapist
Erin Dierickx, LMFT, licensed marriage and family therapist
Jacqueline Sager, licensed mental health counselor
Lea Lester, LPC, licensed professional counselor associate
This article was originally published on