24 Dirty Movies On Netflix That Somehow Passed The Porn Censors
When you're in the mood for something steamy, press play on one of these raunchy films.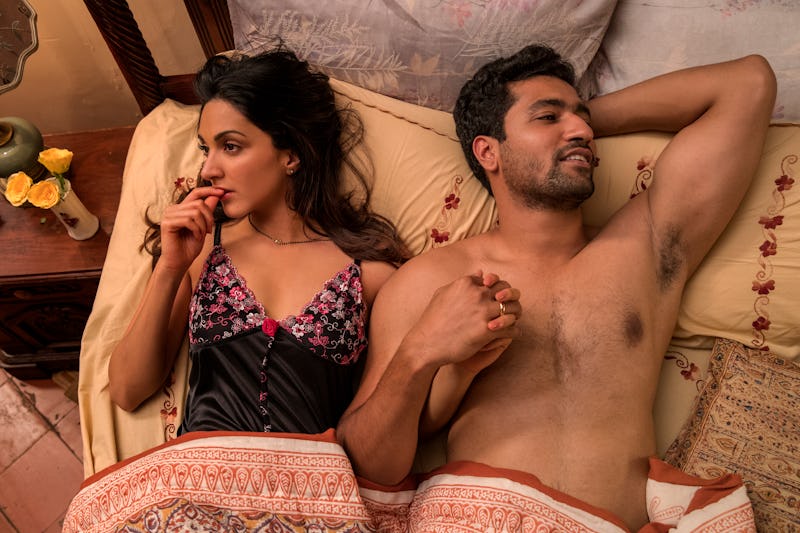 Maajid Khan / Netflix
Netflix has a movie for everyone. Whether you're a true crime buff, a rom-com fanatic, or a documentary lover, chances are you'll find the ideal film to satisfy your current mood. And if you're looking for something a little steamier — well, Netflix has options for that, too. Some films, like Wild Things or Lust Stories, leave very little to the imagination, and are among the movies on Netflix that somehow passed the porn censors.
The next time you're in the mood to unwind with something that'll fog up your bedroom windows, this list features a diverse selection of documentaries, foreign films, comedies, and dramas to watch. From the slightly suggestive to the downright raunchy, these movies run the entire spectrum. Yes, God, Yes, which is as suggestive as it is pious, showcases a young woman at a Christian camp discovering her sexuality. There's also the BDSM extravaganza that is 365 Days, an overtly sexual movie that's been called Poland's 50 Shades of Grey. And then there's The Blue Lagoon, which revolves around two underaged cousins on the cusp of sexual maturity (yes, that's really the plot).
From period films to contemporary classics and everything in between, there are plenty of options if you're looking for a movie that's as dirty as it is entertaining. So turn down the lights, put the children (or pets) to sleep, and enjoy these 24 dirty movies on Netflix.
1. Newness (2017)
Newness tells the story of Martin and Gabi, two millennials who are looking for love (or at least their next hookup) on a dating app. From their first meeting, there's chemistry — but their relationship isn't without its bumps, and they soon find themselves in something of a slump. This leads the couple to embark on a unique arrangement in the hopes of keeping their relationship feeling "new."
2. Amar (2017)
Feeling nostalgic about your first love? Then Amar is the perfect movie to put on. This Spanish-language romance is about two people falling in love for the first time, and how that experience can be feel in turns blissful and crushing. All in all, Amar is a gorgeous movie that features some hotter-than-hot scenes, and will leave you feeling sentimental for young love.
3. Hot Girls Wanted (2015)
The documentary Hot Girls Wanted, directed by Jill Bauer, follows a group of 18 to 25-year-old young women working in the porn industry. Through their stories, the filmmakers explore how technology and sex intersect, the evolving world of camming, and how the industry exploits women. The movie premiered at the 2014 Sundance Film Festival to favorable reviews.
4. More the Merrier (2021)
This Spanish film from director Paco Caballero follows five loosely intertwined stories over the course of one (very) sexy evening. From couples looking to partner-swap to singles searching for some no-strings-attached fun, and everything in-between, More the Merrier argues that there's absolutely nothing shameful about those promiscuous evenings you may (or may not) regret the next morning.
5. Elisa and Marcela (2019)
If you want some period drama with your steamy romance, check out Elisa and Marcela. The film, which is set in 1901 and shot entirely in black-and-white, recounts the true story of Elisa Sanchez Loriga, who masqueraded as a man in order to be with the woman she loved, Marcela Gracia Ibeas. The real-life couple is credited as the first same-sex pair to marry in Spain.
6. Berlin Syndrome (2017)
Berlin Syndrome is as thrilling as it is sexy. When a young Australian photographer named Clare (Teresa Palmer) meets a local named Andi (Max Riemelt), the two hit it off. Little does Clare know that she is about to be kidnapped by her disturbed date. If you're looking for some fright with your frisk, Berlin Syndrome fits the mood.
7. Cam (2018)
Another scary and sexy film to check out is Cam, a Netflix Original starring Orange is the New Black's Madeline Brewer. Alice (Brewer) is a cam girl obsessed with internet popularity, who soon discovers she's been booted out of her account by Lola... a woman who is, in turn, revealed to be a more successful version of herself. Trippy, right? You may want to keep the lights on for this one, just in case.
8. The Tree Of Blood (2018)
The steamy Spanish drama The Tree of Blood (El árbol de la sangre) follows a young couple, Rebeca and Marc, who are conducting research for a book about their families' shared history — a history full of scandalous secrets that could tear them apart. Who knew familial drama could inspire such a sexy film? The Tree of Blood is full of twists, turns, and hotter-than-fire scenes.
9. Lust Stories (2018)
Lust Stories is an Indian, Hindi-language anthology movie comprised of four short films. The stories range from a college professor who has a one-night stand with a student, to a pair engaging in a secret sexual relationship, to a woman having an extramarital affair. The film also sheds light on female exploitation in South Asia, which makes it a powerful watch.
10. MILF (2018)
The premise of MILF, set in the south of France, actually sounds like the plot of a porno. This French-language film follows three best friends in their 40s who navigate love and loss while dabbling in sexual relationships with much younger men. They're just looking for a good, sexy time, but they end up discovering much more about themselves in the process. And, of course, they also find good, sexy times.
11. 365 Days (2020)
365 Days tells the story of Laura (Anna-Maria Sieklucka), a Polish businesswoman who is unhappy in her relationship. Massimo (Michele Morrone), the leader of an Italian crime family, becomes obsessed with her at first sight, eventually kidnapping her and keeping her imprisoned in his villa. What follows is a steamy cat-and-mouse game of seduction and lust — which is just fine if you're willing to look past the whole kidnapping plot. As of August 2022, there are two more movies in the franchise available on Netflix, with one more on the way. Now you'll never run out of Italian passionate crime and sex.
12. Madame Claude (2021)
Madame Claude is a biopic that tells the true story of Fernande Grudet, aka Madame Claude, a French woman who owned and ran a successful brothel in '60s-era Paris. But her influence extended beyond the world of sex work, and she ended up exploiting people in power gain. Altogether, it's a wild, sexy, surprisingly empowering tale of lust and intrigue. Karole Rocher stars as the enigmatic titular character.
13. The Sweetest Thing (2002)
Cameron Diaz stars alongside Christina Applegate and Selma Blair in what is probably her raunchiest movie ever. The Sweetest Thing is about three single girlfriends living in San Francisco and navigating their respective (very busy) love lives. There's this one scene where Blair's character, Jane, ends up in the hospital because her mouth ends up on… well, just watch it and see.
14. The After Party (2018)
You know what they say: After the party comes the hotel lobby, right? In this case, The After Party is about a rapper and his best friend-slash-manager who have one night to make their dreams of hip-hop stardom come true — while embarking on some explicit escapades along the way. The film stars a few rappers who also act, including Kyle Harvey and Teyana Taylor, and features cameos from Wiz Khalifa, DJ Khaled, and more.
15. Not Another Teen Movie (2001)
Not Another Teen Movie isn't as visually graphic as some of the other films on this list, but all the sexual innuendo and suggestive dialogue more than makes up for it. The film parodies a slew of '90s teen comedies, including She's All That, 10 Things I Hate About You, and Cruel Intentions, in the most vulgar ways possible.
16. Dry Martina (2018)
Another steamy Argentinian comedy to check out is Dry Martina. The film follows Martina, a retired star who's since fallen into obscurity — though she becomes particularly fixated on her past, passionate love affairs. In an attempt to relive her glory days (in the bedroom, not on the stage), she travels to Chile in a bid to rekindle a long-extinguished flame.
17. Yes, God, Yes (2019)
Stranger Things' Natalia Dyer stars as Alice in Yes, God, Yes, a coming-of-age comedy about a Catholic teen trying to figure out her own budding sexuality while dealing with internalized religious shame. It's sort of like Molly Shannon's SNL character Mary Katherine Gallagher, but with a lot more nuns. The film also stars Veep's Timothy Simons and Wolfgang Novogratz.
18. Ibiza: Love Drunk (2018)
Ibiza: Love Drunk is definitely more of a rom-com than a steamy erotic film, but it has plenty of raunchy, sexy scenes regardless. Gillian Jacobs stars as a weary office jockey sent on a work trip to Spain. Naturally, the trip gets a lot more fun when she rallies her girlfriends to join her on a detour to Ibiza.
19. Disobedience (2017)
Three words: star-crossed lovers. Rachel McAdams and Rachel Weisz play a secret same-sex couple that struggles to receive support from their Orthodox Jewish neighborhood. As Weisz's character returns home to mourn the death of a family member, the two reignite their passionate love affair, even though McAdams' character is now married to a man. The movie holds the perfect blend of romance and steamy sex scenes. You might even shed a tear or two.
20. Through The Window (2022)
Through The Window is a sensual take on the girl-next-door trope. This Spanish romance follows Raquel, who has had a crush on her sexy neighbor ever since she can remember. The two meet and that crush develops into a passionate romance. This seems like stereotypical porn storyline, right? Well, even though the sex scenes are straight out of your favorite porno, it's so much more than that. As the two begin to fall for each other, the story evolves into more of a thriller/mystery plot — including LGBTQ+ story arcs for some of the supporting characters.
21. Duck Butter (2018)
Here's another LGBTQ+ love story for your Friday movie night — you're welcome. Picture your favorite 2000s rom-com and mix it with 365 Days and you'll get Duck Butter. The title leaves something to be desired, but the film follows two women experimenting with a fresh new take on millennial romance: having sex once every hour for 24 hours. Now, the plot won't make you sob or rethink your entire life's purpose, but it will definitely make you laugh, and it might even encourage you to call up your sneaky link.
22. Eyes Wide Shut (1999)
After Nicole Kidman's character reveals to her husband, played by Tom Cruise, that she's been having recurring sexual dreams about a man she knows very little about, Cruise's character enlists the assistance of a secret sexual group to undergo his own erotic journey. Through spicy scenes, emotional breakthroughs, and intriguing twists and turns, this film has the potential to take you on your very own erotic journey.
23. After We Fell (2021)
If you're a Harry Styles lover, you're probably familiar with the journey of the After series (originally a Harry Styles fan fiction)— from the five books to the now four movies. After We Fell is the third movie in the series, and debatably the steamiest so far. From using an ice cube as a sex toy to having sex in a gym, the on-again-off-again relationship between the two main characters is quite topsy turvy — sexually and romantically.
24. American Pie: Girls' Rules (2020)
According to Netflix, American Pie is "raunchy." Four high school seniors commit to upgrading their love lives before the end of the year. A hot new student joins the school and completely shakes up their senior year — metaphorically and literally. It's a cliché high school smutty story, minus the illegal student/teacher trope popular on tons of porn sites. One of the tamer films on this list, American Pie combines sexual exploration and budding adolescence, making for a sultry take on nostalgia.
This article was originally published on