Dirty Movies On Netflix That Somehow Passed The Porn Censors
From Newness to Lust Stories.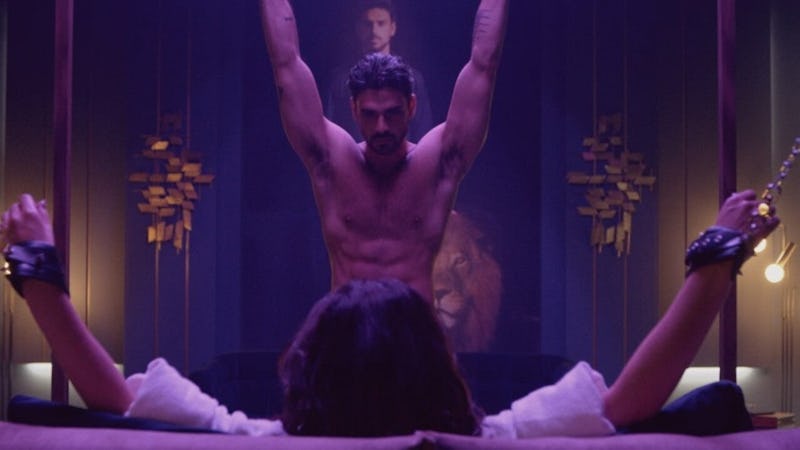 Netflix
There's something for everyone on Netflix. Whether you're a true crime buff, a rom-com obsessive, or a documentary lover, the streaming platform has it all. But if you're looking for a little something steamy — perhaps a romantic film that leaves very little to the imagination — you also don't have to look any further than Netflix.
Below we've compiled a list of documentaries, foreign films, comedies, and dramas to watch the next time you're in the mood to unwind with something a little raunchy. This list runs the spectrum of slightly saucy to downright porny. The hilarious Yes, God, Yes, which is a little more on the innocent side, showcases a young woman at a Christian camp discovering her sexuality. On the other side of the pendulum, there's the BDSM extravaganza that is 365 Days, the movie that's been called Poland's 50 Shades of Grey. There's also a period piece, a '90s camp classic, and an upcoming biopic from which to choose. And between Netflix originals like The Tree of Blood, Ibiza: Love Drunk, or indie favorites such as Newness, there are plenty of options if you're looking for a movie that's a little dirty.
Newness
Newness tells the story of Martin and Gabi, two looking-for-love (or at least the next hookup) millennials that meet on a dating app. Their relationship isn't without its bumps, however, when the complications of exclusivity and boredom leads the couple to embark on a unique agreement in hopes of keeping their relationship feeling "new."
Amar
Feeling nostalgic to recall your first love? Check out Amar: A Spanish romance about two people falling in love for the first time and the harsh realities, and heightened bliss, that can come with that experience.
Hot Girls Wanted
Hot Girls Wanted follows a group of 18- to 25-year-old young women who work in the porn industry. Through their stories the filmmakers explore the intersections of technology and sex.
Berlin Syndrome
A young photographer is kidnapped and held hostage after heading home with a disturbed date in this psychological thriller.
Cam
A cam girl struggling to reach the top discovers she's been booted out of her account... by a more successful version of herself.
Tree Of Blood
This steamy Spanish drama follows a young couple whose book about their families' shared history threatens to uncover scandalous secrets that could tear them apart.
Lust Stories
Lust Stories is a 2018 Indian Hindi-language anthology film series comprised of four short films. The stories range from a college professor who has a one-night stand with a student, a pair in a secret sexual relationship, to a woman having an extramarital affair.
365 Days
365 Days tells the story of Laura (Anna-Maria Sieklucka) a Warsaw businesswoman who is unhappy in her relationship. Massimo (Michele Morrone), the leader of an Italian crime family, becomes obsessed with her at first sight, eventually kidnapping her and keeping her imprisoned on his villa. What follows is a steamy cat and mouse game of seduction and lust which is just fine if you're willing to look past the whole kidnapping plot.
MILF
In the south of France, three best friends in their 40s navigate love and loss while experimenting with sexual relationships with much younger men.
Madame Claude
This biopic hits Netflix in April, so you have some time to prep. The steamy story tells of the true tale of Madame Claude, a 1960s brothel owner in Paris. But her influence extends beyond the world of sex work.
Striptease
Demi Moore stars in this sexy 1996 camp classic as a mom fighting for custody of her daughter so she becomes an exotic dancer to make some money.
Simon Killer
A young and heartbroken New Yorker travels to Paris and soon gets involved with a sex worker in this steamy thriller.
Desire
A young woman arrives at her estranged sister's wedding and begins lusting after the one thing she can't have: her sister's fiance. But in this campy Argentinian romp, perhaps she can.
Dry Martina
Another Argentinian steamy comedy; they must love making sexy funny in Argentina. This one follows a retired singer who goes on a sexy escapade in Chile.
Elisa and Marcela
If you want some period drama with your steamy romance, check out Elisa and Marcela. The film, shot in black and white and set in 1901, it tells the true story of Elisa Sanchez Loriga masquerades as a man in order to be with the woman she loves, Marcela Gracia Ibeas.
Yes, God, Yes
Stranger Things' Natalia Dyer stars in this coming-of-age comedy as Alice, a Catholic teen trying to figure out her own sexual desire while dealing with shame and confusion.
Ibiza: Love Drunk
Ibiza: Love Drunk is definitely more rom-com heavy than steamy erotica, but there are plenty of raunchy, sexy times to make it worth watching. Gillian Jacobs stars as a weary office jockey sent on a work trip to Spain. Naturally, the trip transforms from a work function to fun.
This article was originally published on