Grab Your Partner For These 30 Hot Netflix Movies
Keep the A/C on for these steamy films.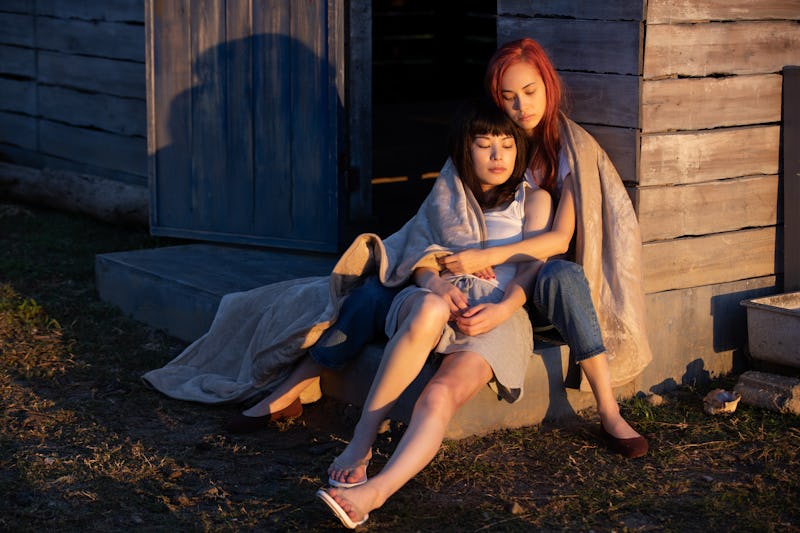 Aiko Nakano/NETFLIX © 2021
Netflix isn't just for marathoning your favorite rom-coms from years past or rewatching the sitcoms you've already seen 40 times: The streaming service also has an impressive list of romantic movies that drift towards NSFW. Netflix subscribers have access to lots of sexy films — some indies, others more mainstream — with just their regular monthly membership fee, so when you're spending the evening indoors with your significant other, there's no need to look to turn to raunchier sites. But a lot of these movies are more off-the-beaten-path, and they may be hard to spot while casually browsing through Netflix's algorithmic feeds. That's where this list of steamy movies on Netflix to watch on a date night comes in handy.
Some of the films listed below are quasi-classics that have attained cult status over the years, like Not Another Teen Movies or The Blue Lagoon. Others are independent international movies that are as sexy as they are acclaimed, including the recently released Ride or Die. Regardless, there are at least a few flicks here that will spice up your date night at home, whether you're looking for an erotic thriller, a hotter-than-average romantic comedies, or a sexy drama. There's truly something for every taste.
And while you could also stream these movies by yourself and have a perfectly good time, wouldn't it be more fun if you had some company? If you agree, below are the 30 hottest Netflix films to watch with your partner. Fair warning: These movies will definitely turn you on.
1. Ibiza (2018)
Ibiza: Love Drunk, the 2018 Netflix Original about three girlfriends who take a trip to Spain's party island, is as hot as it is hilarious. The film follows Harper (Gillian Jacobs), a disillusioned 30-year-old bored with her life in New York City, on a business trip to Barcelona. While abroad, she meets a hot DJ (Game of Thrones' Richard Madden) and puts her work on hold to follow him to Ibiza — along with her two friends who decide to tag along. Think Bridesmaids, if it was sexier and set in Europe.
2. A Perfect Ending (2012)
A Perfect Ending is a sexy film that will also give you all the feels. The drama starts when a housewife named Rebecca (Barbara Niven), whose life seems picture-perfect from the outside, realizes that she's not actually happy at all. She soon figures out the reason why: She's never had an orgasm. In a bid to rectify this, she turns to Paris (Jessica Clark), a high-priced call girl, to help her find out what she really wants in a sexual partner.
3. Cam (2018)
Daniel Goldhaber's Cam centers on a mind-bending case of stolen identity. The story follows Alice (Madeline Brewer), a camgirl (someone who performs sexual acts online for money) who wakes up to find herself performing a live show for her fans. Only it's not her — someone else is acting as her online self. Cue dramatic music. Cam is like a Black Mirror episode turned into a feature-length-film, so it's perfect for couples who like a little mystery with their temptation.
4. Newness (2017)
Like Crazy director Drake Doremus brings his dreamy style to Newness, his 2017 feature starring Nicholas Hoult and Laia Costa. The film takes on the reality of modern dating — namely apps, hookup culture, open relationships, and thepressure to want to participate in it all. "Technology is essentially changing the DNA of the next generation … And as soon as the smallest hint of an issue rises in any relationship, you can just swipe and get out of that and move on," Doremus explained at Newness' Sundance Film Festival premiere.
5. The Babysitter (2017)
At first glance, The Babysitter may seem like your typical slasher movie fare, but there's a whole lot more than meets the eye to this 2017 film. The less you know about the terrifying (and sexy) plot, the better — it'll hit harder if the surprise isn't ruined. Suffice it to say that if you're into horror flicks and steamy thrillers, this is worth a watch. And if you like it enough, there's more: A sequel was released last year called The Babysitter: Killer Queen, also on Netflix.
6. Love (2015)
Gaspar Noé's erotic drama Love isn't particularly positive or heartwarming, but it has sensuality in spades. The film, which is about a man reflecting on his roller-coaster relationship with an ex, is as hot as it gets. If you think the sex scenes look real, that's because they are — Love made headlines upon its release for its use of unsimulated sex.
7. You Get Me (2017)
You Get Me features lots of partner-switching, lies, and artfully constructed drama. And pools! This romantic thriller proves that no one is who they seem, no matter how close you are. Oh, and that men are scum. You Get Me stars Bella Thorne and Halston Sage, as well as Taylor John Smith and social media personality Nash Grier.
8. 365 Days (2020)
365 Days may have a 0% rating on Rotten Tomatoes, but audiences can't stop talking about its softcore erotica and romanticization of Stockholm Syndrome. It's kind of like The Room meets 50 Shades of Grey — which is just as chaotic as it sounds. With all issues aside, it's one of the steamiest movies on the streaming platform — and that's what you're looking for, right?
9. Someone Great (2019)
Someone Great isn't as explicit as others on this list, but it'll make you grateful for your partner. It follows Jenny (Gina Rodriguez), who hits the town with her friends for one last hurrah ahead of her move to Northern California, where she's relocating for her dream job. Oh, and because her longtime boyfriend, played by LaKeith Stanfield, just broke up with her. Expect a lot of the hijinks that come with a "rebounding from heartbreak" dramedy.
10. Duck Butter (2018)
Duck Butter is about two women, played by Alia Shawkat and Laia Costa, who decide to test their instant chemistry by having sex every hour, on the hour, for a full day. Will it push them to the next level the way they hope? In addition to its leads, Duck Butter also features a bunch of comedians who play themselves, like Mark and Jay Duplass and Kumail Nanjiani.
11. Lust Stories (2018)
Lust Stories is an anthology of short films by four different directors (Anurag Kashyap, Zoya Akhtar, Dibakar Banerjee, and Karan Johar), each of which looks at a relationship from the perspective of an Indian woman. There's plenty of sex, lust, and even love (forbidden and otherwise). Lust Stories has also been lauded for the way it handles women's sexuality — a subject that, historically, hasn't been common in Indian cinema.
12. Rocco (2016)
Rocco Siffredi's mom wanted him to be a priest, but instead he became an adult film star. The Italian porn actor known as the "Italian Stallion" is the subject of Thierry Demaizière and Alban Teurlai's documentary Rocco. The film, made on the eve of his retirement, reflects on Siffredi's spectacular career and legacy, aided by commentary from many working and retired porn actors.
13. The Dirty Picture (2011)
This Hindi-language film is very loosely based on the life of Indian actor Silk Smitha, a onetime sex symbol who was known for her erotic roles in Bollywood movies. But The Dirty Picture goes beyond its sexy source material, shedding light on the darker side of how the media and the public treat women who embrace their sexuality.
14. After (2019)
If After seems a little ... fantastical, that's because it was based on an insanely popular One Direction fanfic. Nevertheless, this movie is sexy as hell. After stars Josephine Langford as Tessa, a college freshman who gets a harsh lesson in dating. (Spoiler: She gets her happily-ever-after anyway.) In addition to Langford, Selma Blair, Inanna Sarkis, and Peter Gallagher round out the cast.
15. Wild Things (1998)
No one was ready for Wild Things when it came out. This late-'90s neo-noir thriller is as sexy as it is heart-racing. From its notorious threesome scene (with Matt Dillon, Denise Richards, and Neve Campbell) to the much-parodied shot of Richards completely drenched in water, Wild Things lives up to its title.
16. Yes, God, Yes (2019)
Yes, God, Yes proves that racy, bawdy subjects can still be a hit with the critics. Set in 2000, this coming-of-age comedy follows high school student Alice (Natalia Dyer) as she begins to explore her sexuality in her conservative Midwestern town. The film premiered at the 2019 SXSW Film Festival to acclaim, with reviewers praising Dyer's "charming performance" and director Karen Maine's "sensitive work."
17. The Sweetest Thing (2002)
Cameron Diaz, Selma Blair, and Christina Applegate are at their raunchiest in The Sweetest Thing. Set in San Francisco, the trio star as three girlfriends navigating their respective love lives in a major city. The Sweetest Thing was named one of the worst movies of 2002 by critics, but audiences seemed to love it. Hopefully you and your beau will, too.
18. Not Another Teen Movie (2001)
As a parody of an already sexy genre, Not Another Teen Movie takes its raunchy scenes to the next level. From that cringeworthy opening sequence to ... well, just about everything else (especially Chris Evans wearing only whipped cream, and cherries), this movie will make you feel like you need a parental guardian present, no matter how old you are.
19. Closer (2004)
Closer follows two couples as they swap partners, swap back, and engage in all sorts of mind games. Come for the steamy scenes, stay for the psychological drama. But if the plot isn't enough to sell you on the film, consider the cast: Julia Roberts, Jude Law, Natalie Portman, and Clive Owen. Enough said.
20. Madame Claude (2021)
Sometimes the sexiest stories are inspired by real events. Madame Claude is based on the true story of a successful '60s brothel keeper who lived well into her 90s. This 2021 movie is a remake of the 1977 film of the same name, and it was praised for the cast's "truly memorable performances." You and your partner will definitely be feeling inspired after watching this flick together.
21. In The Cut (2003)
Rom-com icon Meg Ryan shows a very different side in In The Cut, a steamy psychological thriller directed by Jane Campion. Frannie (Ryan) is an English teacher in New York City who becomes involved in a string of grisly murders, while also engaging in a passionate affair with a detective (Mark Ruffalo) on the case. This film is as chilling and suspenseful as it is sexy.
22. Lovesong (2016)
Were you and your partner longtime friends before you were partners? If so, you'll both relate to Lovesong (except your relationship hopefully won't have as tumultuous of an ending). Two friends, Sarah (Riley Keough) and Mindy (Jena Malone), find their relationship developing into something quite a bit different while on a long road trip together. Cut to a few years down the road, and they're both on very different paths. But with a wedding looming on the horizon, they're forced to reckon with their unrequited feelings for each other.
23. Hall Pass (2011)
Starring a slew of familiar comedic faces, like Owen Wilson, Jason Sudeikis, and Christina Applegate (among others), Peter and Bobby Farrelly's Hall Pass is filled to the brim with shenanigans. What could go wrong when two unhappily married men are given "hall passes" to have sex with other women, for one week only? Apparently, a lot.
24. Sex Drive (2008)
If Road Trip and American Pie had a baby, it would be Sex Drive. Starring Josh Zuckerman, Seth Green, Amanda Crew, and more, this 2010 film follows 18-year-old Ian (Zuckerman), who drives hundreds of miles to meet an online pen pal. It's vulgar and silly, but it ultimately has a cute ending, and a killer soundtrack to boot.
25. More the Merrier (2021)
More the Merrier traces five separate stories, all united by a common goal: a character's quest to find someone to have sex with. Naturally, this plan doesn't go so smoothly for everyone, but the relatability of trying to find that special-ish person to take home makes this Spanish-language film feel all too relatable.
26. The After Party (2018)
Featuring a bunch of celebrity cameos, including Wiz Khalifa, DJ Khaled, French Montana, and more, The After Party is about an aspiring rapper named Owen (Kyle Harvey) who hopes to score a record deal. But before then, he'll have to make it through a crazy night that has the potential to tee up — or ruin — his future as a hip-hop artist.
27. High Society (2018)
Park Hae-il and Soo Ae star in High Society as a married couple trying to climb the social ladder, regardless of the cost. Things only get steamier when they finally enter the upper echelons of society, which begs the question: How much corruption can one couple take? High Society had critics talking about its cinematography and acting — not to mention its racy sex scenes.
28. The Blue Lagoon (1980)
While some view this movie as tantalizing and sexy, the premise is … questionable. Two young cousins who've been stranded on a desert island in the midst of puberty? Not exactly a turn-on. However, The Blue Lagoon is such a well-remembered cultural artifact that it's worth watching, even if it's just so you know what all the fuss is about.
29. After We Collided (2020)
Based on the 2014 novel of the same name — the sequel to the 2019 film After (also on this list) — After We Collided continues Tessa and Hardin's story, following the duo as they navigate their breakup and reckon with their unresolved feelings for one another. Josephine Langford and Hero Fiennes Tiffin reprise their roles alongside Dylan Sprouse, Selma Blair, and more.
30. Ride or Die (2021)
Based on Ching Nakamura's manga Gunjo, Ride or Die has been compared to other empowering films about female friendship and the lengths we'll go to protect our loved ones. Starring Kiko Mizuhara and Honami Sato, this Netflix movie is both sexy and thrilling, and it will make you grateful for the ones who will defend you, even when you can't defend yourself. Think of the protagonists as Thelma and Louise, albeit with a more premeditated agenda.
This article was originally published on March 1, 2017. It was updated on Aug. 6, 2020, and again on Aug. 17, 2021.
This article was originally published on