This Is How Long Each Zodiac Sign Takes To Fall In Love
You Earth signs like to take your sweet, sweet time.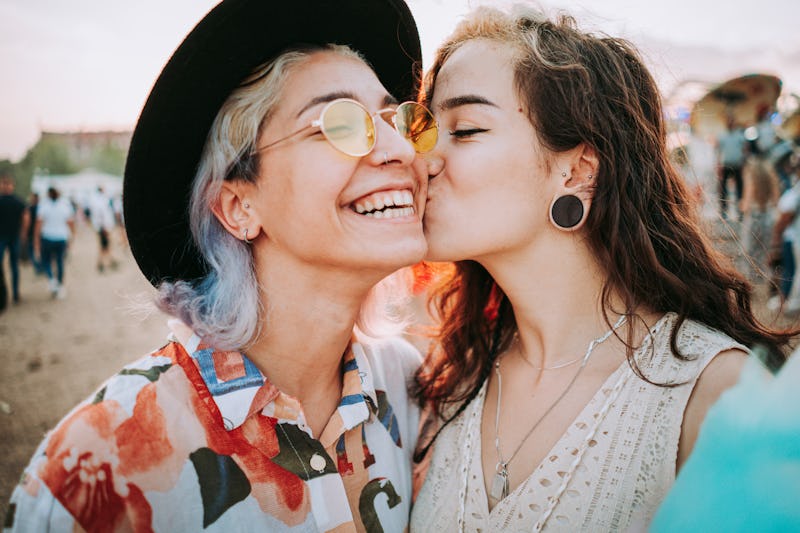 Nikola Stojadinovic/E+/Getty Images
When you realize that you're starting to fall for someone, it's only natural to wonder if they're feeling the same way. Unless you're lucky enough to date Aries or Cancer signs, who are open with their affections, it may take months for you to finally have an idea of where your partner actually stands. Truth be told, how long it takes for someone to fall in love is influenced by many different factors. If you're curious about how your partner may be feeling, their zodiac sign can reveal a lot.
"Traditionally all Earth signs (Taurus, Virgo, and Capricorn) are most likely to be among the slowest signs to make a move when it comes to love," Terry O'Connor, astrologer at The Astro Coach, tells Bustle. Earth signs value stability and are known for being very practical in their approach to love. So they're not the biggest believers in love at first sight.
Among the Earth signs, O'Connor says Capricorn is probably the slowest of them all. "Formal, old-fashioned, serious and guarded, these Capricorns want love just as much as the next sign," he says. "The timing issue with Caps though is the slow and methodical process that they (and others who like them) have to go through. They want love to be worth it."
On the other end of the spectrum, Aries is known to fall in love the quickest. According to O'Connor, "Aries flies out of the trap like a horse on race day." They're passionate and driven by their desires. If they feel like they're in love with someone, they will go after them.
Whether you have eyes for a Leo or think you might be compatible with a Scorpio, here's how fast each zodiac sign falls in love, according to astrologers.
Of course, there are a lot of different things that can go into how fast someone falls in love. Everyone does it in their own time. Generally speaking though? An Aries is going to make moves way faster than a Taurus.
Sources
Terry O'Connor, astrologer at The Astro Coach
Leslie Hale, astrologer for Keen
Kyla Derkach, astrologer
Arriana Fox, astrologer
India Leigh, intuitive reader and astrologer
Amy Zerner and Monte Farber, astrologers
Clarisse Monahan, astrologer
This article was originally published on