3 Zodiac Signs That Will Have The Luckiest Valentine's Day
With Mars & Venus in Capricorn, it's time to get sensually serious.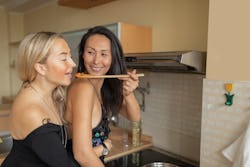 ProfessionalStudioImages/E+/Getty Images
Valentine's Day 2022 is finally within arm's reach, and according to the cosmos, the parade of love is set to usher in all the passionate and sensual vibes. Between the moon, which rules your emotional side, moving into hedonistic Leo, and Venus, the planet of romance, cozying up in ambitious Capricorn, you can feel free to follow your pleasure during the romantic holiday. Whether you have a romantic date night lined up or are orchestrating a Galentine's party, it's good to know if the planets are in your corner this year. There may be a few classic V-Day bumps — like the pressure of whether or not to get your new boo something sweet and those nerve-wracking conversations about the future, courtesy of the fusion of Mercury in Capricorn and Aquarius. But there's still plenty of potential for passion — in fact, for the zodiac signs who will have the luckiest Valentine's Day, the energy will be nothing short of sultry.
A few planets play a huge role in relationships, namely Mercury, Venus, Mars, and the moon. When these planets form an aspect during Valentine's Day, they vibrate energies down on earth. For example, Mercury, the planet of communication — one of the most crucial elements of any relationship, right? — will be straddling the cusp of Capricorn and Aquarius, giving a stern, Saturnian flavor to your love life.
"Our authoritative approach to our communications as well as how we go about our day-to-day lives can get a lot accomplished," Astrodim, an astrologer with over 36,000 followers on TikTok, tells Bustle. "With Mercury also making an opposition to the moon in Leo, the battle of authority can lead to clashes." An opposition just means it's creating an opposing alignment, which can lead to friction galore. "On the other hand, Leo moon energy can be super helpful with keeping the vibe romantic — just a bit stubborn," explains Astrodim.
Leo may be dominating emotions, but according to Astrodim, there's another steamy element contributing to the fervent energy of V-Day. "The most prominent planetary aspect is Venus and Mars exactly conjoining in Capricorn," explains Astrodim. A conjunction takes the traits of both of these planets, supercharging their energy in Capricorn. "With Mars being exalted in Capricorn, you can bring all the tension of the day and transmute that energy through passionate sexual activity."
The signs who will have the best Valentine's Day are those whose astrological houses involving pleasure and relationships are undisturbed, allowing them to take in the romance as it comes, according to Astrodim. Will you feel the sensual spark of passion? Continue reading to find out if you're one of the fortunate zodiac signs who will have the luckiest Valentine's Day 2022.