All Of The Astrological Events Happening In September 2023
Did somebody say retrograde?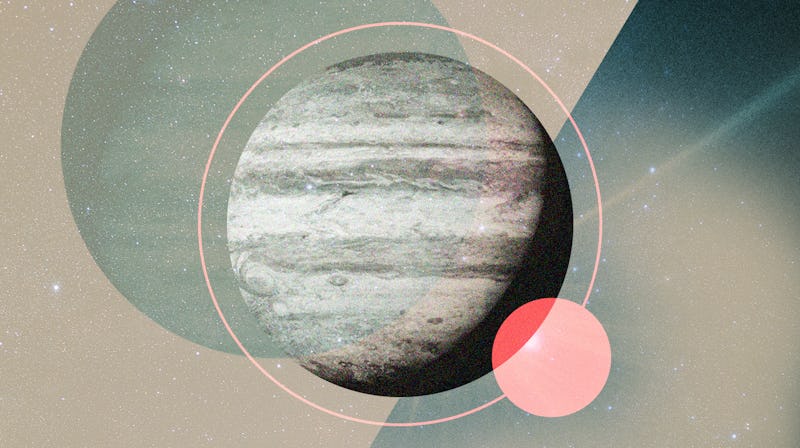 Welcome to the last third of 2023, star babes! As we flip our calendars over to September, we'll have a whopping six planets retrograding (seven if you count the minor planet Chiron), so there is a lot of collective processing and reviewing going on, both socially and subconsciously. Thankfully though, September's cosmic skies slowly but surely begin to clear, ensuring you're able to fully enjoy the final shimmers of summer and embrace the first flickers of fall. Changes are on the horizon, so you'll want the scoop on the major astrological events of September 2023.
September begins fresh off the vibes of the emotional full blue moon that peaks on Aug. 30, but the pragmatic and down-to-earth energy of Virgo season is still reigning supreme through the first few weeks of the month. Unfortunately, that classic Virgoan clarity and productivity may be in short supply until the last week of the season, as Mercury retrograde is still busy dizzying up little details and throwing wrenches in even the most perfectly laid-out plans until Sept. 15. Dot your Is, cross your Ts, and proofread those texts!
Speaking of retrograde activity, September is chock-full of it, as Mercury, Venus, Saturn, Uranus, Neptune, Pluto, and Chiron are all in various stages of their moonwalks as we kick off the month. Venus retrograde wraps up on Sept. 3, bringing some momentum to our love lives, but is immediately replaced by Jupiter retrograde on the following day. And while Mercury retrograde's messiness is marring the first half of the month, the Mercury-sun conjunction on Sept. 6 marks a bright spot in this retrograde cycle, bringing a moment of clarity or a helpful realization.
Once Libra season starts on Sept. 23 ET and heralds in the autumnal equinox, it's time to focus on bringing more balance, peace, and harmony to your life. However, the bold and brazen full Harvest Moon in Aries on Sept. 29 gives you a chance to step up and be a leader in your own life, even if it means having to slightly rock the boat.
We may have to kiss summer goodbye, but all sorts of exciting cosmic happenings lie ahead. Read on for your September 2023 astrology overview.
Venus Retrograde Ends Sept. 3
The month opens on a high note, as Venus retrograde in Leo is wrapping up on Sept. 3. The planet of beauty and romance has been backspinning since July 22, sending us into a deep review of our relationships, personal tastes, and even our self-worth. Now that Venus is moving direct, you can more easily smooth over any love life drama that bubbled up over the past six weeks and process any internal shifts that have taken place in regard to your values.
…And Just Like That, Jupiter Retrograde Begins
Just as one retrograde ends, another begins! Jupiter retrograde 2023 starts on Sept. 4, and it'll backspin through the earthy sign of Taurus until the end of the year. Jupiter is the planet of good luck and fortune, so unlike some planets, its retrograde effects won't be too chaotic. Instead, this marks a time to start processing any recent spiritual or philosophical growth spurts, questioning your belief system, and exploring your relationship to money and abundance.
Virgo Season's Mercurial Vibes
The first three weeks of September comprise the bulk of the Virgo season, which generally puts people into a more practical, productive, and health-conscious state of mind. Virgo zodiac energy is grounded and attentive, so this last stretch of summer can be well-utilized for getting organized and tidying up any messy areas of your life. Clean out your closets, calendars, and emotional cache to make space for the new season ahead!
However, keep in mind that Virgo season 2023 is being heavily influenced by communication planet Mercury — aka Virgo's ruling planet — which is in Virgo all month long. Because of Mercury retrograde, logistical matters may feel frustrating through Sept. 15, but the first week of the month will still be one of the most productive of the season. The sun and Mercury will join forces in Virgo on Sept. 6, forming what's known as a Mercury cazimi. This brings an illuminating moment of clarity and perhaps even some mental breakthroughs on issues you've struggled to make sense of. The sun and Mercury will collectively blow a kiss to lucky planet Jupiter this week, too, bringing auspicious energy to business dealings, conversations, or personal projects. Use it or lose it!
A Purifying New Moon To Cleanse Your Palette
The Mercury cazimi is an early September highlight, but the new moon on Sept. 14 is perhaps even more exciting. The last major lunation of the summer finds the sun and moon joining forces in Virgo territory, and it's a beautiful opportunity to start making plans and sowing seeds for the season ahead. A hazy opposition to numinous planet Neptune could cloud your judgment and make you extra susceptible to the power of fantasy, but you can use the delulu vibes to your advantage — because almost anything is possible if you believe it with your whole heart, right? Trust that the universe will surprise you and be ready to work with whatever unexpected magic comes your way.
Mercury Retrograde Is Over Party
One day after the new moon, on Sept. 15, Mercury retrograde will officially come to an end. Bust out your party hats! With the mental planet finally gaining some momentum, you'll get a much-needed break from the brain fog and feel a lot more clarity about how you'd like to move forward with your future plans. While the post-retrograde shadow period will last until the end of the month, you still have a cosmic green light when it comes to mapping out logistical matters, jumping into new projects, or clearing up miscommunications. Focus on tying up loose ends and getting back into a solid groove.
Libra Season & The Autumnal Equinox
On Sept. 23 ET, it's time to bid hot girl summer and Virgo season adieu, as the sun is entering the realm of sweet and social air sign Libra — an ingress that simultaneously heralds in Libra season and fall. During Libra season, all zodiac signs are likely to feel more interested in connection, open to compromise, and inclined to seek beauty and balance in their lives. It's a fabulous time to focus on bringing some added charm and diplomacy to your partnerships, especially in the wake of the recent Venus and Mercury retrograde periods.
The kickoff to the Libra season also marks the date of the autumnal equinox. Pumpkin spice girlies, your time to shine has arrived! On the day of the equinox, there is an equal amount of daylight and night — the vibes of which align perfectly with Libra season's balance-seeking energy. As we embark on the darker half of the year here in the Northern Hemisphere, this cosmic energy can inspire you to find your equilibrium and adjust any areas of your life that feel like they've fallen out of whack.
A Fiery Full Harvest Moon In Aries
The first full moon of fall is coming in hot, and it's serving as September's sizzling closing act. Rising in the fiery sign of Aries on Sept. 29, this lunar moment encourages us to boldly chase after what we want and let go of any people-pleasing tendencies. Because of its close proximity to the autumnal equinox, this lunation is also called the Harvest Moon — so let that be a reminder to proudly reap all you've sown over the past six months.