'90s-Inspired Goth Glam Is This Summer's Sultriest Makeup Trend
Elevated Hot Topic vibes.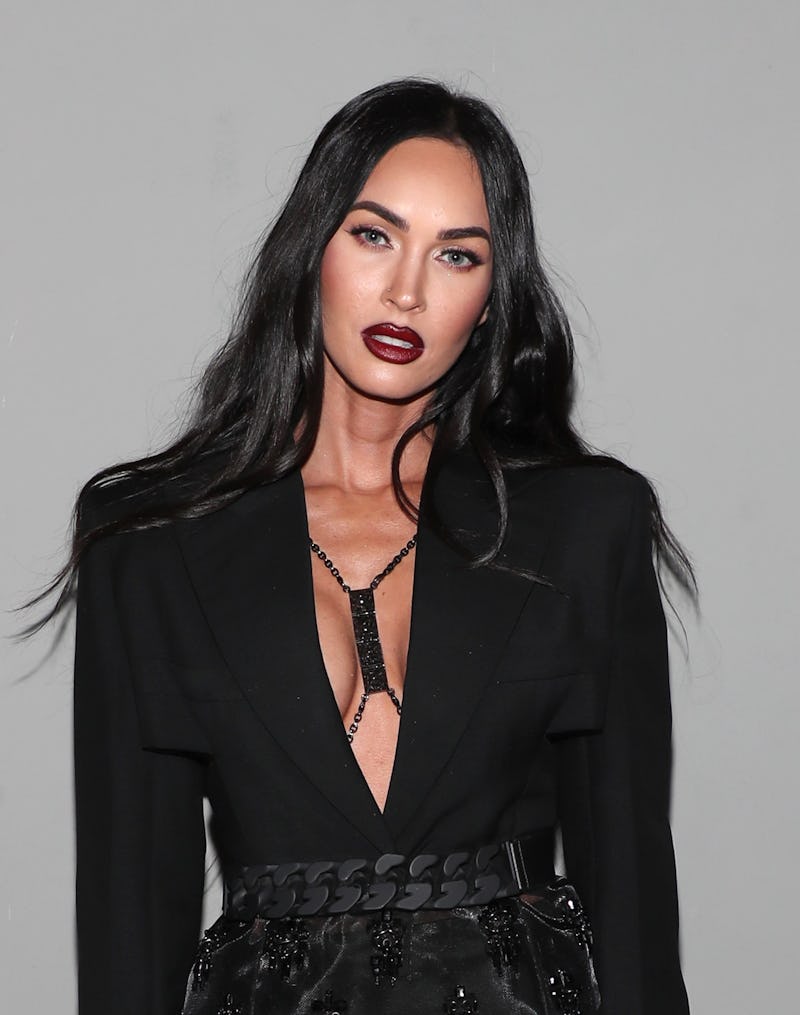 Jerritt Clark/Getty Images Entertainment/Getty Images
2022 has seen what feels like countless beauty trends, ranging from the "clean girl" aesthetic to princesscore makeup and the uber-colorful e-girl style. This summer, however, it's grungy gothic makeup that's rising right along with the temperatures — which should come as no surprise, considering the dark glam Kourtney Kardashian wore to her nuptials in Italy back in May. In fact, Kravis' wedding looks were so influential that web searches for "gothic wedding makeup" and "what makeup does Kourtney Kourtney Kardashian use" nearly doubled once snapshots from the ceremony went public, according to trend data from beauty platform JUSTMYLOOK.
If you're shocked that goth is trending, know that it doesn't just entail all black makeup. Nick Lujan, global director of artistry and education at Kevyn Aucoin Beauty, describes gothic-inspired glam as "simple yet high contrast," featuring smoky eyes, edgy eyeliner, little to no contour, and dark lips atop a complexion that's one to two shades lighter than one's natural skin tone. "Kourtney Kardashian's bridal look was a modern interpretation of gothic makeup," Lujan continues, pointing to '90s era goth-rock subculture as a primary inspiration for the contemporary trend. "The look was big in the '90s and often found on the runways during the grunge era," Lujan adds. "In makeup, the movement is all about breaking the rules of beauty."
Kardashian may have sparked recent interest in the look, but she's far from the only celeb to dabble in it. Megan Fox, who attended the Kravis wedding, has rocked the goth glam aesthetic for years, and Rihanna loves sporting a dark lip and a smoky eye, adds Omayma Ramzy, celebrity makeup artist behind Omayma Skin. "Lily Collins has also rocked a goth lip and smoky burgundy eye, Lorde's signature dark wine lip really makes her flawless complexion shine, and Kristen Stewart has also been known to wear makeup with a grunge-goth element as well," she continues.
Plus, almost everyone rocked some variation on the look in the '90s, adds celebrity makeup artist Nydia Figueroa (see Winona Ryder, Rose McGowan, or the entire cast of The Craft). "This trend is a definite '90s throwback that's making a comeback in 2022," Figueroa tells Bustle. And it's right on time, seeing the recent surge in dark plum lipstick all over TikTok.
Ready to try gothic makeup out for yourself? Read on for how to master the look, according to experts.
We at Bustle only include products that have been independently selected by our editors. We may receive a portion of sales if you purchase a product through a link in this article.
1. Moisturize & Prime
Before you start your makeup, make sure your skin is adequately hydrated. "When you're using a heavier makeup look, it's really important to prep your skin with as much moisture as possible," Ramzy explains. "It provides a seamless glide for your foundation while protecting your skin's moisture barrier." If your skin is naturally on the oilier side, consider a hydrating serum.
Once your skin is prepped, Lori Taylor Davis, global lead pro artist at Smashbox Cosmetics, suggests applying a lightweight, pore-minimizing primer before your foundation. "This will minimize skin texture, and can be 'cocktailed' — or layered — with a mattifying primer, so skin appears naturally matte and flawless," she says.
2. Start With Your Eyes
When doing a dark or smoky makeup look, Ramzy says to always begin application with your eyes. "This lets you do any clean-up without disrupting the rest of your makeup, or making a mess that can't be fixed," she tells Bustle. For a smoky eye, Davis suggests using dark and matte eyeshadows — but not necessarily black. "Think gray, rich burgundy, deep charcoal, dark rich brown, and purple," she says.
Once you've selected your shades, Ramzy recommends beginning with a dark pencil eyeliner (she prefers a deep burgundy, but it's up to you), and applying it to the top and bottom lash line. Once it's applied, use small fluffy brush to blend the liner all along the lash line and out a little. "Then, take a dark brown or burgundy eyeshadow and, using the same brush, set the smudged out eyeliner all over," says Ramzy.
If you want to make your smoky eye more dramatic, Lujan says you can go with a winged liner look — something best accomplished with a liquid formula (like Kevyn Aucoin's Precision Liquid Liner). Simply go over your lash lines and add a flick at the ends.
3. Enhance Your Lashes
Figueroa says that big lashes can help amp up a dark, smoky eye. "You can add a shadow for added intensity, but another way to do this is by building the eyelashes," she tells Bustle, noting that a volumizing mascara that's rich and pigmented is ideal for this. "An amazing mascara that adds drama to not only the top lashes but also the bottom is the Be a 10 Be Separate Mascara," she says. "This applicator has two wands for full application on top lashes and detailed application for the bottom." Or, of course, you could opt for false eyelashes.
4. Apply Foundation & Sculpt
Next up is your foundation. Lujan suggests starting with a shade that's a little lighter than your natural skin tone, though Davis notes you can achieve the look by avoiding anything that makes the skin "glow." Translation? For goth glam, you want to look matte — and not particularly colorful.
That said, you do want to add a little bit of dimension once you've applied your foundation. To do this, Lujan and Davis suggest using neutrals, beiges, and/or soft sculpting and contour palettes to very lightly sculpt the face. "Use it to add soft definition to the cheeks and jawline," Davis says.
5. Finish With A Bold Lip
Finally, the most exciting element of all: the lips. "The lip is where you can really have fun, because if the rest of the look is a bit monochrome, you can boost with a rich lip color," Lujan tells Bustle, noting that red and black lipstick are known to complete the goth glam look. If you really want a monochrome moment, however, Davis suggests matching the tones on your lips to those of your eyes (so a matching brown or black), and opting for lip colors that dry matte.
But of course, it's really up to you — you can mix and match your favorite parts of gothic-inspired glam to your liking. "You can make the goth makeup trend wearable for you," Figueroa says. "Even taking inspiration from the look with just a darker lip works great. It's about having fun and adding an edge to your look with minimal effort."