What Your Fave '90s Trend Says About You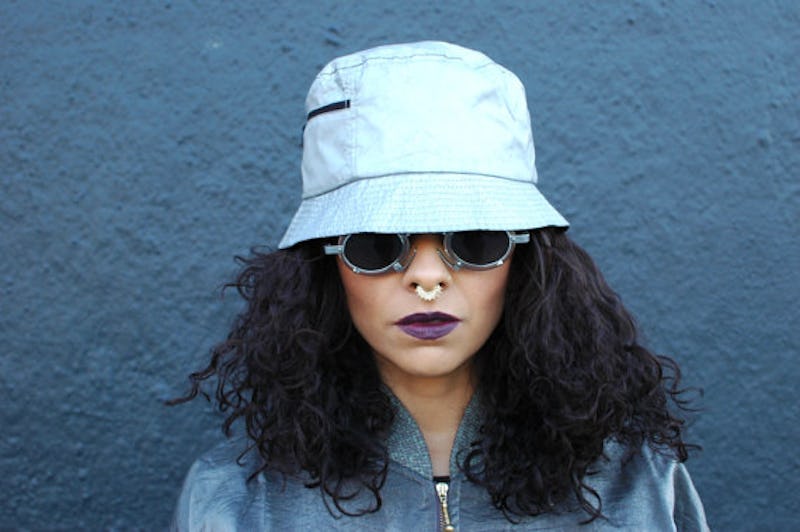 Your current style likely says a lot about who you are as a person, since we humans often use clothes as a way to project our personalities, in addition to staying warm and not-naked. But what did your favorite '90s fashion trend say about you when you were growing up? Probably more than you think, TBH.
The 1990s were a mental era that seemed to flash by in a flurry of neon, glitter, and artificial preservatives. Although there were too many micro trends to count, the decade was actually a rather simple time. All it took to make us happy was a pack of Dunkaroos and the latest episode of Pokémon. There were so many crazy things about the '90s, from insanely dangerous toys, to inflatable furniture, to things that glowed in the dark for absolutely no reason.
It makes sense then that the fashion of the decade would follow suit. It's a chicken-and-egg situation, though: Which came first, the freaky fashion or the novelty '90s lifestyle items? It didn't matter to us, either way. As long as we were seen wearing the hottest looks, we had at least one of the most popular toys, and we had a Lunchables for our school meal, we were usually happy.
So here's what your favorite '90s trend said about you growing up. This may or may not be based on sturdy, scientific research, but I'll let you be the judge of that.
1. Crop Tops
If you wore crop tops growing up, you probably didn't feel too self-conscious. It's a shame that as we ladies get older, we so often feel pressured by society to look a certain way. Just imagine how liberating it would feel if we stopped caring so much and started loving ourselves more instead.
Crop tops were quite mainstream in the Western world circa 1998, so you probably were, too. You likely went to dance class, loved Sabrina The Teenage Witch, and attended camp every summer.
2. Butterfly Clips
'90s Butterfly Clips, $5, etsy.com
You were the typical '90s girl. You matched your butterfly clips to your outfits and attempted to create elaborate updos to showcase your impressive clip collection. When you weren't watching Mary-Kate and Ashley Olsen movies, you were probably experimenting with '90s beauty trends like nail stickers and body glitter. Your hobbies included three-way phone calls with your best gal pals and stalking your crush at the mall.
3. Jelly Sandals
Silver Sparkle Heeled Jellies Sandals '90s, $30, etsy.com
Fun was your mission in life. You were outdoorsy and loved nothing more than paddling in the ocean, exploring forests, or going on a family camping trip. However, you had a girly side and you enjoyed wearing some of the wackier trends out there. Jelly sandals allowed you to go on adventures while looking totes in vogue at the same time.
4. Plaid
In the '90s, plaid was rad. It could be worn in a grungy way in the form of flannel shirts and paired with your Dr. Martens, or you could channel teen queen Cher Horowitz with checkered co-ords and brown lip liner. Either way, plaid was super cool and you were either a trend-setter like Cher, or someone who didn't give a hoot about style as you copied the looks of your favorite bands, like Nirvana.
5. Chokers
Vintage '90s Pink Tattoo Choker, $4.35, etsy.com
You wanted to look totally hardcore like Buffy, without having to get anything pierced. The type of choker you wore dictated what subculture you belonged to: If it was a tattoo choker, you were either a mainstream kid or a grunge girl. If it had a smiley face or a plastic flower on it, you were a girly girl. And if it was spiked, you were a true rebel.
6. Platform Shoes
Girl power was your game, and you would stop at nothing to achieve equality between your classmates of all genders. Only boys get to join the soccer team? It's 1999, people! Have you even seen Switching Goals? You loved stomping around in platform shoes, pretending to be your favorite Spice Girl, but your parent would almost have a panic attack each time you wore them.
7. Inflatable Bags
Pink '90s Inflatable Backpack, $23.21, etsy.com
You loved visiting your local gadget shop at the mall because it housed so many weird and wonderful things, including inflatable furniture. Your '90s bedroom probably had at least one inflatable chair, a lava lamp, and a fiber optic one. Naturally, your love of all things "futuristic" segued over into your wardrobe, so when inflatable bags became a thing, you just had to have one. Geek chic gals would have rocked an inflatable backpack, whereas girlier ones would have chosen an inflatable tote.
8. Steve Madden Stretchy Sandals
'90s Steve Madden Leather Platform Slide Sandals, $65.60, etsy.com
You were the ultimate consumer of celebrity fashion. Anything Britney or Christina wore, you just had to have. You could trick your parents into buying you these Steve Madden stretchy sandals because they were black and they'd go with everything, plus they were stretchy so there'd be no complaining from you about discomfort. Little did they know, you were just a master manipulator.
9. Mood Rings
'90s Mood Ring, $2.50, etsy.com
You basically wanted to be in a teen witch coven, but you were way too freaked out by magic to go full blown Nancy from The Craft . You and your big imagination wanted to go far in life, so you kept your interest in the supernatural to a minimum. You'd often participate on the outskirts of a ouija board when it got brought out at a sleepover, but you'd be too much of a 'fraidy cat to actually join in. You liked how your mood ring gave you an aura of mystery and magic, even if Roald Dahl's The Witches kept you up at night for weeks.
10. Bright Furry Jackets
'90s Rainbow Swirl Shaggy Faux Fur Cropped Jacket, $118, etsy.com
When you wore your luminous yeti jacket, you felt as confident as Ginger Spice and as wild as Scary. You weren't afraid to try out trends, nor did you care what anyone thought of your personal style. You learned that you should dress to please only yourself from a young age; consequently, your peers either respected you or felt threatened by you. You were either a queen bee or a lone wolf, and there was no in-between.
11. Bucket Hats
'90s Silver Bucket Hat, $15.75, etsy.com
You were a straight A student who loved playing with her My Little Pony, Polly Pocket, and Littlest Pet Shop toys. You took being a goody-two-shoes to another level and you may have been bullied for it. Ultimately, you were a cotton wool kid and you did what your mother told you — which included wearing a seriously unappealing bucket hat on sunny days. You likely had a miniature library that Beauty and The Beast 's Belle would have been proud of, which could be blamed on your love of The Baby-Sitters Club novels.
Why not bring back your favorite 1990s trend in 2016 to warm your soul with nostalgia? Curl up beside a hoard of Beanie Babies with a Goosebumps book and it'll feel like you've been transported back to your childhood.
Images: Courtesy Brands; Paramount Pictures