15 Interesting Things To Do When You're Alone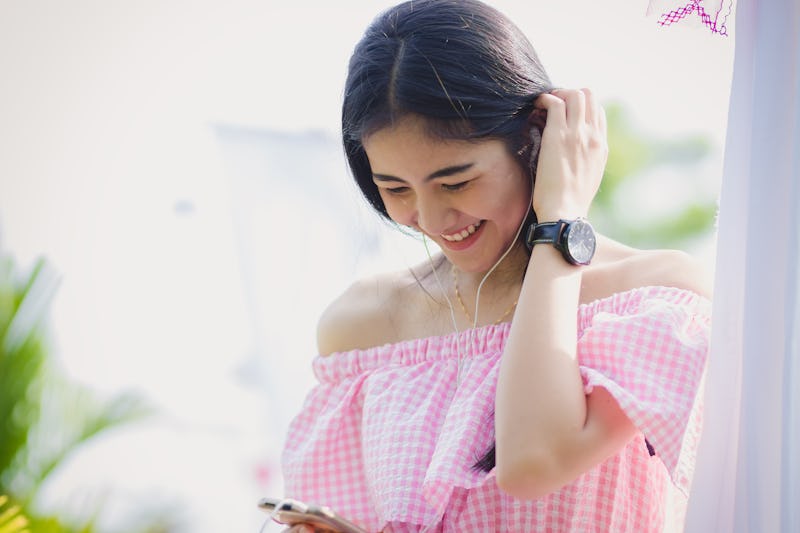 Shutterstock
Alone time can be all types of things — scary, lonely, boring. But it can also be awesome, if you know what to do with it. This is especially true if you find yourself with an evening alone and don't want to watch TV. When this mood strikes, it's truly a rare and magical opportunity to break from your usual relaxation routine, and maybe even get a few things done.
Now, I'm not saying there's anything wrong with a Netflix marathon, or spending a weekend doing absolutely nothing. We all need to occasionally zone out, sink into the couch, and partake in a few (or many) snacks. But sometimes it's nice to use this time to your advantage in other ways.
After all, "TV is relaxing in its way, but it's passive," Jill Whitney, LMFT, a licensed marriage and family therapist, tells Bustle. So when you have some time alone to do whatever you want, branching out can "be every bit as satisfying," she says, as well as the perfect moment to try out things you've been meaning to get to, like all those hobbies.
TV-less alone time can also be the perfect time to work on yourself. "Spending time alone is a healthy thing to do, and it's an opportunity to cultivate and enhance [yourself]," teletherapist Natasha Sandy, MA, Couns. Psych, tells Bustle. "For those with a confused or not-yet-formed self-identity, having alone time is a good way to explore your interests, discover your talents, and generally build confidence in yourself." Sounds good? Then read on for some interesting things to try tonight, if you happen to have time alone.
1. Get Involved In A Cause
If you're looking to give back, take an evening to figure out your next charitable move. "Ask yourself if there are any social or political causes that might interest you," therapist Dr. Gary Brown, PhD, LMFT, FAPA, tells Bustle. If you can't think of anything, recall a time when something really made your blood boil. Do you hate it when people litter? Are you mortified by global warming? Look into organizations that are helping with that.
Or, focus on what makes you happy. If you love animals, for instance, consider volunteering at a local shelter. In your evenings alone, you could be walking dogs and keeping cats company. And what could be better than that?
2. Take Time To Meditate
If you rarely find yourself with a moment's peace, you may want to do some meditating, sans all the distractions. As spiritual teacher and author Heather Kristian Strang tells Bustle, it's even possible to make an evening out of it.
Light candles and incense, get comfy in your yoga pants, and find a few guided meditations online, or download an app. You can sit for five minutes with your thoughts, and then build up to longer amounts of time, with practice, so this can be your go-to evening activity.
3. Practice A New Hobby
If you've been meaning to learn how to paint (or knit, or play piano) for forever, now's your chance. "Having time on your hands means you can learn practically anything you want via books or the internet," psychotherapist Karen R. Koenig, MEd, LCSW, tells Bustle. All it takes is some time and dedication, and you can get this side project off the ground.
You could also treat yourself to lessons, which would get you out and interacting with new people. The world of crafts and hobbies is your oyster, so have at it.
4. Make Yourself A Nice Dinner
Go ahead and get takeout if that's your heart's desire. But there's also something really nice about cooking for yourself, too. Not only will you save money, but the process of chopping, cooking, eating, and cleaning u can take up an entire evening, in a way that's really fun and relaxing.
Get into it with a new recipe, or test out some fun and interesting ingredients. "Once you're finished, take out the good plates and sit down [to] savor each bite," Strang says. This will make your cooking taste so much better. And it'll contribute to setting the mood, and treating yourself well.
5. Organize Your Life
Depending on what you consider "interesting," cleaning may not be at the top of your list. But it just may be worth it for the accomplished feeling you'll have afterward. "Choose one drawer, shelf, or closet that's a mess and tackle it," Whitney says. And if you get inspired, move onto the next shelf, and see how much you get done.
Then, step back and see how much better you feel, and how nice your place looks. Even if you do nothing else, "you'll go to bed feeling satisfied and proud," Whitney says.
6. Work On Your Resilience
If you catch yourself feeling lonely, it may help to view the evening as an exercise in resilience. "There are many resilience and positive-thinking skills that one can develop, specifically using time alone to exercise and develop these skills," Benjamin Halpern, and author and speaker, tells Bustle.
To start, you might want to pick up a self-help book, or check out some resources online, and see what you can learn. It'll be about learning how to stand on your own two feet, and feeling comfortable in your own company. While it can take practice, spending time alone is a skill worth developing, so you can make the most of it.
7. Send Out Handwritten Letters
One of the sweetest — and most unexpected — things you can do is send someone a handwritten note. Nothing's better than opening the mailbox and finding real, fun mail. So go ahead and do this for someone else. "Tell them how much they mean to you and how your life is better with them in it," Strang says.
And while you're at it, go ahead and make it into a sort of ritual. Pull out the good stationary, sit somewhere comfy, and let your thoughts flow. You might even start a tradition with friends where they write back, in a sort of old-school pen pal fashion.
8. Get Started On That Book Pile
Not everyone needs a reminder to read, but some of us have stacks of dusty books lying around that are just waiting to be perused. An evening alone can be the perfect time to crack one open, and can even help get you back in the habit.
"If you haven't picked up a book since you were in school," Whitney says, "you may find that you really like reading now that you're doing it by choice rather than because someone told you to."
9. Plan Your Next Vacation
Pop online and start planning your next vacation — even if you won't be going for awhile. "If you can't afford the trip right now, the process is still fun," Whitney says. So go ahead and check flight prices, scroll through cool hotel sites, or look up European backpacking tips. Just see what you can see.
It can also be fun to get a friend involved in the process. If you two start daydreaming about a trip, and setting aside money, you can make it reality. But in the meantime, simply talking about it and sending each other photos can be a good time, too.
10. Get Out Of Your Comfort Zone
Sure, you could stay home in you sweatpants and call it night. Or, you could venture forth into the world. Go to a class, see a movie by yourself, or hit up an gallery all by your lonesome, and see how it feels to do it all alone.
"This type of experience does more than rejuvenate you the way a nap or a massage would," relationships and etiquette expert April Masini, tells Bustle. "It expands your experiences and your intelligence." And results in you being even more well-rounded than you already are.
12. Take An Online Course
You aren't going to learn all there is to know about political philosophy in one evening, but you sure can get started by hopping online, and signing up for a class.
In your spare time, you can "take some college courses to get a degree or just learn more," Koenig says. Or try iTunes U to listen in on some courses you'd probably never take in real life, but just so happened to pique your interest. Then consider yourself smarter for the experience.
13. Follow One Of Your Role Models
Do you have a favorite author? If so, get to reading everything they've written, Koenig says. Or what about a director? Have yourself a movie night and watch a few of their films.
You can do this for pretty much anyone you admire — artist or otherwise. Look them up, research their life, and soak up as much of their work as you can.
This can be an ongoing project that you keep coming back to, whenever you have some down time. And the fun part about doing it alone is you don't have to worry about sharing the same taste with others. Focus on what matters most to you, and learn more about it.
14. Do A Quick DIY Project
Yes, you can refinish an entire dresser tonight. But you can also focus on something a bit more manageable, especially if you only have a few hours. "I always try to find a small project that will not add stress in trying to complete it," therapist Querida Lugo, tells Bustle. "One evening I taught myself crochet [by] watching YouTube videos."
Evenings alone afford you plenty of time to try out new skills, complete projects, or start new ones. So look at your to-do list, scan your apartment, or think about what you've been meaning to learn, then get to it.
15. Fix Something In Your Apartment
Speaking of your apartment, how about getting handy and fixing a few things? As therapist Mendi Baron, LCSW, tells Bustle, there's likely something that can be done around the house. Think along the lines of de-sticking an old window, or painting an ugly bookshelf. Getting that little thing done (because hey, you have the time) can make you feel quite accomplished.
In fact, anything on this list will make you feel good, if you're looking for something to do with your free time, instead of just vegging out. It's all about realizing you can basically do anything, and using the time to really and truly focus on yourself.