Your Last Minute Guide To Everything Halloween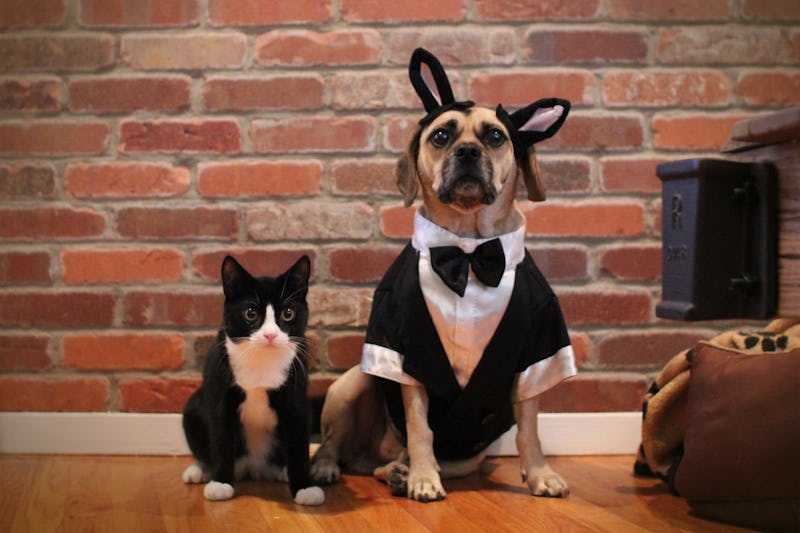 Halloween is finally here, and you're either really, ridiculously, over-the-top excited to see a month's worth of hard work come to fruition as you show up to work in your kick-ass baby Groot ensemble with your arms full of Pinterest-worthy Halloween treats, or you're scrambling at the last minute to find a costume — any costume — that you can wear to your Halloween party that probably won't win you any prizes, but will at least make it look like you put forth some effort to get in the Halloween spirit. I get it. Halloween's expectations and realities rarely match up, but with a few tricks, there's still time to make sure that this holiday isn't a total waste. What you need is a super handy last minute Halloween guide, and, oh wait, I've rounded up just that.
Because for all the hype Halloween inspires, prepping for this holiday is actually incredibly easy if you have even just a little bit of creativity. You don't need to spend hours on an outfit when you can just run over to Forever 21 and mix a few key pieces into your wardrobe for a costume that is festive but still feels like you. You don't need to slave over a bowl full of batter trying to piece together one-eye, one-horn flying purple people eater cake pops in order to come up with a Halloween treat people will love (although if this is something you're into, the Internet is here to assist). The scariest part about Halloween is usually just the stress that comes with it, but don't fret. Whether you're looking for last minute tricks or treats, costume ideas or creepy decor, we've got you covered.
Your Costume:
Wanna hear a secret? You can totally put your costume off until the very last second, and nobody will ever know. Costumes don't have to be complicated, they just have to be awesome. And since you're awesome already, putting the rest together should be a cinch. Here are some ideas to get you started:
Or, you know, just take a few style tips from these animals winning Halloween.
The Food:
Halloween has duped everyone into thinking that it's all about the costumes, but I'd argue that it's really all about the food. I mean, it's called trick-or-treating for a reason, right? And no one ever picks tricks over treats. Ever. From DIY Halloween candy to candy corn recipes that are actually delicious, these Halloween food ideas will blow your candy-loving mind.
The Decorations:
You've dressed up your food, you've dressed up yourself, and now it's time to dress up your home, too. Halloween decorations usually bring to mind garish visions of glaring jack-o'-lanterns and trash bag ghosts hanging off trees, but I'm willing to bet you can do better — even on short notice. From genius pumpkin decorating tips to ideas that will scare your friends silly, here's everything you need:
The Party:
You may be too old to trick-or-treat, but you will never be too old to party. Go ahead — play a few friendly tricks on your friends. Mingle around the punch bowl, swap spooky stories, settle in for a scary movie marathon, or check out some of the creepiest videos YouTube has to offer. The great thing about Halloween is that there are endless ways to have fun.
Or, you know, just stay inside. Halloween is exhausting.
Images: mringlein, torimbc /Flickr; A Pastry Affair; Studio DIY ; Now That's Pretty; Giphy