Bustle's Editors On ChyRo + The Electoral College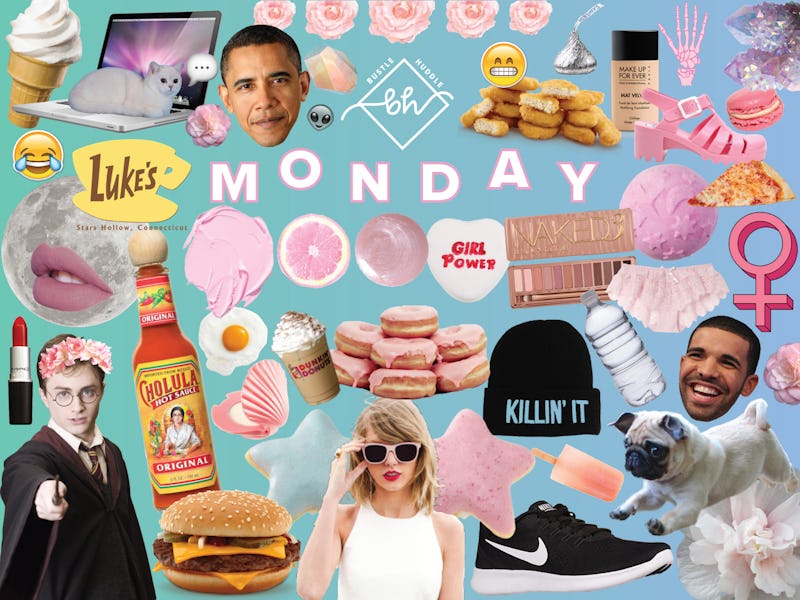 Happy Monday! Hopefully, your weekend was full of holiday parties, hot chocolate, and movie marathons of all the best Christmas classics, from Home Alone to Love, Actually. This week is likely going to speed by for most of you as you get ready for visits back home or staycations right where you are, and that's probably for the best — I don't think anyone really minds if the end of 2016 comes faster, do we?
As you prepare for the week ahead and start packing your bags (or, perhaps, start stocking up on all the wine and holiday cookies you can buy), here's a recap of the news and events that had Bustle's editors talking today, Dec. 19.
The Electoral College + Your Next President
On Monday, the Electoral College met to vote on the next president. In most years, this wouldn't be anything more than a formality, but in the 2016 race, it's a big freakin' deal. If you're unsure how the whole thing works, here are all of your Electoral College questions, answered — but just a reminder that, sadly, it's highly unlikely that anyone other than Donald Trump will be chosen as president. Update: Trump was officially elected president. Ugh.
Looking Ahead: As we all saw, fake news had a huge impact on the 2016 election and the information that was being passed around. If you want to stay informed next year and make sure that the news you're hearing is legit and reliable, here are 17 great journalists to follow on Twitter in 2017.
Rob Kardashian + Blac Chyna
It may be the end of the year, but the Kardashian news isn't slowing down. Over the weekend, Rob Kardashian claimed via social media that Blac Chyna had left him, taking their newborn daughter, Dream, along with her. It's still not clear exactly what went down between the couple, but eagle-eyed viewers of the (former?) couple's TV special on Sunday night might have seen the signs of Rob & Chyna's trouble coming.
Bad News, Bach Fans: Another couple bites the dust. According to reports, Amanda Stanton and Josh Murray have split up, and while the signs were there (did you see that Bachelor in Paradise drama?!), the news, if true, is still sad to hear.
Mercury Retrograde + Your Love Life
If you haven't checked your horoscope today, get on it — Mercury retrograde is here, and if you believe in astrology, prepare for some big changes. The retrograde lasts until Jan. 8, so the next few weeks might be filled with more chaos than usual — which says a lot, considering that the holiday season always tends to bring a bit of unexpected craziness.
Pro Tip: Although believers tend to be more cautious in romance during Mercury retrograde, Bustle's Sex and Relationships Editor Michelle Toglia says that there's no need to worry. "It actually can be good for your love life because it's the perfect time to slow things down," explains Toglia. "For singles, it's a good time to reevaluate what you really want and for couples, it's a great time to re-connect with your partner."
Fifth Harmony + Camila Cabello
Sad news, Fifth Harmony fans. Early Monday morning, it was announced that Camila Cabello had left the group, a move that shocked fans. Her former bandmates claimed in a note that they were only informed of Cabello's decision by the singer's representatives, but in her own statement, Cabello denied that this was the case. There are still a lot of questions following the big announcement, like whether Fifth Harmony will now change their name, but for now, here's what to know about the reasons why Cabello decided to leave the group.
R.I.P. Zsa Zsa Gabor: In sadder entertainment news, Hollywood legend Zsa Zsa Gabor died on Sunday at the age of (probably) 99. Gabor was an actor and personality who redefined celebrity culture, and as these tributes to Gabor show, her influence in the entertainment industry was huge.
Rihanna + A Whole New Look
Leave it to Rihanna to majorly change up her look at the end of the year. On Monday, Rih debuted platinum blonde hair, and it looks fierce. She's not the only star to make a big transformation recently, though; over the weekend, Pretty Little Liars ' Ashley Benson dyed her hair pink, Ruby Rose went magenta, and Selena Gomez might've chopped her locks off. Badass.
Deal of the Day: If you love having straight hair but hate taking those extra 20 minutes each morning, the Dafni ceramic straightening brush might be for you. The heated bristles make the brush 10 times stronger than the average flat iron, and as these before and after pictures show, it really works.
DAFNI The Original Hair Straightening Ceramic Brush, $120, Amazon
Today's WTF Moment: "[It] cries sounds like a dodgy porn star" — an Amazon review for a baby doll gaining attention for its, um, erotic sounds. Perhaps don't buy this one for your little niece's Christmas gift.
What To Watch: Get the tissues ready, because tonight, Michelle Obama sits down with Oprah Winfrey for her last ever 1:1 interview inside the White House. Tune in to CBS at 8 p.m. to hear the First Lady's thoughts on everything from her legacy to what lies ahead.
Design: Chelsea LaSalle, Alyssa Foote; Image: Elly Ayres