All The Astrological Events Happening In June
Goodbye Mercury retrograde and hello summer!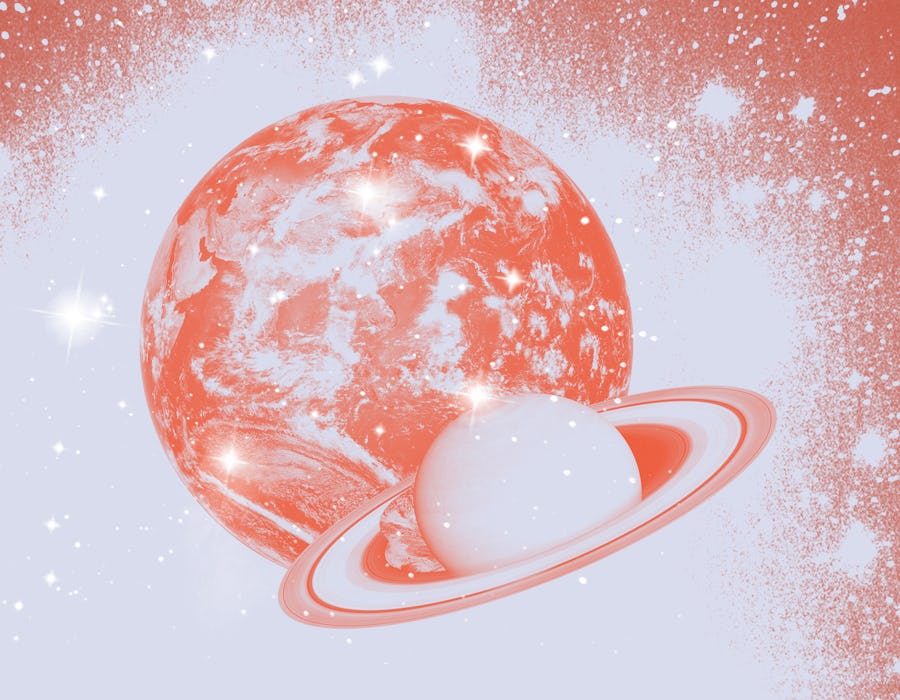 Margaret Flatley/Bustle
Say goodbye to all the April showers and May flowers of the springtime, because the sweet vibes of summer are coming in hot — no pun intended! This month in astrology brings the end of Mercury retrograde, the sweet sensitivity of Cancer season, and the abundant vibes of the summer solstice. With a chaotic retrograde behind us and a sunny new season on the horizon, the cosmic events of this month bring equal parts excitement and heart. You'll want to mark your calendars for all the astrological events of June 2022.
As we kick things off this month, we'll still be fresh off the vibes of May's new moon and very much in the thick of Gemini season, which brings out our inner social butterflies and energizes our communication-oriented and intellectual pursuits. Both mental planet Mercury and love planet Venus will be entering Gemini this month, too, keeping the chatty and open-minded vibes alive as we celebrate the summer solstice. A mid-month full moon in Sagittarius lights up our taste for adventure, but our souls will get a little more sensitive once Cancer season begins on June 21. The month's big lunar finale comes on June 28, as the emotional new moon in Cancer will put us in touch with our feelings.
Aside from that, Mercury retrograde will be coming to an end during the first few days of June (yay!), but we'll have two more planets kicking off their annual backspins shortly thereafter (womp, womp). With both Saturn retrograde and Neptune retrograde starting this month, retrograde season will officially be revving its engine. However, once we escape Mercury's post-retrograde shadow, we'll still be free to enjoy our summer plans without the logistical snags and communication struggles that we dealt with through most of May.
Read on for the cosmic scoop on all the major astrological events in June 2022.
Mercury Retrograde Ends On June 3
After three and a half weeks of retrograde madness, Mercury is finally wrapping up its backspin on June 3. At the time of its direct station, Mercury will be squaring off with stern planet Saturn, which could add a serious tone to our retrograde reflections and force us to get real with the consequences of our decisions. Mercurial matters of communication, timing, scheduling, and thinking will begin to pick up speed now, but keep in mind that Mercury's post-retrograde shadow period lasts through June 18 — so take your time as you integrate the retrograde lessons and start moving forward again.
Saturn Retrograde Starts On June 4
Sometimes it feels as though as soon as one retrograde ends, another begins. That's literally the case this month, as Saturn retrograde kicks off just one day after Mercury stations direct. Saturn is the planet of tough love and patience, and its annual backspin begins on June 4 the innovative sign of Aquarius. Saturn will retrograde until October 22 PT/23 ET, and this period will prompt us to reevaluate our boundaries and re-examine the rules we choose to follow in our lives. Saturnian energy can feel serious and restrictive, but ultimately it's here to teach us life lessons and maturity — so this retrograde can enhance our sense of responsibility.
Lots Of Airy Gemini Vibes
The first few weeks of June comprise the bulk of Gemini season 2022, which bestows us with lots of mental energy and has us flitting from one social activity to another. We'll feel the Gemini zodiac vibes even more powerfully during the last week of the season, as logistical planet Mercury — Gemini's ruling planet — will join the sun in this air sign on June 13. With Mercury back in Gemini and no longer retrograde, we'll be able to enjoy an enhanced ability to multitask and communicate with ease. We may find that we're able to revisit some of our retrograde snags with more clarity now, too.
While Gemini season ends on June 21, these quirky and quick-thinking vibes aren't going anywhere — as romantic planet Venus enters Gemini just one day later, on June 22, joining Mercury in this mutable air sign's territory for the rest of the month. With Venus in Gemini, expect to feel extra flirtatious, sociable, and interested in expressing your affections with words. While this transit could make us a little commitment-phobic, it's a great time for deepening a mental connection with a partner and having lots of witty conversations with friends.
A Full Strawberry Supermoon In Sagittarius
The lunar cycle is coming to an excitement-filled climax in the middle of the month, as the June 2022 full moon in feisty fire sign Sagittarius will rise on June 14. Traditionally known as the Strawberry Moon, this is the last big lunation of the springtime, and it happens to be a supermoon. Supermoons take place in closer proximity to the earth than a typical full moon, which makes them appear larger than usual. With the truth-seeking and adventure-loving Sagittarius zodiac energy at the helm, this lunation will help us to expand our horizons and embrace our spontaneity as we prepare to jump into the summer.
Cancer Season & The Summer Solstice
Prepare for emotions to heighten and sunbeams to shine, as June 21 is both the first day of Cancer season 2022 and the date of the summer solstice — aka, the first day of summer and the longest day of the year. With the sun swimming through the sensitive waters of Cancer for the coming month, our feelings will be coming to the forefront, and we'll be craving coziness and emotional connection. This is a beautiful season for gathering with family or close friends from the past and spending some nurturing time together under the summer sunshine.
Neptune Retrograde Starts On June 28
Before the month is up, we'll have to welcome one more retrograde. This time, it involves spiritual planet Neptune. Neptune retrograde happens every year for about five months, and this time around it begins on June 28 and lasts through Dec. 3. Thankfully, because Neptune is one of the transpersonal outer planets, its retrograde effects will be less dramatic in our daily lives. That said, this mystical backspin will still allow us to see beyond the veil of our dreams and fantasies, helping us to take off our rose-colored glasses, get in touch with reality, and strengthen our intuition.
An Emotional New Moon In Cancer
The last major astrological event of the month comes at the tail end, as the June 2022 new moon in Cancer will peak on the night of June 28. Cancer is the moon's home sign, so we can expect for this lunation to be extra emotional and put us deep in our feelings. This is a good time to get in touch with your intuition and set some heartfelt intentions for the summer season ahead.