Here's The Luckiest Day Of 2023 For Your Zodiac Sign
Cosmic energy is particularly ripe for padding your bank account, falling in love, and manifesting your dreams.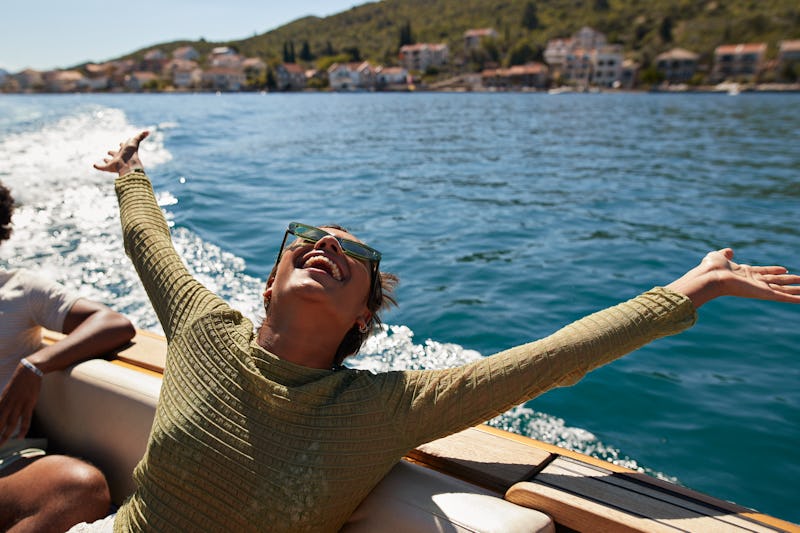 Klaus Vedfelt/DigitalVision/Getty Images
Sure, the astrology of 2023 is off to a pretty rocky start thanks to Mars and Mercury retrograde — but there's still plenty of magic sprinkled throughout the year! For one, lucky Jupiter enters financially-oriented Taurus, bringing plenty of opportunities for us to fill our cups (and our pockets). Plus, truly miraculous transits offer an ideal time to manifest your ultimate dreams. If you want to know which days are ripe for the taking, it helps to know the luckiest day of 2023 for each zodiac sign — especially if you want to fully harness the joy and abundance of the year.
There are four total Mercury retrogrades in 2023, and they all backspin in analytical earth signs in 2023. When you factor in Saturn (the planet of tough love) moving into daydreamer Pisces, you get a cosmic cocktail of chaos. Despite this, there are plenty of lucky days in 2023 that are naturally perfect for action, manifestation, and blossoming relationships.
The lion's gate portal, which happens on Aug. 8 (8/8) each year, is known in the mystical space as a gateway into manifesting your ultimate desires. In numerology, the angel number on the date Nov. 11 (11/11), is also a day of fortune. The angel number 1111 is about growth and indicates a spiritual awakening, making it prime time for receiving blessings from the Universe.
The same sentiment goes for Apr. 11, when the sun and lucky Jupiter hook up in hotshot Aries. "When we have this cazimi [a planet being very close to the sun] in Aries, it will make us feel unstoppable to trailblaze a new path of hope for the future," Desiree Roby Antila, astrologer and author of Sun Signs in Love, tells Bustle. "Lean into the cardinal fire energy of Aries to absorb the bold and fearless optimism of this once-a-year transit. This is a day for manifestation in the highest form."
With so much magic in the cosmos, you'll want to know the days to take action. Keep reading to find out the luckiest day of 2023 for your zodiac sign.
Luckiest Day: March 1, 2023
Antila says the ingression of Jupiter in Aries, which lasts until May 16, is a fruitful period. When artsy Venus in your native sign meets up with this lucky planet, expect there to be love and creativity in the air. "Follow your bliss and do not be afraid to follow your passion to create ultimate pleasure," she says.
Luckiest Day: May 16, 2023
Whether you're having a creative breakthrough or warming up to love, your native planet returning home to your sign makes this the perfect day to revel in your artistry. Luck is on your side, so go on a whim, finish a creative project, or shoot for that promotion. "The great benefic enters the sign of the Bull for the first time in over a decade, bringing Taurus some majorly good vibes," she says.
Luckiest Day: Feb. 14, 2023
Your important relationships are lighting up today — on Valentine's Day, no less! Being in the presence and compassion of others reminds you that you can count on your community for support. Jupiter creates a trine to the moon in your house of partnerships, encouraging you to pursue deep connections with others. These moments of intimacy will be helpful in the pursuit of your goals as "Mars, the planet of action, blazes through your sign for the first part of the year making you hot, hot, hot. This will give you go-getter energy," Antila explains.
Luckiest Day: Jan. 18, 2023
Mercury goes direct in your sister sign Capricorn, deepening your relationships and giving you major clarity after a period of confusion. This nurturing energy will be supercharged as Jupiter traverses your house of career, and "some major business moves will be made," Antila says. "This will be great for a promotion and recognition." Building strong foundations with others can help make your career dreams come true.
Luckiest Day: July 17, 2023
Feel destiny in the air? It's probably because the north node of fate ingresses in fellow fire sign Aries. This supportive energy will invite exciting new experiences and ideas into your life. "This will be the year you take those big trips you have been dreaming about or take that class you have never had the time for," she says. Plus, with the moon making a supportive trine with dreamy Neptune, you may get a much-needed emotional boost.
Luckiest Day: March 23, 2023
Power-hungry Pluto goes retrograde, and it's got an appetite for exciting change today. This will shake up your daily rituals, but it's all part of a bigger plan. Things are changing for the better today — though it might take some patience to understand how or why. "With the powerful dwarf planet making its way through your sixth house of work for the next 21 years, a slow shift will start to happen in your day-to-day life," Antila explains. "A movement toward a new career or a promotion could be at hand this year."
Luckiest Day: July 1, 2023
Venus, your native planet of love, is in its retrograde period, inducing major relationship nostalgia right now. But Mercury is elevating your self-compassion and supporting your biggest goals. You may stumble across new work opportunities thanks to resurfacing relationships. But whether or not they help further your career, "reconnecting with your [most loyal] crew during Venus retrograde would be a great idea," Antila says.
Luckiest Day: May 16, 2023
As Jupiter makes its way to Taurus, you may be feeling lucky in love. Bring intimacy to the top of your list today, whether it's scheduling a date night or creating new romantic traditions (either solo or with a partner). "With the south node moving out of your first house and bountiful Jupiter moving into your seventh, this will be a huge year for love," she says.
Luckiest Day: May 12, 2023
Your creative juices are flowing! This inspiration will fire up your appreciation for simple pleasures. With Mercury making a supportive aspect to Venus in your house of routine, it's a good time to implement new daily rituals that can stoke the fires of your passions. This aspect also highlights fertility. "Tap into your hobbies — and if a baby is something you want, now would be a great time [to try]," Antila says.
Luckiest Day: March 23, 2023
Money will be on your mind more than it usually is today. As Pluto moves into fellow Saturnian-ruled Aquarius, new financial opportunities may present themselves, potentially leading to huge abundance. Pay attention to profitable skills you may have learned recently; consider if you have any interests or hobbies that you can monetize. "As the planet of power and transformation makes its way into your second house of money for the next 21 years, it is time to make some big financial moves that could level you up in a whole new way," she says.
Luckiest Day: March 7, 2023
With Saturn ingressing out of your signand into your second house of values and money, this will be a powerful financial moment. It's time to get your funds in order. Get creative about finding new income streams. "This will give you some majorly needed restructuring around your cash flow," explains Antia. "This will feel incredibly uplifting and freeing."
Luckiest Day: July 17, 2023
The north node of destiny will help some missing pieces fall into place. It's a powerful moment to change your perspective and bring clarity to a complicated situation. "You will feel a need to branch out socially and it may lead you to a new friend or love interest," says Antila. "Put yourself out there — it will be fun!"