These Are The 20 Most-Followed Women On Instagram
Selena Gomez just dethroned Kylie Jenner.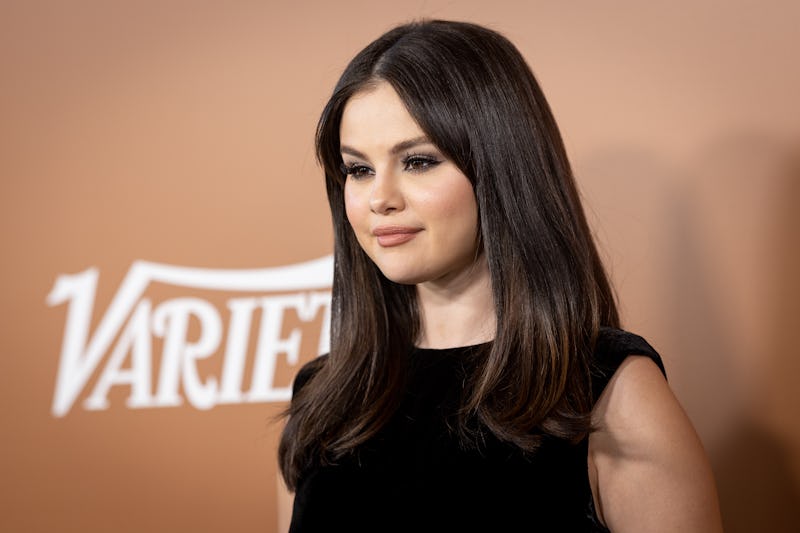 Emma McIntyre/FilmMagic/Getty Images
Instagram followers count can serve as a form of cache, a status symbol — or is simply just a number to some. For celebrities, their number of followers can mean more than just their online reach. It can correlate with how famous they are. Kylie Jenner — whose profile features content about her makeup line, luxurious lifestyle, and the occasional glimpse of her children— was the most-followed woman on Instagram until now. On Feb. 23, Selena Gomez dethroned Jenner as the most-followed woman with less than 1 million followers separating them.
The Only Murders in the Building star previously held the title in 2019, after taking a brief break from the app in 2018. Her return to the top in 2023 has her fans celebrating. "queen is back!" one user tweeted. "Selena Gomez is now the most-followed female artist on Instagram and Tiktok. A global queen," another pointed out.
Gomez, however, doesn't have the app on her phone or even post on her account. Her assistant does it for her. She told Vanity Fair in February that negative comments led her to delete the app from her phone. "[People] write paragraphs that are so specific and mean. I would constantly be crying. I constantly had anxiety … I couldn't do it anymore. It was a waste of my time." She is a fan of TikTok, though, and does have that on her phone. "There are wonderful things about social media — connecting with fans, seeing how happy and excited they are and their stories," she said. "But usually that's filtered through [for me now]."
Here are the 20 most-followed women on Instagram as of February 2023.
20. Gal Gadot: 97 Million Followers
Wonder Woman's feed is packed with feel-good content, including a recent tropical vacation and mac & cheese brand Goodles.
19. Billie Eilish: 108 Million Followers
Eilish's content is creative. She's also gotten into the fragrance game, promoting Eilish No. 2 on her page.
18. Ellen DeGeneres: 132 Million Followers
The former talk show host built her huge following throughout her show's tenure. DeGeneres currently posts throwback content from her show, including when she appeared to guess Paris Hilton's son's name.
17. Rihanna: 144 Million Followers
Rihanna's boyfriend A$AP Rocky and their son in British Vogue's March 2023 cover take over the billionaire's feed at the moment. When she's not posting about her family, she's posting about her business ventures such as Fenty Beauty.
16. Demi Lovato: 149 Million Followers
Lovato's been loved up with her boyfriend Jutes in recent Instagram posts, especially in her Valentine's Day tribute.
15. Cardi B: 153 Million Followers
Cardi's recent Insta activity has been particularly delicious. She and Offset have been promoting their new McDonald's meal, which dropped on Feb. 14.
14. Zendaya: 168 Million Followers
The Euphoria star's feed is packed with bold fashion moments. But fans wouldn't be opposed to more Tom Holland pictures!
13. Katy Perry: 192 Million Followers
Perry's latest Instagram content features behind-the-scenes looks at American Idol's 21st season.
12. Miley Cyrus: 197 Million Followers
ICYMI, Cyrus can buy herself flowers. Her account's main focus is currently sharing images from the "Flowers" music video and promoting her upcoming album Endless Summer Vacation.
11. Nicki Minaj: 211 Million Followers
Minaj's latest posts have been about celebrating Carnivale in Trinidad and Tobago, and fans can't get enough of her gorgeous costume, plus her remix of "Shake This Place" with Machel Montano and Destra.
10. Kourtney Kardashian: 213 Million Followers
Spoiler alert: The KarJenners all made it to the top 10 of this list. Kourtney's posts focus on her lifestyle brand Poosh along with tons of PDA with her husband Travis Barker.
9. Jennifer Lopez: 235 Million Followers
J.Lo promotes her latest movies and beauty products — and gives fans an intimate look at her family life. One of her recent posts featured new matching ink with her husband Ben Affleck.
8. Taylor Swift: 246 Million Followers
Swift is known for using social media to promote new music. Instagram is no exception, where she's cleared her page in the past or dropped clues, signaling to fans that something new is on the horizon.
7. Kendall Jenner: 277 Million Followers
Kendall's page is a mix of pictures from her latest modeling gigs, her tequila brand 818, and exotic locations.
6. Khloé Kardashian: 295 Million Followers
Khloé keeps busy on her IG posting about her company Good American and posing with family members.
5. Beyoncé: 297 Million Followers
Beyoncé is experiencing a Renaissance on Instagram. Her feed celebrates the latest awards she's won for her music (including her record-breaking Grammys) along with promoting her long-awaited tour.
4. Kim Kardashian: 346 Million Followers
When she's not posting about SKIMS or her latest brand collab, Kim K is giving fans a glimpse into her (very famous) family life.
3. Ariana Grande: 357 Million Followers
Grande's feed features her Ulta Beauty products and music updates, along with an occasional picture with her husband Dalton Gomez.
2. Kylie Jenner: 380 Million Followers
Jenner's most recent updates are about her Vanity Fair Italia cover. She also teased that more Kylie Cosmetic products are coming soon.
1. Selena Gomez: 381 Million Followers
The reigning queen of Instagram's latest photo and caption are relatable. Here's hoping for some Only Murders behind-the-scenes content soon.