The 2 Zodiac Signs You May Not Get Along With, Based On Your Sign
by Eva Taylor Grant and Kristine Fellizar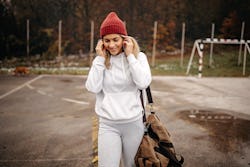 PhotoAttractive/E+/Getty Images
Chances are, you won't get along with everyone you meet. However, it may be extra hard to form a connection with some people in particular. Although many factors can contribute to this, astrology may be to blame. Incompatible zodiac signs come in all shapes and forms, and you can use your sun sign, along with other parts of your astrological birth chart, to understand how you relate to other people.
"Sun signs' compatibility is not an indication of overall compatibility in astrology," astrologer Lisa Stardust tells Bustle. "While other factors within a birth chart show whether or not two people will get along, sun signs indicate whether two people's basic personalities will share a connection. However, often sun signs may clash, as their egos may clash." In short: Two incompatible signs may have trouble getting along at first because sun signs are all about the basic aspects of someone's personality.
The good thing is, it's possible for incompatible signs to overcome the struggle to get along. Whether it means accepting a neutral relationship or getting to know each other on a deeper level, these signs may be able to form close bonds. Just because astrology says you're not very compatible with certain signs doesn't mean that you should avoid them altogether — it just means that forming a relationship may be challenging.
Here, Stardust breaks down the 12 signs and the two that each of them are least compatible with.
This article was originally published on