107 Actually Good Things That Happened In 2016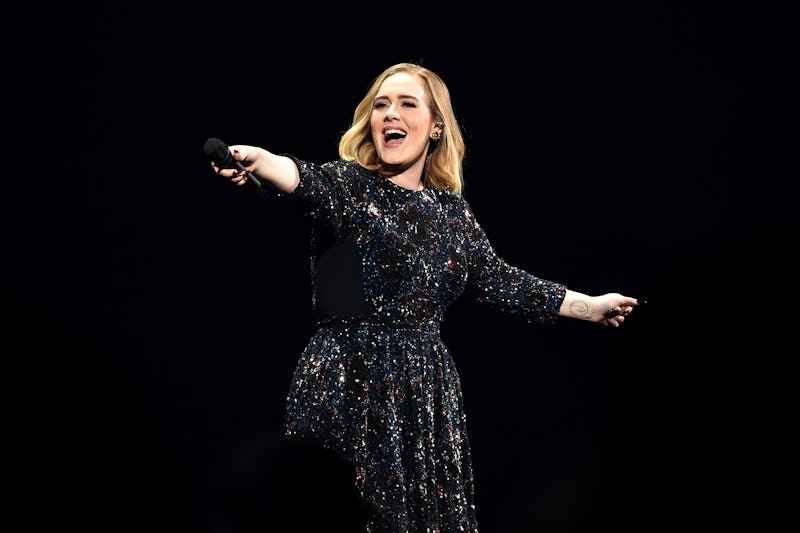 Gareth Cattermole/Getty Images Entertainment/Getty Images
Let's face it: 2016 probably won't go down in the history books as the greatest year of all time. From major celebrity losses — including Prince, David Bowie, Muhammad Ali, and Alan Thicke — to the loss of the election, it's been more than a doozy. Did I mention all the celebrity breakups? OK, before getting caught up in so much negativity, let's shift the spotlight. Because believe it or not, there are plenty of good things that happened in pop culture in 2016. And to prove that, Bustle's Entertainment team — Kelsea Stahler, Lia Beck, Kadeen Griffiths, Anna Klassen, Sam Rullo, Rachel Simon, Martha Sorren, and myself — compiled a list to remind you that this year wasn't actually the worst.
Reflecting on positive moments from the past 12 months can help remedy your 2016-related loathing. Why head into a new year with bad vibes weighing you down? Keep in mind that this year gave fans new episodes of Gilmore Girls after nine whole years of waiting. Sure, you might have mixed feelings about the ending, but Lorelai and Luke back on your TV screen? Honestly, there's nothing better.
In case your spirits aren't completely boosted yet, keep reading. Because there are more than 100 things that happened this year that will remind you that not all hope is lost.
1. Beyoncé's Lemonade happened.
2. Luke Cage was pretty incredible.
3. The Harry Potter world expanded in a huge way.
4. Jennifer Lawrence and Chris Pratt went on the most entertaining press tour ever.
5. A truly great film, Spotlight, won the Oscar for Best Picture.
6. The Rock was named People's Sexiest Man Alive.
7. Brie Larson was officially cast as Captain Marvel.
8. Prince George played with bubbles...
9. And Princess Charlotte sat on a dog.
10. Paris became Gilmore Girls' VIP.
11. Eleven from Stranger Things came into all our lives.
12. The Final Five won gold medals in Rio.
13. Mandy Moore returned to TV screens in This Is Us.
14. Moore even snagged a Golden Globes nom.
15. David S. Pumpkins. Any questions?
16. Grease Live! was actually really, really good.
17. Hairspray Live! was great, too.
18. Tatiana Maslany finally got her Emmy.
19. Rami Malek did too. And he gave an adorable speech.
20. Mark Hamill & Daisy Ridley took this photo while filming Star Wars: Episode 8:
21. Crazy Ex-Girlfriend got a second season.
22. 13th by Ava DuVernay hit Netflix.
23. Samantha Bee became a queen of late-night TV.
24. Vanderpump Rules Season 5 premiered and it is everythingggggg.
25. Jon Snow came back to life. From the dead. For real.
26. Also, Snow was wearing Ugg boots when he came back to life.
27. Rogue One came out and it was amazing.
28. Diego Luna told everyone in the world that he wants to touch Jabba the Hutt.
29. The Night Of perfected the ambiguous mini-series ending.
30. Riz Ahmed got super famous.
31. Pokémon Go was a thing.
32. Black Mirror Season 3 was so, so real.
33. RuPaul's Drag Race All Stars 2 brought Katya back into our lives.
34. The Cubs won the World Series.
35. Adele went on tour.
36. Adele just being around, in general, made everything better.
37. Beyoncé slayed the hell out of the 2016 VMAs.
38. North West wore Kim Kardashian's giant silver boots.
39. Ryan Reynolds was generally a Twitter genius.
40. The Shallows was a legitimately great summer thriller about a woman and her shark.
41. We finally saw photos of Saint West and they were perfect.
42. Marcia Clark got the respect she deserved, thanks to American Crime Story.
43. Sterling K. Brown killed it on American Crime Story and This Is Us.
44. The Deadpool movie finally happened (and exceeded all expectations).
45. Pottermore told us all what Ilvermorny houses we belong in...
46. …and revealed our true Patronuses.
47. Supergirl changed networks and became the strongest hero on a badass team.
48. "Cheap Thrills" by Sia was the song of every summer dance party.
49. The world truly came together... to talk whatever was going on with Hiddleswift.
50. Eddie Redmayne exuded joy on every step of the Fantastic Beasts press tour.
51. Kit Harington & Andy Samberg teamed up at the Emmys and made everyone's celebrity crush dreams come true.
52. Donald Glover was cast as Young Lando Calrissian.
53. Lin-Manuel Miranda's tweets made everyone feel better.
54. Alicia Key's Here was released and it was perfect.
55. Lego Star Wars: The Force Awakens was the most adorable game ever and finally explained how Poe Dameron didn't die in that TIE fighter crash.
56. Drake's Views finally came out and it was a freaking delight.
57. Britney Spears released a new album. Also finally.
58. Melissa McCarthy joined the Gilmore Girls revival at the last second. Thank god.
59. John Boyega started filming Pacific Rim 2.
60. Also, Boyega on Instagram, in general.
61. Westworld blew all of our minds.
62. Finding Nemo finally got a sequel and it was adorable.
63. Leonardo DiCaprio won an Oscar after years of snubs.
64. Jacob Tremblay made the world better by simply existing.
65. Also, Tremblay met C-3PO and R2-D2 at the Oscars and proceeded to be the most adorable human ever.
66. Beyoncé dropped "Formation" the day before the Super Bowl. Best. Surprise. Ever.
67. Beyoncé took over the Super Bowl Half-Time Show. Sorry, Coldplay.
68. Luna Legend was born and became a social media star, just like her mother, Chrissy Teigen.
69. Seriously, Luna had the best Halloween costumes.
70. Obama sang "Jingle Bells" with Chance the Rapper.
71. Dream Kardashian came into the world.
72. Full House fans got to see the Tanners back in action on Fuller House.
73. Despite the mixed reviews, the Gilmore Girls revival was still a gift.
74. Britney Spears and Justin Timberlake admitted they'd love to collaborate. DO IT. DO IT. DO IT.
75. Michael Phelps' son Boomer cheered him on at the Olympics.
76. Rihanna started her own scholarship program for college students.
77. Broad City Season 3 aired and was better than ever.
78. Emilia Clarke was cast in the new Han Solo movie, making nerds everywhere lose their minds.
79. The Sherlock Christmas special premiered in the U.S. and was genuinely amazing.
80. Katy Perry's Hillary Clinton Halloween costume was incredible.
81. Movies like Loving and Hidden Figures finally offered a diverse view of American history to audiences.
82. "Never Be Like You" by Flume crept into all of our lives.
83. We finally learned what Toddler Groot looks like.
84. This Amazon Prime commercial with the dog, baby, and a lion costume made us all weep happy tears at our desks:
85. Jennifer Aniston was People's Most Beautiful Woman (the second oldest woman to earn the title) and proved that age ain't nothing but a number.
86. Jane and Michael got married on Jane The Virgin.
87. And Jane the Virgin finally lost her virginity. Get it, girl.
88. Ghostbusters came out and was one of the funniest, most feminist movies of 2016.
89. The Hamilton cast's speech to Mike Pence was powerful (even if Donald Trump didn't quite get it).
90. Milo Ventimiglia was everywhere.
91. Also, Ventimiglia brought his arms along for the ride.
92. Jessica Chastain and other famous ladies proudly deemed themselves "nasty women" in support of HRC.
93. Gary Fisher really hit his stride on Instagram.
94. Kylie Jenner said 2016 would be "the year of just realizing stuff."
95. The Tokyo 2020 show at the Olympics was incredible, especially when Shinzo Abe jumped out of that Super Mario pipe.
96. Lin-Manuel Miranda wrote the incredible soundtrack for Moana.
97. And Moana gave little girls everywhere an incredible role model.
98. Solange's A Seat At The Table came out and was music to our ears.
99. Ryan Gosling and Emma Stone made another movie together. Again. Thank you, Hollywood.
100. Britney Spears threw a Pokémon themed birthday party for her sons.
101. Taylor Swift and Zayn Malik released a surprise duet.
102. Chance the Rapper made this face when he met Beyoncé at the VMAs:
103. Black Panther was in Captain America: Civil War.
104. It was announced that Lupita Nyong'o will be in Black Panther.
105. Amber Rose and Kim Kardashian's selfie broke the internet in the best way.
106. Niall Horan went solo and is doing well for himself.
107. Every song on the Hamilton Mixtape was absolute fire.
See? 2016 wasn't so bad after all. Just go listen to the Hamilton Mixtape on repeat and you'll instantly feel better.