The Best Morning Routine For You, According To Your Zodiac Sign
Start your day off right.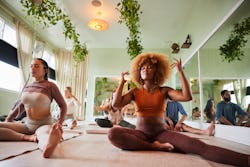 Goodboy Picture Company/E+/Getty Images
Everyone's morning routine is going to look a little bit different. There are those who hit the snooze button as many times as possible before sleepily pouring a cup of coffee, while others shoot out of bed at dawn, bright-eyed and bushy-tailed, ready to slay an early exercise class. While the first hour of our day may be long forgotten by the time we dive into our responsibilities, how we start our morning can help to set the tone for the entire day ahead — so developing a solid morning routine is an investment in your overall wellness. If you're looking to start your day in a more intentional way, it can be helpful to look to your astrology chart for inspiration and figure out the best morning routine for you, based on your zodiac sign.
Studies show that maintaining a regular daily rhythm is actually good for your health — meaning that even if you're a night owl, having a reliable morning ritual offers you an important foundation for the day ahead. And if you're not sure where to start, astrology can suggest some solid morning routine ideas.
"Every zodiac sign has tendencies, habits, and preferences that create our character," astrologer Cindy Mckean tells Bustle. "When we're in flow, we are able to achieve our potential, be content, and align with our purpose." Embracing your zodiac sign's qualities can offer insight into what makes you feel more motivated and positive as you jump out of bed.
While some of us may already be hitting the mark when it comes to our morning habits, others may want to revamp their wake-up rituals. If you're looking for some cosmic A.M. inspiration, check out the best morning routine for each zodiac sign.
This article was originally published on