The 13 Sexiest Movies On HBO To Stream Now
Steamy HBO movies for your next night in? Yes, please.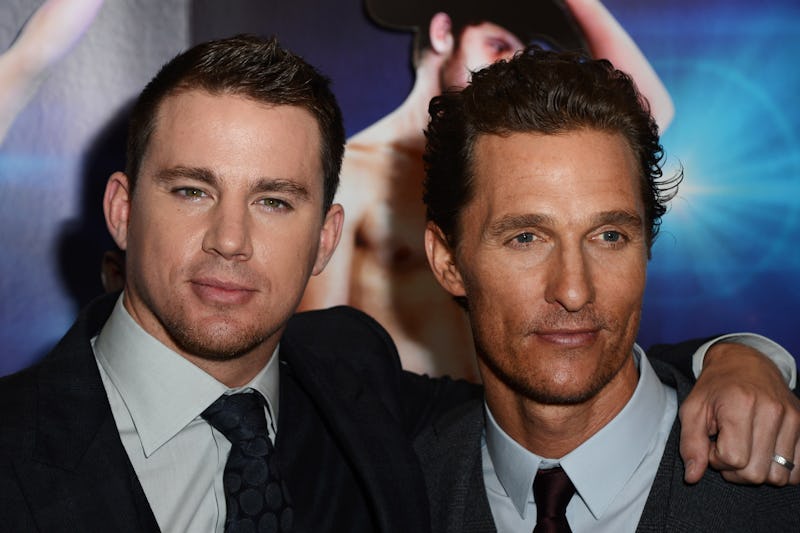 Dave J Hogan/Getty Images Entertainment/Getty Images
If you're a sexy movie fan, you're in luck: HBO and HBO Max expanded their roster of sultry movies. Spanning several genres, these steamy options are guaranteed to have some unforgettable scenes, so whether you prefer to watch an erotic drama, an LGBTQ+ film, or a raunchy comedy, here are 13 sexy movies available on HBO right this second. What qualifies as "sexy," you ask? Films with erotic intimate scenes, hot and heavy makeouts, and even raunchy vignettes made the cut.
With its range of options, this list of HBO's sexiest movies is sure to whet your viewing appetite. It includes classics from And God Created Woman, a '50s Brigitte Bardot French film, and a 1983 teen sex comedy featuring a young Tom Cruise. Rounding out the selection are some steamy (though tragic) Keira Knightley period dramas including Anna Karenina and Atonement. If you prefer risqué films in the form of comedy, there are also some funny options like the now-classic Wedding Crashers and movies about half-naked male strippers, um, stripping.
Excited yet? Here are the 13 sexiest movies on HBO and HBO Max that you should watch now.
And God Created Woman
And God Created Woman is the 1956 French movie that turned then-largely unknown Brigitte Bardot into an international sex symbol. Bardot plays Juliette, a sensual 18-year-old orphan who scandalizes her guardians with her propensity for nudity. To avoid going back to the orphanage, she marries Michel (Jean-Louis Trintignant), though it's his brother (Christian Marquand) she's in love with. The romantic drama is ultimately a story about Juliette's affairs and the heartbreak caused by a beautiful woman desired by so many.
Magic Mike
Channing Tatum, Joe Manganiello, Matt Bomer, Matthew McConaughey, and Adam Rodriguez star as Tampa-based gyrating strippers in Magic Mike. Directed by Steven Soderbergh, the 2012 dramedy is loosely inspired by Tatum's former life as a stripper and has more than a few unforgettable striptease sequences. Tatum and McConaughey both garnered several nominations for their performances.
Magic Mike XXL
The sequel, Magic Mike XXL, which followed in 2015, deserves its own spot on the list. The gang reunites after three years to attend a stripper convention, and, well, stripping commences. Jada Pinkett Smith also joins the cast. Watch both films before the final movie, Magic Mike's Last Dance, comes out to the streaming platform exclusively.
Sex And The City: The Movie
In 2008, four years after the TV series finale, Carrie, Miranda, Charlotte, and Samantha got back together for a movie version of Sex and the City. There's not much sex for Carrie (Sarah Jessica Parker) in this one — she and Big (Chris Noth) are broken up — but, unsurprisingly, Samantha (Kim Cattrall) still finds herself in sexy situations, including fantasizing about her neighbor who takes outdoor showers. Also, Carrie's new apartment is pretty damn sexy in its own way.
Wedding Crashers
Owen Wilson (John) and Vince Vaughn (Jeremy) are the titular party crashers in this 2005 romantic comedy. It's wedding season, and the two run a con: faking their identities to have one-night stands with emotional women at weddings. When they break protocol by pursuing sisters Claire (Rachel McAdams) and Gloria (Isla Fisher) after the reception, the two are found out. Between the comedy of Jane Seymour and a jealous Bradley Cooper, Wedding Crashers is a hilariously chaotic classic.
Gia
Angelina Jolie won a Golden Globe for her portrayal of the titular supermodel Gia Carangi in this 1998 biographical drama. Gia becomes a supermodel after being discovered by agent Wilhelmina Cooper (Faye Dunaway), but her later death plunges Gia into depression and drug abuse. She begins a romance with makeup artist Linda (Elizabeth Mitchell) until Gia's dark past resurfaces. The Michael Cristofer-directed film was well-received, and Dunaway also took home a Golden Globe for her role.
Risky Business
Before Tom Cruise was flying fighter jets or working as a super spy, his speed chases involved going after the pimp of his tryst in Risky Business. In the 1983 teen comedy, Cruise plays the Princeton-bound, over-achieving high school senior Joel. When his parents leave for vacation before graduation, Joel makes the most of their last hurrah and spends the night with Lana (Rebecca De Mornay), a call girl. Things go south when Lana's pimp starts stealing from Joel's family home and he needs to get all the items back before his parents get home.
Introducing Dorothy Dandridge
Halle Berry stuns as the famed Old Hollywood icon Dorothy Dandridge in this 1999 film chronicling her life, sexuality, and complicated rise to stardom. Based on the biography by Dandridge's former manager Earl Mills, Introducing Dorothy Dandridge boasts a powerhouse of collaborators with Martha Coolidge as director, and Shonda Rhimes and Scott Abbott as writers. Berry swept the awards the following year, winning a SAG, Golden Globe, and Emmy for her performance. Come for Berry, stay for the dance numbers.
Atonement
After the success of their Pride and Prejudice tandem, director Joe Wright reunited with Keira Knightley on this 2007 adaptation of Ian McEwan's namesake novel. It's not just Cecilia's (Knightley) tryst with Robbie (James McAvoy) that's hot. The buildup to it — via Robbie's very explicit love letter — is also something to look forward to. Be warned though, it's also a gut-wrenching tale about war.
Anna Karenina
Wright and Knightley team up for the third time for the film adaptation of Leo Tolstoy's 1877 classic, Anna Karenina. In old Russia, Knightley's Anna is stuck in a loveless marriage with Count Karenin (Jude Law), so when she meets the attractive and affluent Count Vronsky (Aaron Taylor-Johnson), it's love at first sight and their steamy affair scandalizes all of St. Petersburg.
Behind the Candelabra
You may already know the tragic story of the famed pianist Liberace, but for a fuller look at his life and relationship with Scott Thorson, Behind the Candelabra is worth the watch. Starring Michael Douglas and Matt Damon and directed by Steven Soderbegh, the titillating 2013 biopic is based on Thorson's memoir of the same name.
In The Mood For Love
Neighbors Chow (Tony Leung) and Su (Maggie Cheung) share the same bleak reality: their partners are having an affair. The experience only brings them closer together and the two eventually begin a passionate romance where even the littlest touch becomes all-consumingly sensual. The Hong Kong film, released in 2000, is a Wong Kar-wai classic and Leung even won the prized Cannes award, a Palme d'Or, for his performance.
Focus
The ethics of conman Nicky (Will Smith) in the action comedy film Focus may be questionable, but he does live by one rule: never get involved with a colleague. So when he starts fooling around with his protégé Jess, played by Margot Robbie, he cuts ties with her. But there's something about Jess he can't forget — even years down the line. Again, it's Will Smith and Margot Robbie. Need we really say more?
This article was originally published on