23 Sexy Movies Made By Women That Will Turn You On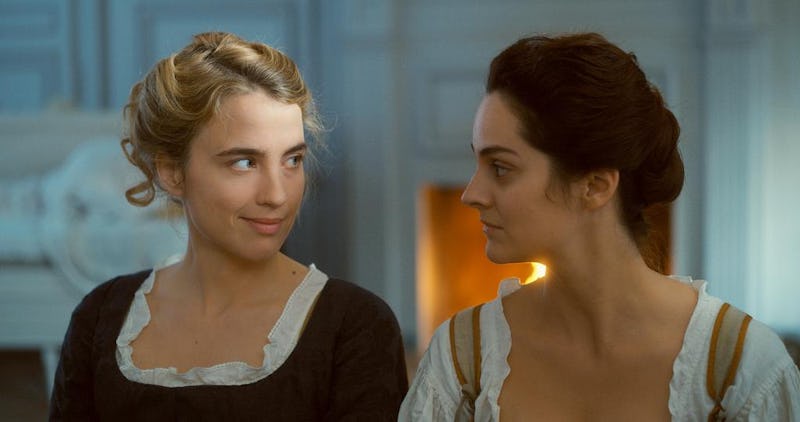 Lilies Films
There have been many steamy, iconic sex scenes in film, and most of them feature a lot of emphasis on the female body, with characters largely designed for male viewing pleasure. Where there has historically been less emphasis in these movies, then, is the female gaze, which represents the viewpoint of the female viewer. Shocker ⁠— it turns out that most of the intensely erotic films that society has remembered and celebrated over the years have been written and directed by men. (This isn't that surprising, given that most of all movies ever made have been written and directed by men.) But that doesn't mean there aren't tons of sexy movies made by women out there.
The female erotic and romantic gaze has recently blown up in television, featuring in women-led shows that include Phoebe Waller-Bridge's Fleabag, Sally Rooney's Normal People, and Issa Rae's Insecure. But as for the big screen, it might be a shock to confront how many iconic and beautifully composed sex movie scenes come from films that were directed by men: Blue is the Warmest Color, Nymphomaniac, Y Tu Mamá También, Wetlands, 9 1/2 Weeks.
When it comes to hunting down super sexy films directed by women, you'll find that many of these filmmakers are queer, and that when the plot is about two women romantically involved, it's much less likely that a man will be writing or directing. Another interesting thing that stands out is how many of the movies on this list were written and directed by the same women. It seems that many female filmmakers are crafting and guiding the story on multiple levels and have complete ownership of it.
Hopefully more and more women will continue to bring their stories to the big screen, as well as bring along great sex scenes and sensual aesthetics like the ones in the movies below. If you're looking for a steamy movie filmed through the female gaze, here are 23 sexy films made by women.
All of these movies illustrate that the only thing better than a hot sex scene is a hot sex scene written or directed by someone other than a dude.