34 Netflix Movies That Are Pure Cheesy Throwbacks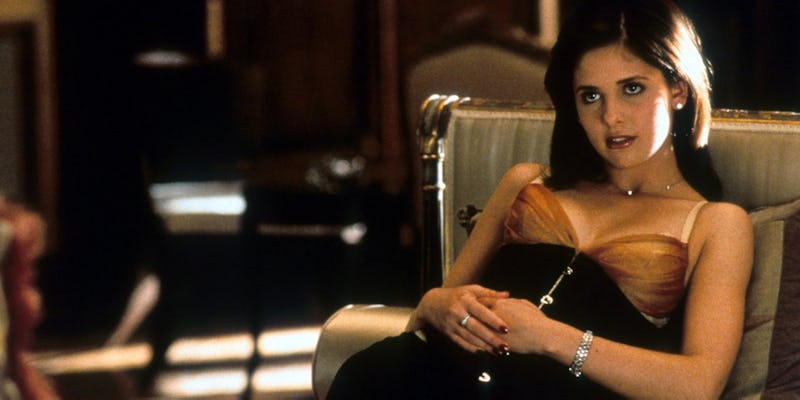 Sometimes I just want to curl up in bed and watch a cheesy, nostalgic movie. The only problem? By the time I've finally found that perfect corny movie to fill my soul, I'm exhausted and just want to sleep. Cheesy movies on Netflix are in excess, but the problem is there's often so little time to peruse. So I did what any sane person would do, and I narrowed down the best of the best. Below, I present to you 34 Netflix movies that will give you all the cheesy feels you could want.
I feel like I should add a disclaimer here that many of the movies below aren't necessarily considered "good movies," just cheesy ones. Yet there are a few in here that are both good and cheesy. This list is subjective, of course, but I'm pretty confident that these films will resonate with anyone looking for a solidly corny old film. Without further adieu, these are 34 of the best movies currently streaming on Netflix that offer both the cheese factor and the throwback factor, in perfect proportions.
1. The Princess Bride
Cheesy? Inconceivable! But it is. Oh, it is. The Princess Bride is a classic movie with enough laughs, romantic gestures, and cheese factors to keep you satisfied for days.
2. A League Of Their Own
I could cry thinking about how much I love this movie. Geena Davis, Tom Hanks, Rosie O'Donnell, even Madonna — the cast is amazing. It's heartwarming. It's heartbreaking. It's completely cheesy but also, completely and utterly brilliant. And remember: there's no crying in baseball.
3. The Little Rascals
This movie is so corny and so cute I smile just thinking about it. It poses real philosophical questions (why are boys such jerks?) and also provides us with some delightful child hijinks that would never, in a million years, actually happen in today's world. Plus, Whoopi Goldberg.
4. High School Musical
There is nothing, and I mean nothing, cornier than High School Musical. Despite the cheese factor, however, I can't think of a more nostalgic movie that quite literally changed television. I mean, I doubt we'd have Glee or Hairspray: Live (any of the live musicals, in fact) if it weren't for HSM. Plus, it brought Zac Efron (and his biceps) to the mainstream and for that we can be eternally grateful.
5. Jurassic Park
I might be biased because I'm in love with Jeff Goldblum, but Jurassic Park is definitely a classic, wonderful, brilliant film. It also happens to be super cheesy. In terms of technology, this film is way cheesier than what we have today and the dinosaurs aren't quite as scary as they once were, but it's a film that stands the tests of time. This one is a throwback for sure.
6. Galaxy Quest
Talk about cheesy. This lovely little sci-fi film is the corniest, weirdest, funniest film and definitely deserves a spot on this list.
7. The Mummy
I am ready for a Brendan Fraser Renaissance. Seriously, where did he go, and can he come back? I love The Mummy, and this movie is pure cheese mixed with adventure and a hunky leading man. It's an Indiana Jones stepchild and it's perfect in every single way.
8. Armageddon
If you do not cry at the end of Armageddon, you do not have a soul. I can't say how much I love this movie. I can't say that I'm ashamed. It's a stellar cast (Ben Affleck in his prime), fun story (except for the end, of course), and incredible soundtrack (uh... to me, at least). It's complete cheese and will make you feel things you didn't know you could feel.
9. Charlie's Angels
When I refer to the Holy Trinity, I am, of course, referring to Drew Barrymore, Cameron Diaz, and Lucy Liu as Charlie's Angels. This is a total throwback and there's so much cheese you might need nachos to scoop it up.
10. Bring It On
There has never been another movie that has made me want to be an elite cheerleader quite like Bring It On. I was so into the fashion, the attitudes, the high school drama and I tried to emulate it as best I could in real life. Hint: it did not succeed. This movie reminds me of a simpler time as a middle school loser and if I see this as a viewing option, 10/10 will watch. Consider this the ultimate throwback.
11. Spy Kids
Spy Kids is great for many reasons. For one thing, I'm still pissed that instant microwaves that will give me McDonald's whenever I want don't exist. For another, has there ever been another movie that let you imagine what it'd be like to be 12 and a spy? Don't think so. This one is classic cheese, and classic throwback. But I still don't understand those thumb-men. And never forget: Floop is a madman.
12. Clueless
The ultimate throwback. It remains, to this day, a brilliant film that defined a generation and a genre of teen movies. It's sort of cheesy but luckily makes up for it with young Paul Rudd.
13. Legally Blonde
I mean... I think this one speaks for itself.
14. Zoolander
Blue Steel in all of its glory. What words do I have to express my undying love for Zoolander and the sheer genius behind it? It's super cheesy and fun and a total, complete, utter throwback.
15. Sixteen Candles
Sadly, I understand what it's like to have a giant crush on someone and know that there's probably no way they will ever like you back. That's how this movie starts, at least. It's so cheesy and wonderful and everything you wish would happen between you and your crush. Also, two words: Jake Ryan.
16. Teen Witch
Teen Witch is completely '80s hair goals. It's Robin Lively as a teen witch. And it's totally a throwback to what made the '80s so bizarrely wonderful. It is cheese with a side of cheese.
17. The Addams Family
How much more of a throwback could you get?
18. While You Were Sleeping
Any movie that tries to pretend Sandra Bullock isn't a goddess is immediately cheesy. This is nothing more than a throwback, feel-good, cheesy rom-com and that's exactly the way I like it.
19. Swingers
Jon Favreau & Vince Vaughn. Swingers is a complete throwback and so completely cheesy that it might make me lactose intolerant.
20. Pleasantville
Visually stunning, this movie is a throwback to a "simpler" time, i.e. the '50s, and starring young Tobey Maguire. Also, Reese Witherspoon plays the bad girl and it's totally awesome. Plus, you get some really cute Paul Walker scenes. This one is an oldie and a complete goodie.
21. Wish Upon A Star
I stand by this as Katherine Heigl's greatest role ever, This movie is a complete treat and so bad it's good. It's classic early '00s Disney.
22. Grease
Sometimes I cry thinking about how much I love Grease. There is no plot, really, but there is Stockard Channing, plus incredible musical numbers and a really poor message that says if the guy you love doesn't like you the way you are, change for him.
23. Girls Just Want To Have Fun
Sarah Jessica Parker pre-SATC. It's a bit of a Dirty Dancing knock-off but that doesn't mean this movie isn't super cheesy, a total throwback, and completely fun to watch.
24. Crossroads
No commentary necessary.
25. Wet Hot American Summer
I've never wanted to attend summer camp as badly as I did after seeing this movie. To be part of something so delinquent would be delightful. Wet Hot American Summer is utterly a throwback (and now a series on Netflix! and sort of cheesy in its humor but hey, what great movies aren't at least a little cheesy?
26. Heathers
An incredible throwback '80s movie. Heathers is now a musical which, to me, is the mark of a movie so loved, so corny, that the weird emotions lend themselves to characters exploding into song on stage.
27. A Walk To Remember
I can't help but laugh at this movie and cry at the same time. It is so bad and so cheesy, but I love it.
28. Cruel Intentions
If you look up "cheesy" in the dictionary, you would find a picture of Cruel Intentions next to it. This is not a good movie. But boy, is it fun to watch.
29. American Beauty
This one is actually a good movie and a throwback and kinda cheesy at parts. If you've already marathoned House of Cards and you're still in the mood for some brilliant Kevin Spacey, this is the perfect movie to watch.
30. Sunset Boulevard
There's nothing like a good delusional comeback story to warm your heart. Sunset Boulevard is an iconic and classic film with a bit of cheesy dialogue. But mostly, it's just great all around and something everyone should watch.
31. Can't Buy Me Love
Is there anything cheesier than the film that inspired the iconic Nick Cannon/Christina Milian movie Love Don't Cost a Thing? Plus, there's a young, swoon-worthy Patrick Dempsey.
32. Camp
It's Anna Kendrick, before she was the star we all know and love. Camp is the perfect movie for any theatre nerd who wants to relive those dramatic teen performing days or for anyone who just wants to watch a great, cheesy movie. Camp forever.
33. Varsity Blues
It's Regina George's favorite movie. And there's a whipped cream bikini. If that doesn't scream cheese, then I don't know what does. It's a fun throwback that might make you wish you could have lived in a small football-obsessed town in the '90s.
34. Fatal Attraction
Is there anything creepier and cheesier than Glenn Close being obsessed with Michael Douglas? No? Well, is there anything cheesier than Close popping out of a... oh, well, I'm not going to spoil it, but this is a complete and utter pile of gooey cheesy goodness and it needs to be watched.
So there they are, the 34 cheesiest throwback movies that Netflix has to offer. Snuggle under some blankets, order a pizza, pour some Pinot, and enjoy.
Images: Giphy (33); Columbia Pictures