22 Romantic Netflix Originals That Will Leave You Swooning
Fall in love with these sweet flicks.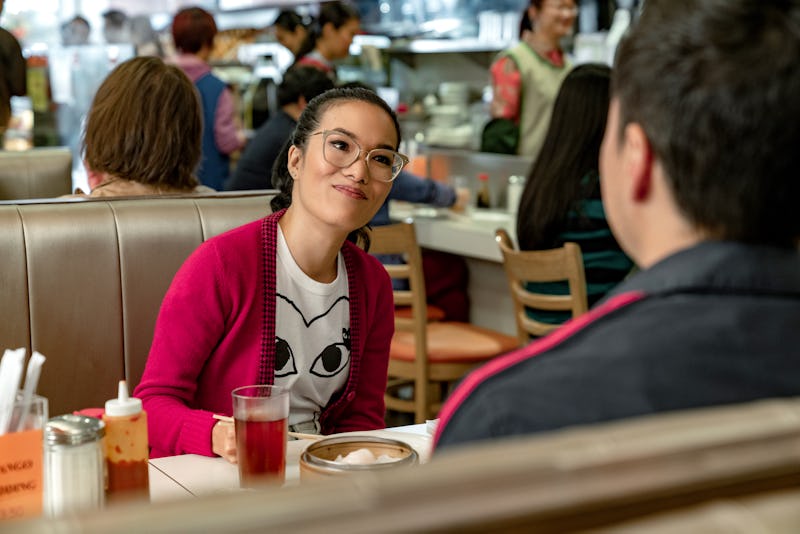 Ed Araquel/Netflix
If you love a good rom-com and are sick of watching How To Lose A Guy In 10 Days every time it airs on TV (which is a lot), then Netflix has you covered. There are loads of Netflix Original romance movies that will reaffirm your belief in love or just give you that lovely sweet and sappy feeling. That's right, there is no shortage of rom-coms, dark romance movies, teen love stories, and romances involving both Christmas and princes on the streaming service.
The genre has proven so popular on the streaming service that Netflix has increased production of original rom-coms and other romantic fare in recent years. From franchises like To All the Boys I've Loved Before and The Kissing Booth, to standalone features like The Incredible Jessica James and Set It Up, to arranged marriage movies like Ali's Wedding and Love Per Square Foot, Netflix has every kind of romance movie covered.
And with more romantic releases already scheduled through the rest of the year, Netflix is showing no signs of slowing down. But here are the 22 best Netflix Original movies to watch whenever you need your romance fix.
1. Set It Up
One of Netflix's best rom-coms with a 92% critic rating on Rotten Tomatoes, Set It Up (2018) is about two overworked and mistreated assistants (Zoey Deutch and Glenn Powell) who decide to play cupid and set up their demanding bosses (Lucy Lui and Taye Diggs) to catch a literal break. Do they find love themselves on the way? There's only one way to know.
2. The Kissing Booth
The concept is pretty simple in this teen romance: After a kissing booth-mandated smooch at a school fair, a girl (Joey King) starts dating her best friend's brother (Jacob Elordi) even though he's supposed to be off-limits. A lot of hiding under beds and hijinks ensue. With the third installment coming to Netflix on Aug. 11, it's time to rewatch the first two The Kissing Booth films based on the namesake novel series by Beth Reekles.
3. Always Be My Maybe
An absolute treat from start to finish, Always Be My Maybe is about two childhood best friends, Sasha (Ali Wong) and Marcus (Randall Park), who grow up and grow apart only to reconnect after a chance encounter 16 years later. She's now a celebrated chef, he hasn't changed since high school — can they make it work? It's heartfelt, hilarious, and features the best Keanu Reeves cameo of any movie ever.
4. Alex Strangelove
A lauded queer teen romance produced by Ben Stiller, Alex Strangelove (2018) follows a high school boy (Daniel Doheny) with a seemingly perfect life and girlfriend, who is surprised when he develops a crush on a guy he meets — a realization made complicated by his pending loss of virginity. It's a precious coming-of-age, coming-out story for anyone struggling with owning their identity.
5. The Half Of It
This loose take on the classic play Cyrano de Bergerac finds shy high schooler Ellie (Leah Lewis) helping jock Paul (Daniel Diemer) write love letters to woo classmate Aster (Alexxis Lemire) for extra cash. Only, while pretending to be Paul, Ellie develops strong feelings for Aster as well in this sweet coming-of-age 2020 dramedy. The queer romance received a 97% critic rating on Rotten Tomatoes.
6. Ali's Wedding
Ali's Wedding (2017) is based on a true story about Ali (Osamah Sami), a Muslim man who falls in love with a woman (Helena Sawires) despite already being promised to wed another. The film about arranged marriages speaks to universal truths about what it's like when you fall in love and the weight of wanting to live up to your family's — and society's — expectations.
7. When We First Met
After Noah (Adam Devine) hooks up with Avery (Alexandra Daddario) in When We First Met (2018), he's disappointed when they wind up becoming friends instead of something more. In order to figure out what went wrong, he tries to find out via — get this — time travel. To get out of the friend zone, he keeps going back in time and replaying their initial meeting, but it's not as easy as it seems.
8. The Incredible Jessica James
In The Incredible Jessica James (2017), Jessica (Jessica Williams) and Boone (Chris O'Dowd) meet on a blind date after both coming out of other relationships. When they find out that they each stalk their exes on social media, they decide to keep up with each other's ex instead to help with their obsession with checking in. The film garnered an 89% critic approval on Rotten Tomatoes while Williams was lauded for her electric performance.
9. I Am Not An Easy Man
In the 2018 French movie I Am Not An Easy Man, a chauvinist played by Vincent Elbaz hits his head on a lamppost and wakes up in a matriarchy. (How does one sign up for this??) He then finds himself on the other side of the misogynistic stick when he falls for Alexandra (Marie-Sophie Ferdane), the female version of him. This satirical rom-com milks its gender-reversal premise for every possible laugh.
10. Our Souls At Night
Legends Robert Redford and Jane Fonda reunite on film after 38 years in the 2017 Netflix Original Our Souls At Night, based on the 2015 Kent Haruf namesake novel. In it, two widowed neighbors, who miss having someone to sleep with at night, end up in the same bed as per Fonda's bold suggestion. At first it's not romantic, but it's not long before things start heating up. The two actors, who've starred in three other movies together since 1966, still have undeniable chemistry even after all those years.
11. Sierra Burgess Is A Loser
Sierra Burgess Is A Loser (2018), starring Shannon Purser, is yet another loose retelling of Cyrano de Bergerac set in high school. It follows Sierra (Purser), an unpopular teen who joins forces with popular girl Veronica (Kristine Froseth) to win over her secret crush (Noah Centineo) by texting him and pretending to be Veronica. While this (surprise!) ends well for them, catfishing is never cool.
12. Happy Anniversary
On their three-year anniversary, a couple (Noël Wells and Ben Schwartz) decides whether they should stick together or split up. By exploring a relationship beyond the meet-cute, honeymoon phase, Happy Anniversary, the 2018 film directed by Jared Stern, provides a unique and emotionally grounded addition to the romance genre because everyone knows the initial butterflies don't last, and that's a good thing.
13. The Guernsey Literary and Potato Peel Pie Society
This incredibly charming historical romance follows London-based writer Juliet (Lily James), who decides to visit the secluded isle of Guernsey after exchanging letters with a resident Dawsey (Michiel Huisman). Though the film explores what it was like to live on Guernsey while occupied by German forces during World War II, the movie remains perfect comfort viewing with an ensemble of lovable characters and a central romance that will leave you swooning.
14. Irreplaceable You
In another Huisman-starred Netflix Original romantic comedy, Irreplaceable You(2018) follows the story of Abbie (Gugu Mbatha-Raw) who, when diagnosed with terminal cancer, sets out to find a new girlfriend for her fiancé, Sam (Huisman). And though this one has a really dark and heartbreaking premise, it still has some comedic elements and an empowering undercurrent of living life to the fullest.
15. A Christmas Prince
Meanwhile, this one does not have a dark premise at all! A Christmas Prince is about a New York reporter (Rose McIver) who winds up going undercover to write about a foreign prince (Ben Lamb), soon to be crowned king, during Christmas. Obviously, they fall in love, and their romance is delightful to watch — during any season. The following films, The Royal Wedding (2018) and The Royal Baby (2019), are also worth a watch.
16. To All The Boys I've Loved Before
To All The Boys I've Loved Before is based on the first novel in Jenny Han's beloved YA book trilogy. It shows what happens when a teen's (Lana Condor) secret love letters to her crushes are accidentally delivered to them. If you haven't seen it or the two sequel films already, what are you doing? And even if you have, this movie is well worth revisiting. It also stars Centineo, Janel Parrish, and John Corbett.
17. The Climb
When Samy (Ahmed Sylla) professes his love for Nadia (Alice Belaïdi), a woman he's liked since middle school, she rejects him. So he decides to make a grand gesture. The Climb is a French movie loosely based on a true story that follows a man who decides to climb Mount Everest to express his love. Extreme, yes. Sweet, sure. Name a bolder (or boulder, rather) move. Guess that's one way to do it.
18. Love Per Square Foot
In Love Per Square Foot (2018), two people enter a marriage of convenience in order to be able to purchase a home together in Mumbai because they can't afford to do so on their own. Could living in and co-owning the same house possibly lead to something more romantic despite their other messy entanglements? (Yes, of course, it can!) Apparently, nothing says love better than the housing crisis.
19. Elisa & Marcela
This 2019 Spanish period drama directed by Isabel Coixet tells the true story of Elisa Sanchez Loriga and Marcela Gracia Ibeas who were the first same-sex couple to get married in Spain. Apparently, they pretended to be a heteronormative couple and successfully tricked a priest into wedding them in 1901 — a hundred years before same-sex couples were allowed to marry in Spain. Respect.
20. Tramps
When Danny (Callum Turner) and Ellie (Grace Van Patten) accidentally misplace a suitcase pivotal to a hustler operation, they run around New York City for two days to get it back. The closeness from potentially committing a crime together, set against the stunning backdrop of New York, definitely aids in the blossoming romance in Tramps, the 2016 film directed by Adam Leon.
21. Work It
Quinn (Sabrina Carpenter) is desperate to attend Duke University. To set her application apart, she's forced to learn how to dance and start a dance crew all on her own. When she enlists the help of "retired" former champion Jake (Jordan Fisher) for dance lessons, they fall in love — seductively and sweatily. Produced by Alicia Keys, Work It (2020) has all the elements of a great dance film: warring dance crews, a prestigious competition, and a hodgepodge of underdogs forming a winning team. It also stars Liza Koshy, Michelle Buteau, and Keiynan Lonsdale.
22. Holidate
Emma Roberts and Luke Bracey star in the 2020 film Holidate. Because they both need a constant plus one to all family holiday gatherings for different reasons — her to avoid pity, him to avoid commitment — they agree to be "holidates." As the two grow close to each other's families, can their faux-relationship turn into a real one?
Reporting by Alyssa Lapid, Sadie Gennis, and Lia Beck.
This article was originally published on