19 Early '00s Movies On Netflix You Totally Forgot About But Need To Rewatch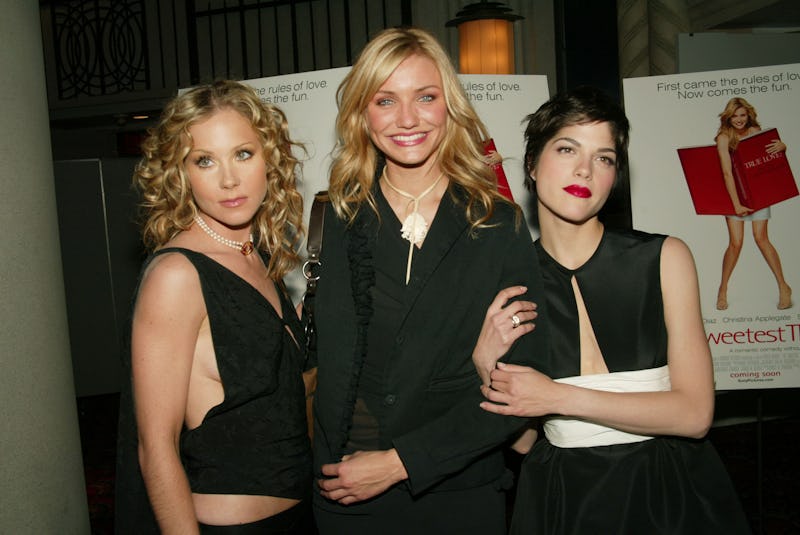 Evan Agostini/Getty Images Entertainment/Getty Images
Ah, the early '00s. Remember when low-rise jeans, flip phones, and neck-tie belts were all the rage? We certainly do! The early aughts were also a great time for movies, when teen comedies, extremely dramatic dramas, and (often problematic) love stories ruled the screen. These days, it's fun to reminisce by rewatching some of the classics from that era, but there are also plenty of movies that you've probably forgotten about over the years. If that's the case, don't fret — with the help of streaming services, you can now watch these early '00s movies on Netflix and remember why you loved them in the first place.
Over the years, Netflix has amassed a content library to rival that of any other streaming service, filled with movies both new and old. The ones on this list aren't that old, but they're definitely worth revisiting, like The Sweetest Thing or Step Brothers. If you haven't seen some (or any) of them, now is the perfect time to fill that hole in your pop culture knowledge. Take a trip down memory lane with these '00s movies you likely forgot existed, all streaming on Netflix.
Adapted from Susanna Moore's novel of the same name, Meg Ryan stars in this acclaimed psychological thriller as New York University English professor Frannie Avery who witnesses a sexual assault committed by a killer on the loose. She's soon questioned by Detective Giovanni Malloy (Mark Ruffalo), a meeting which sparks a passionate relationship complicating the investigation. While the film received moderate reviews upon its release, it's since been reappraised in the wake of the Me Too movement as a feminist erotic thriller that successfully subverts the male gaze.
Anna Faris and Regina Hall reprised their beloved roles as Cindy and Brenda, respectively, in the fourth installment of the Wayans brothers' Scary Movie parody franchise. Spoofing films including Saw, The Grudge, War of the Worlds, and The Village, the hilarious box office smash hit also features Anthony Anderson, Kevin Hart, and Molly Shannon in its ensemble cast as well as cameos from Dr. Phil, Shaquille O'Neal, and Lil Jon.
A review on Rotten Tomatoes calls The Sweetest Thing an "atrociously awful piece of garbage," which honestly just makes us want to watch it more. The unhinged 2002 romantic comedy stars Cameron Diaz, Christina Applegate, and Selma Blair as three friends in search of noncommittal sexual partners. But when Diaz's character Christina unexpectedly meets Mr. Right, she and Applegate's Courtney embark on a road trip to find him.
Katherine Heigl stars as hopelessly single television producer Abby Richter, who after a bad date calls into The Ugly Truth, a dating show hosted by relationship cynicist Mike Chadway (Gerard Butler), to yell at him. But unbeknownst to Abby, she'll have to start working alongside Mike the next day and listen to his seemingly endless philosophies about love. As someone who generally only takes advice from Chicken Soup for the Soul books, she's in for a difficult ride — until they (spoiler alert) eventually fall for each other.
Dane Cook is the titular character in Good Luck Chuck, a dentist known as a good luck charm — because women always find their one true love after sleeping with Chuck due to a hex placed on him as a young boy. But after meeting Cam Wexler (Jessica Alba), he's determined to break the curse and successfully pursue a lasting relationship with her in this 2007 comedy directed by Showgirls and Rush Hour editor Mark Helfrich.
Released two years after Talladega Nights: The Ballad of Ricky Bobby, Will Ferrell and John C. Reilly reunited for this 2008 comedy to play Brennan and Dale, respectively, two 40-year-old immature men who still live with their single parents. But when Brennan's mom and Dale's dad meet, fall in love, and get married, the two must adapt to living as step brothers. While their relationship begins rocky, they eventually launch a company together and work towards independence in this 2008 comedy directed by Adam McKay and co-written by Judd Apatow.
Before he was known as Captain America, Chris Evans made his film debut in 2001's Not Another Teen Movie, a comedy that parodies several teen flicks from the '80s and '90s, including She's All That, 10 Things I Hate About You, Can't Hardly Wait, and Pretty in Pink. Evans stars alongside Jaime Pressly (Mom) and Lacey Chabert (Mean Girls) in the movie, which follows a She's All That-esque plot centered around a group of popular students who bet on transforming an uncool girl into the prom queen.
This raunchy road trip comedy stars Josh Zuckerman as recent high school graduate Ian Lafferty, who's stuck in friend zones but desperate to finally lose his virginity. After meeting a woman named Danielle online who goes by "Ms. Tasty," lives across the country, and wants to have sex with him, Ian and two friends steal his brother's car and embark on a road trip to meet her. But when Danielle reveals she has a violent boyfriend who isn't pleased by Ian's arrival, things go haywire.
Loosely based on Agatha Christie's 1939 novel And Then There Were None, this 2003 slasher features an ensemble cast including John Cusack, Ray Liotta, Amanda Peet, and Clea DuVall as four of 10 strangers who find themselves trapped in a strange hotel. With no contact to the outside world, they're mysteriously killed off one by one — while a parallel story told in reverse chronological order follows the murderer's criminal trial. Horror fans will love this twisted film, which received polarized views upon release but has since become a cult classic.
Kurt Russell, Josh Lucas, and Richard Dreyfuss star as three passengers on the Poseidon cruise ship in this 2006 film, adapted from Paul Gallico's 1969 novel The Poseidon Adventure. While aboard for a transatlantic New Year's Eve voyage, a dangerous rogue wave hits and capsizes the ship, and its passengers desperately attempt to survive. Fans of the thrilling aspects of Titanic will enjoy this film, especially since they can enjoy it knowing Poseidon is a completely fictional disaster.
Directed by Rob Marshall (Chicago), this English and Japanese co-production tells the fictional story of Chiyo Sakamoto, a Japanese girl sold to a geisha house by her parents as a child who later becomes known as Sayuri Nitta (played by Zhang Ziyi). But her successful life as a geisha is soon disrupted by the arrival of World War II in this romantic drama based on Arthur Golden's 1997 novel of the same name. While it won several Oscars in 2006, the film also faced controversy for casting Chinese actresses in Japanese roles and in turn received polarizing responses from both communities.
Based on the homonymous 1988 film and 2002 Broadway musical, the 2007 version of Hairspray featured newcomer Nikki Blonsky as Tracy Turnblad, who dreams of dancing on The Corny Collins Show despite facing rejection due to her plus-size figure. Set in 1960s Baltimore, Tracy also hopes to integrate the show's Black cast members, who usually perform separately from its white stars, into its regular broadcast — which leads to chaos, protests, riots, and eventually success. Also starring James Marsden, Queen Latifah, Michelle Pfeiffer, John Travolta, Zac Efron, and Amanda Bynes, the film became the musical's highest-grossing onscreen adaptation, making over $203 million at the box office.
Fanfare over Catherine Hardwicke's four-part Twilight Saga based on Stephanie Meyers' trilogy of novels has only gotten stronger since fans met Kristen Stewart's Bella Swan and Robert Pattinson's Edward Cullen in its inaugural 2008 installment. Set in Forks, Washington, Bella moves into town and quickly strikes up a connection with her cold, sparkly new classmate Edward, who soon reveals he's a 108-year-old vampire — and she still wants to fall in love with him. The romantic fantasy film is just as wild as it is captivating, and if you've never seen it, now's a great time to dive in.
Why are rich, unruly teens in movies always sent away to boarding schools? Seems like their parents want a cop-out from actually parenting. Starring Emma Roberts, Alex Pettyfer, and the late Natasha Richardson in her final onscreen film role, this teen comedy follows Poppy Moore (Roberts), an untamed, wealthy teenager whose parents send her to an English boarding school to remedy her spoiled, bratty behavior. There, she encounters bullies, friends, and love interests and is eventually taught the importance of life and friendship.
Chances are you haven't forgotten about this one either, thanks to all the memes, and it's included this on the list purely for the irony. Jerry Seinfeld stars in this outrageous children's comedy as Barry Bee, a bumblebee who isn't happy to learn that humans consume and sell honey and seeks to sue the entire human race. Oh, and along the way, he falls in love with a human woman named Vanessa Bloome, voiced by Renée Zellweger. Totally normal movie, right?
16. Chloe (2009)
A remake of the 2003 French film Nathalie…, this Atom Egoyan-directed erotic thriller stars Liam Neeson as David, a college professor whose wife, Catherine (Julianne Moore), suspects he's cheating on her. In order to learn if David's truly willing to step outside of their marriage, Catherine hires a sex worker named Chloe (Amanda Seyfried) to tempt him into a sexual affair.
An exploration of the United States' troubled criminal justice system, this 2009 action thriller stars Gerard Butler as Philadelphia man Clyde Shelton, who loses his wife and daughter to a home-intruding murderer. After attorney Nick Ride (Jamie Foxx) offers the killer a plea deal, Clyde feels disrespected and sets out to kill any and everyone who supports a system that allows criminals to walk free. Directed by F. Gary Gray (Friday), the film earned over $126 million worldwide and earned multiple NAACP Image Award nominations.
Jimmy Neutron: Boy Genius is a true blast from the past. Starring Lana Del Rey as Jimmy's mom (just kidding... or are we?), this Nickelodeon staple also launched a popular TV series about the child genius who, unbeknownst to his oblivious parents, runs a full science lab out of his shed. In the film, when parents of children across the country are abducted by aliens, he's tasked with saving the world.
Michael Jai White (Why Did I Get Married?) stars as Isaiah Bone, who moves to Los Angeles after he's released from prison and enters the world of underground fighting. Determined to win every match in honor of a deceased friend, Bone prevails over his opponents and scores thousands of dollars in the process — despite encountering danger at nearly every turn. Also starring real-life MMA fighters Bob Sapp, Kimbo Slice, Maurice Smith, and Gina Carano, the 2009 sports action film currently holds a 71% audience score on Rotten Tomatoes.
This article was originally published on