21 Movies On Netflix That Are Sure To Cheer You Up
Sit back, relax, and let the good vibes wash over you.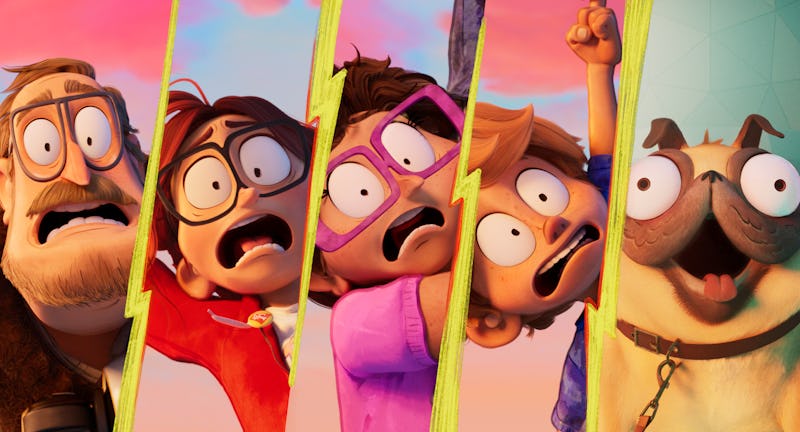 The Mitchells vs. The Machines Netflix movie
Netflix promises nothing short of abundance: hundreds of movies to watch any time, beamed directly into your living room. You can find classics from your childhood to watch when you're feeling nostalgic, interesting documentaries for when you want to learn something new, and plenty of tearjerkers for when you need a good cry. But one of the more underrated genres on Netflix is the "feel-good film" — the type of movie that will cheer you up when you're feeling blue (because everyone does sometimes!).
The platform offers plenty of ways to escape to a happier place for a couple of hours while you forget about the harshness of the real world, and come back refreshed. Some of the films on included below will make you feel like a kid again, some will leave you inspired, and a good number of them promise to help with a much-needed laugh session. And with 21 solid feel-good movies on this list, there are plenty to choose from; think of it like this: if you watch one every night, it's a full three weeks' worth of movies to pick you up when you're feeling down.
1. Homecoming: A Film By Beyoncé
From the Beyhive to the music and film establishment — the latter of which would award Homecoming six Emmy Award nominations and one Grammy statue — this film won near-universal acclaim. The only people not into this celebration of Queen Bey's Coachella performance would be people who don't like Beyoncé ... and who are those people, exactly?
2. John Mulaney: The Comeback Kid
Mulaney's beloved special marked the comedian's return to stand-up, after he took an extended hiatus while working in TV. It's easy to see that he's mastered the art — and why he's gained such a devoted following.
3. Someone Great
It's kind of a breakup movie — but hang in there, because Someone Great is mostly about three friends being awesome and supporting one another. It's like a modern Sex and the City, but better, because it's more realistic.
4. Dolemite Is My Name
Rudy Ray Moore seems like a contradiction: a churchgoing man who created the foul-mouthed pimp character who'd go on to influence a generation of rappers and comedians. Dolemite Is My Name tells his story, with Eddie Murphy starring as Moore.
5. Mystic Pizza
Three girls in a small fishing town navigate love and life while working at a pizza joint. That's basically it, but the film doesn't have to rely on any crazy shenanigans to be a sweet, relaxing watch — and you can't help but root for Julia Roberts.
6. Hasan Minhaj: Homecoming King
Immigration, racism, emotionally devastating stories about high school: none of that should be funny. But in The Daily Show's Hasan Minhaj's deft hands, it's side-splitting (and educational and timely, so you can feel great about watching it).
7. The Incredible Jessica James
This rom-com is totally underrated (i.e., you probably haven't seen it) but it's well worth adding to your list. Stars Jessica Williams and Chris O'Dowd are a winning match, and watching them try to out-snark each other is a delight.
8. American Factory
This documentary treads rough ground — job loss, mistrust, suffering — but is ultimately a tale of people coming together across common ground. American Factory was one of the first projects to come out of Higher Ground, Barack and Michelle Obama's production company, and went on to win Best Documentary at the Academy Awards.
9: The Mitchells vs. The Machines
Don't knock a good animated movie! This one, about an oddball family who has to save the world when robots turn against humanity, is delightful. And no, it's not just for kids. Give it a try!
10: Superbad
This comedy's classic and quotable for a reason. It's true that this 2007 film hasn't aged particularly well in some aspects (particularly its sentiments around gender), but given that Superbad is about a couple of idiot kids trying to survive a wild night of high school "fun," there's still a sweet naivety to it.
11. Monty Python and the Holy Grail
A very, very, very silly film that nails period costume and throws everything else out the window.
12. 6 Underground
If you like action films or superhero films, this one's kind of a combination of both: Ryan Reynolds heads a team of underground vigilantes who faked their deaths so they can operate outside the law. Is it groundbreaking? Absolutely not, but the stunts, locales, and fights are cool as ice.
13. To All the Boys I've Loved Before
Speaking of not groundbreaking but super-fun? This little trilogy centers around a shy girl who writes a bunch of letters to her crushes — and then accidentally sends them. Oops. But Lana Condor absolutely sells it, and (spoiler alert, but not really) it's a rom-com, so good things result.
14. The Muppets
If you were obsessed the Muppets as a kid, add this to your watch list — and even if you weren't, you'll love Amy Adams and Jason Segel hamming it up (pun intended) alongside Miss Piggy, Kermit, and the gang.
15: Crip Camp: A Disability Revolution
Ostensibly about Camp Jened, a summer camp for children with disabilities, and the people who would go on to lead the disability rights movement, Crip Camp is also unbelievably sweet and says a lot about the power of community and inclusion.
16. Zach Galifianakis: Live at the Purple Onion
Dry, non sequitur jokes, lovely piano playing, and the comedian's "twin" Seth providing commentary outside the club. It's Galifianakis' first special, and tells the comedian's (sort of) origin story, so it's a perfect blast from the past.
17. Dumplin'
The film equivalent of listening to Dolly Parton for two hours, with the bonus of an uplifting "love yourself and your body" message.
18. My Fair Lady
On paper, a movie about an older instructor teaching an ingenue how to be a lady, and then falling for her, shouldn't work — but we all know Audrey Hepburn can do anything. Actually, she pretty much does do anything and everything in this film — and it's impossible not to grin while watching her.
19. Eurovision Song Contest: The Story of Fire Saga
It's ridiculous, and long, and silly, but the songs are catchy ("Husavik" even earned an Oscar nod!) and its sweetness sneaks up on you. Plus, Dan Stevens (Downton Abbey) as a Russian competitor steals the show — can we have a sequel about him, please?.
20. Ali Wong: Hard Knock Wife
All of Wong's specials are terrific (and more are on the way), but this, her follow-up to breakout hit Baby Cobra, might just be the best. Motherhood — and all its exhaustion — looks good on her.
21: Hunt for the Wilderpeople
This pre-Thor Taika Waititi film has probably one of the weirder premises you've ever heard: a delinquent teen and his foster father are on the run from the police in the New Zealand wilderness. But it is so much funnier than it sounds.
This article was originally published on